UST Faculty of Civil Law dean Nilo Divina also claims the complaint against him is 'obviously being driven' by those seeking to 'persecute' and 'humiliate' him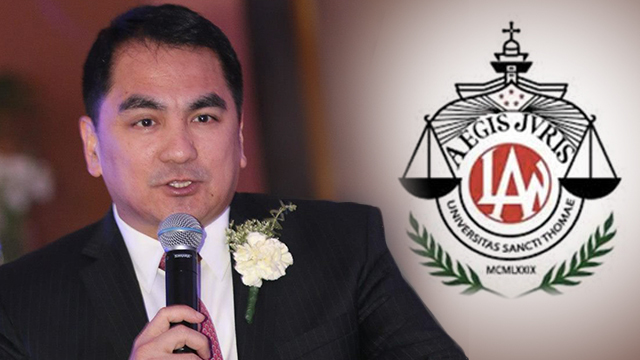 MANILA, Philippines – University of Santo Tomas (UST) Faculty of Civil Law dean Nilo Divina filed his counter-affidavit before the Department of Justice (DOJ) on Monday, October 30, denying any liability in the hazing death of freshman law student Horacio "Atio" Castillo III.
Divina submitted copies of CCTV footage from his law firm – the Divina Law Firm – that he said would prove Castillo did not meet with him on September 12, or 5 days before the Aegis Juris initiation rites, as alleged by the neophyte's parents Horacio II and Carmina.
The Castillo couple filed a complaint against Divina for murder and violation of the Anti-Hazing Law, as assisted by their lawyer Lorna Kapunan, who the dean has sued for libel thrice.
Kapunan's son Lino is a co-counsel in the case. Earlier, the younger Kapunan said Castillo paid a courtesy call on Divina as a neophyte of the Aegis Juris fraternity, which the dean is also a member of.
As evidence of this supposed meeting, the Castillo camp used an exchange of text messages between Carmina and her son on September 12, where Atio said he was at a law firm near "Petron gas along Buendia." The Divina Law Firm happens to be in that area.
But according to Divina, he prohibited organizations at the UST Faculty of Civil Law – such as the fraternity – from recruiting freshmen.
"Atio did not even mention my name or my law firm. Indeed, there must be at least a dozen law firms in the Petron area. In our building lane, there are several law firms. There is simply nothing in the foregoing text exchange that can be construed as indicative of actual prior knowledge on my part of the hazing that was to be conducted on September 17," Divina said in his counter-affidavit.
Frat's initiation rites
UST prohibits hazing, Divina reiterated. But to an extent, it does allow organizations to conduct initiation rites. This is another factor that could link Divina to a liability, for the Castillo camp.
But in his counter-affidavit, Divina said organizations wishing to conduct initiation rites seek approval not from his office, but from the Office of Student Affairs and Community Services (OSACS).
It is also the OSACS, Divina said, which has the duty to appoint school representatives to be present during initiation rites. (READ: UST law dean Divina says 'nothing wrong' in joining fraternities)
Divina then said that Aegis Juris did not ask permission from the OSACS. (READ: Aegis Juris not an accredited UST organization in 2017)
The UST law dean also said he cannot be accused of a cover-up because he did everything he could to help in the investigation.
On the accusation that Divina never called Castillo's parents when he found out about their son's death noontime of September 17, Divina said he did not have enough details at the time.
According to Divina, it was UST Faculty of Civil Law secretary Arthur Capili who called him then and told him that an unnamed neophyte of Aegis Juris had died. Divina said he and Capili could not verify the neophyte's name, or if the neophyte was a UST student.
Divina said that as a non-active member of Aegis Juris, he did not know who the fraternity officers are, more so their contact details.
The dean said that as soon as he got more information, he immediately reached out to the Castillo family and to authorities.
"Up to that point, none of the police authorities had gotten in touch with me. I took it upon myself to write General Joel Napoleon Coronel, the head of the Manila Police District (MPD), requesting for a dialogue to enable us in the Faculty of Civil Law to implement whatever measures you think is necessary to assist the police in its investigation," Divina said.
Divina vs Kapunan
The dean maintained there is no evidence that he had knowledge of the hazing, and that the allegations against him do not amount to the crime of violating the Anti-Hazing Law.
Divina also claimed the complaint was just driven by those seeking to "persecute" and "humiliate" him.
In the counter-affidavit, he alluded to Lorna Kapunan, who also happens to be the lawyer of Patricia Bautista – the estranged wife of Divina's good friend, former Commission on Elections chairman Andres Bautista. Mrs Bautista filed a disbarment complaint against Divina.
"All I can say is there's no basis to hold me liable, this complaint should be dismissed, it's obviously being driven by some quarters to persecute me and humiliate me. The facts bear me out that I have no liability, I have no accountability, I have no knowledge, and I'm not part of any cover-up," the dean said.
Divina added that he is considering quitting Aegis Juris altogether, but said that decision would have to be made after the case.
Divina was earlier included in an immigration lookout bulletin order, a development that the dean said was not entirely surprising. – Rappler.com