Soldiers and NBI agents arrest her following a court order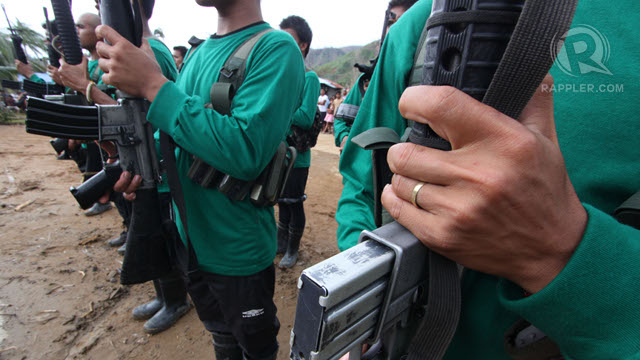 MANILA, Philippines – The pregnant daughter of the late New People's Army (NPA) spokesperson Gregorio "Ka Roger" Rosal was arrested in Caloocan City on Thursday, March 27, the military said. 
"Joint elements of the Armed Forces of the Philippines and the National Bureau of Investigation arrested at 7 am today Andrea Rosal, a ranking leader of the New People's Army in Southern Tagalog Region," said military spokesperson Lieutenant Colonel Ramon Zagala.
Rosal, who is due to deliver her baby this month, was arrested upon the order of a court in Mauban, Quezon, because of supposed cases of kidnapping and murder. Zagala said she is also implicated in an attempted homicide case filed in Luisiana-Cavinti in Laguna.
"Extensive attention was given by her arresting officers as Andrea is pregnant and due [to deliver] within this month," said Zagala.
She was arrested along with her security escort and barangay chairman Ruben Gatchalian, owner of the house where she was staying. 
The arrest comes 5 days after the military nabbed alleged Communist Party of the Philippines (CPP) chairman Benito Tiamzon and his wife Wilma Austria, who served as party secretary general.
Tiamzon and his wife, alleged CPP-NPA secretary-general Wilma, were arrested on March 22 by joint forces of the Philippine National Police (PNP) and the AFP in Barangay Zaragosa, Aloguinsan town in Cebu. – Carmela Fonbuena/Rappler.com