This is AI generated summarization, which may have errors. For context, always refer to the full article.
Senator TG Guingona says he has no choice but to make the Napoles affidavits public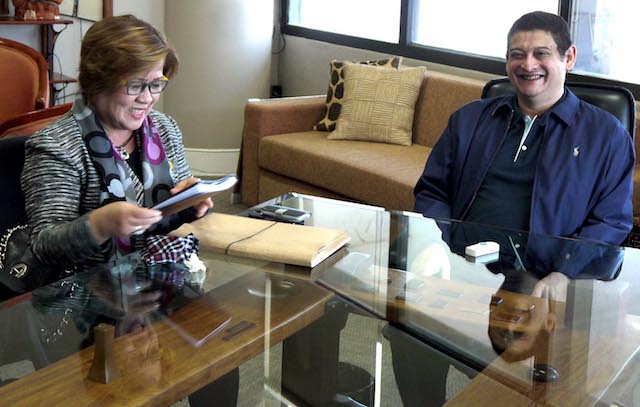 MANILA, Philippines (2nd UPDATE) – The Senate will release to the media the two affidavits of alleged pork barrel mastermind Janet Napoles which the blue ribbon committee obtained from the justice department on Monday, May 26.
"Kung di ko ilalabas, magagalit sa akin. Kung ilalabas ko, magagalit din sa akin. I'm in a hard position," committee chairman Senator TG Guingona told reporters after receiving copies of the affidavits. (If I don't release it, people will get upset. if I don't, people will also get upset.)
Guingona said: "In the spirit of transparency, para sa paghahanap ng katotohanan, and in line with my commitment to uphold the public interest, we are going to release to the media and to the public and to my fellow senators of course, the copies of these two Napoles affidavits."
Department of Justice (DOJ) Secretary Leila de Lima earlier told reporters that she preferred that the committee does not release the affidavits pending a full probe into the allegations they contain.
Guingona however said De Lima did not raise this in their phone conversation Monday morning.
In a letter to Guingona given on Monday, de Lima requested that Napoles' affidavit be kept confidential. The affidavit is the same document the Napoles camp intends to submit to the Ombudsman in Napoles' application as a state witness.
De Lima cited Section 7 of Republic Act 6981or the Witness Protection, Security and Benefit Act, which considers confidential proceedings involving an individual's application as a state witness. 
(Read the letter below.)
De Lima letter to Guingona – 05262014
De Lima was forced to submit the affidavits following a Senate subpoena. Napoles' camp submitted the affidavits to the justice department on Monday. (READ: Napoles tags more than 100 lawmakers)
Asked if what the department submitted is the complete batch of the controversial Napoles affidavits, Guingona said:  "The one who can answer that is Janet Lim Napoles but I presume [that] since we've been waiting for this for so long, this is it."
Guingona said a Senate hearing on the affidavits is the "natural consequence" of the submission, but added the Senate will also have to wait for the files of whistleblower Benhur Luy. The whistleblower will also likely be called to the Senate hearing to testify on his files.
Napoles has implicated more than 100 lawmakers in the scam, according to her lawyers. She is the principal suspect in the country's biggest corruption scandal in recent years.
She's now at the Ospital ng Makati recovering from surgery. (READ: Napoles can be discharged by May 29) – Rappler.com