As far as President Benigno Aquino III is concerned, it's a stretch to say that the former top cop lied to him during the controversial operation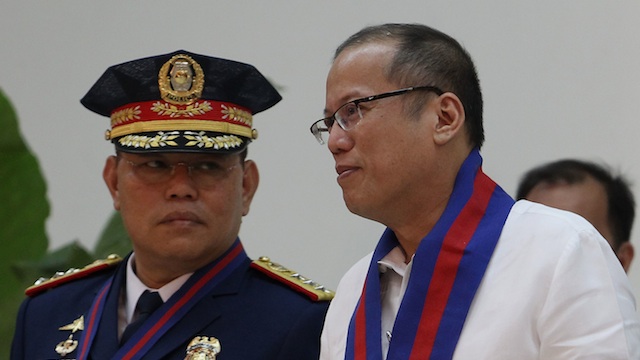 MANILA, Philippines – Four months after the controversial operation that proved to be his biggest challenge to date, President Benigno Aquino III can't help but continue his defense of his good friend, former Philippine National Police Director General Alan Purisima.
Aquino again defended the former top cop in an interview on Bombo Radyo aired on Thursday, May 14, when asked whether he believed that Purisima, at the time suspended PNP chief, lied to him on the day of the high-stakes "Oplan Exodus."
As far as the President is concerned, it's a stretch to call it a lie. 
"So mali 'yung impormasyong umabot sa akin, nagsinungaling ba? Baka masyadong mabigat namang sabihin kung nagsinungaling. Pero baka naman 'yung information nagkaroon ng konting wishful thinking on his part," Aquino said in an interview on Bombo Radyo aired on Thursday, May 14. 
(The information that reached me is wrong – is that considered lying? Maybe lying would be too big a word. Perhaps the information he gave me was wishful thinking on his part.) 
"Oplan Exodus" is an operation led by the PNP Special Action Force (SAF) on January 25, which saw close to 400 elite cops enter Mamasapano town in Maguindanao to neutralize 3 terrorists.
The SAF troopers were able to kill Zulkifli bin Hir alias "Marwan" during the operation but at a high price – the death of at least 3 civilians, 18 Muslim rebels and 44 of the SAF's own men. 
It's the bloodiest one-day operation in PNP history and among the biggest crisis to hit the Aquino administration. 
According to the PNP Board of Inquiry (BOI), a special group formed to probe the incident, both Purisima and sacked SAF chief Police Director Getulio Napeñas gave wrong information to their higher-ups – the President included – the morning of January 25. (READ: FULL TEXT: PNP report on Mamasapano)
It was during these crucial moments that two SAF companies found themselves trapped in close combat against different armed groups based in Mamasapano – the MILF, its splinter group the Bangsamoro Islamic Freedom Fighters (BIFF), and private armed groups. 
Aquino went on further to defend Purisima's role in the operation, which also stirred controversy. When "Oplan Exodus" was launched on January 25, Purisima was preventively suspended over a graft case pending before the Ombudsman. 
Purisima denied commanding the operation but it was later revealed that he sat in meetings and received updates on the day itself, even forwarding information to the President himself. 
In contrast, the PNP's officer-in-charge, Deputy Director General Leonardo Espina and Interior Secretary Manuel Roxas II were kept out of the loop. Also kept in the dark were military forces, who were later unable to send reinforcements to the beleaguered SAF troopers. 
'Subject expert' 
Aquino said in the radio interview that Purisima was the "subject matter expert" in the high-stakes operation, the only successful one in a series of attempts by the SAF. 
"Noong nasuspende siya, nanatili siya sa akin parang tinatawag na…subject matter expert. Imbes na merong…pinasahan niya ng impormasyon ang magle-lecture sa akin o magtuturo o magpapaliwanag kung ano ang nangyayari, minabuti ko na 'yung nakakaintindi 'nung iba't ibang variation nitong mga operations na ito ang magpatuloy na magpaliwanag sa akin," said Aquino of Purisima, his friend since the 1980s. 
(When he was suspended, he stayed on as my "subject matter expert." Instead of Purisima's subordinate lecturing or explaining to me, I thought it better to speak to the person who understands the different variations of the operation.)  
Purisima was given a full briefing by the SAF almost a month before the operation. A few days later, Purisima was also at a briefing with Aquino, Napeñas, Intelligence Group head Chief Superintendent Fernando Mendez, and other SAF officers at Bahay Pangarap, the President's official residence in Malacañang. 
Aquino said he saw nothing wrong when Purisima continued to receive and relay information on the day of "Oplan Exodus." 
"Parang iyon ang normal na naging flow for quite a number of years — mula 2012 yata, kung hindi ako nagkakamali…involved si Alan Purisima dito sa paghahabol ng mga high value targets," he added. 
(That was the normal flow of things for a number of years, since 2012. If I'm not mistaken, Purisima has always been involved in the pursuit of high value targets.)
The President did admit, however, that Purisma's "wishful thinking" made him assume the situation in Mamasapano was not as bad as it really was. 
Purisima resigned weeks following the controversial operation, a move which Aquino himself admitted was difficult to accept.
Hit at Napeñas 
The President, however, did not spare any criticism for Napeñas, who was the ground commander of the entire operation. 
"Hindi natin masasabing pareho ang sitwasyon dahil siya ang ground commander, siya ang dapat may situational awareness. Kumbaga 'yung sa kanya hindi pwedeng 'baka ganito,' or 'sana ganyan'. 'Pag nag-report si Napeñas bilang ground commander, nandun siya sa lugar, dapat ang ire-report niya facts," said Aquino, who had previously scored Napeñas for deceiving him.
(We cannot compare the situations of Napeñas and Purisima because Napeñas is the ground commander, he should have situational awareness. He cannot just say "maybe, it's like this" or "I hope it's like this." If Napeñas reports as the ground commander, he's there, and he should only report facts.) 
Highly secretive, the SAF decided to only coordinate with the military "time-on-target" or only after SAF troopers reached their target, contrary to Aquino's orders to ensure proper coordination.  
Napeñas, Mendez, and Purisima all expressed apprehension over prior coordination, citing previous leaks in operations. It was Purisima, however, who "advised" Napeñas to only loop in Espina and Roxas at the last minute.
Purisima also told Napeñas that he would "take care of" Armed Forces of the Philippines (AFP) chief General Gregorio Catapang, Jr, who happens to be Purisima's classmate from the Philippine Military Academy Class of 1981. 
"At alam naman dapat ni Napeñas hindi sila si Superman na hindi tinatablan. Hindi pwedeng ganun ang plano. Kaya iyon ang pinagdiinan ko, ni-'Yes, Sir' niya ako, balewala pala 'yung 'Yes, Sir' niya," said Aquino.
(Napeñas should have know that he is no Superman. He can't just run a plan like that. I'm sticking by what I said: he said yes sir but it turned out, his 'yes sir' meant nothing.) 
Both Purisima and Napeñas might face charges over their involvement in the controversial police operation. – Rappler.com