(UPDATED) Only 4 days ago, Presidential Spokesperson Harry Roque said Jennifer Laude's death is 'symbolic of the death of the Philippines' sovereignty'
It's Roque vs Roque again.
In an abrupt turn of events, Presidential Spokesperson Harry Roque on Monday, September 7, found himself justifying President Rodrigo Duterte's decision to grant absolute pardon to United States Marine Joseph Scott Pemberton.
Only 4 days ago, Roque slammed a regional trial court's decision to release the American soldier, and said Jennifer Laude's death is "symbolic of the death of the Philippines' sovereignty."
A former human rights lawyer, Roque once defended the family of Laude, the transgender woman killed by Pemberton on October 11, 2014.
Duterte on Monday said he has granted absolute pardon to Pemberton, whose early release had been put on hold after Laude's family filed an appeal last September 2.
Roque afterwards justified the pardon by saying Duterte cleared only the punishment imposed on Pemberton, not the US soldier's conviction.
Pemberton, an American soldier convicted of homicide, was earlier sentenced to 10 years in prison last December 2015 over the killing of Laude.
The soldier, however, was set to be released 4 years earlier than his sentence after he was recently granted full credits of Good Conduct Time Allowance (GCTA) under a Philippine law.
Roque just days ago
Reacting to reports on Pemberton's early release, Roque as presidential spokesperson earlier called it an instance of "judicial overreach" since it encroached on the executive branch's power to grant GCTA under Philippine laws.
"As I've said, the death of Jennifer Laude is symbolic of the death of the Philippines' sovereignty. Saan kayo nakakita, ang krimen nangyari sa Pilipinas, ang biktima Pilipino, ni hindi natin nahawakan si Pemberton noong nililitis siya, at ngayon bagama't symbolically hawak natin sila ay nandoon pa rin iyong mga Amerikanong mga sundalo?" Roque said last September 3.
(Where else have you seen anything like this, where the crime happened in the Philippines, the victim was Filipino, yet we did not get to hold Pemberton while the case was being litigated, and now, while we symbolically hold him, American soldiers still guard him?)
At the time, Roque also condemned the decision on Pemberton as a miscarriage of justice, citing the brutal death of Laude.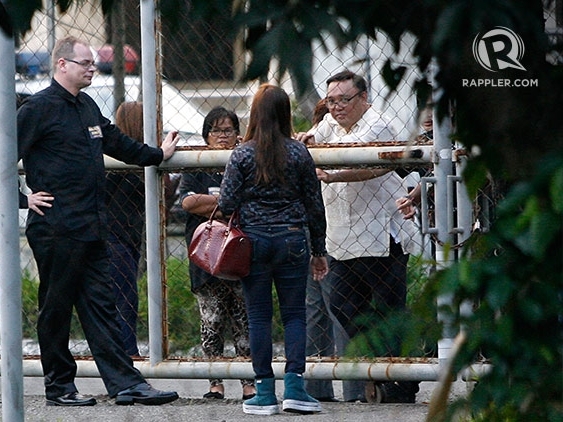 "Hindi po makatarungan iyan 'no. Pinatay po ni Pemberton si Laude na parang animal. Nilublob ang ulo sa inidoro hanggang malunod tapos binalian pa ng leeg. Hindi po tama na iyang karumal-dumal na krimen na iyan ay mapaparusahan lamang ng 5 taong pagkakakulong," Roque said in an earlier DZMM radio interview.
(It's unjust. Pemberton killed Laude as if she were an animal. He dunked her head in the toilet until she drowned, then broke her neck. It's not right that such a gruesome crime will be punished with only 5 years' imprisonment.)
Roque now
Fast forward to Monday after Duterte's pardon, Roque said it was no longer an issue whether or not the American soldier was entitled to early release under the GCTA law.
"Absolute pardon, meaning to say Pemberton can walk free. There is no longer any issue over if he is entitled to GCTA, if the law will apply because he was not imprisoned in national penitentiary," Roque told reporters in Filipino. "The President erased the punishment imposed on Pemberton."
Roque said with Duterte's absolute pardon, hurdles to Pemberton's release were now cleared and he would be free to leave the country.
The Palace official likewise said Duterte did not need to justify his decision to grant Pemberton pardon as it was part of the powers granted to him as Chief Executive.
Roque, however, said that while this was the case, the President did not clear Pemberton's conviction.
"Mamamatay tao pa rin siya, pero kung ano 'yung karagdagang parusa pa, binura na ng Presidente (He is still a murderer, but whatever the additional penalties are, the President has erased these)," Roque said.
As former lawyer for Laude's family, Roque caused a commotion inside Camp Aguinaldo in 2104 when he entered a restricted area and failed to stop his clients – the relatives and boyfriend of Laude – from breaching military gates in their attempt to confront the US serviceman. The Armed Forces of the Philippines filed a disbarment case against Roque.
This is not the first time Roque has found himself defending Duterte's controversial decisions on issues contrary to what he fought for as a human rights lawyer.
In February 2018, Rappler documented how Roque changed his tune on at least 3 issues he championed as a private lawyer: the West Philippine Sea, extrajudicial killings, and press freedom.
Before he became Duterte's mouthpiece – and even before Duterte won the presidency – Roque had even warned Filipinos against voting for the longtime Davao City mayor.
"Please, I want you to go out and not just vote against him but convince your neighbors and friends that because the right to life is the most important of them all, please do not vote for this murderer, this self-professed murderer," Roque once said.
Roque however told Rappler in February 2018: "I speak for the President now. In this capacity, I have no personal opinions." – Rappler.com
Editor's Note: An earlier version of this story said Presidential Spokesperson Harry Roque slammed a recent court decision as the "symbolic death of the Philippines' sovereignty." What Roque said was that Jennifer Laude's death, not the court order, is "symbolic of the death of the Philippines' sovereignty." We have updated the story to reflect the correction.