'Tsinelas ko durog na sa paglalakad sa init ng araw. Naawa na rin ako sa sarili ko, pero kailangang lumaban,' says 60-year-old Marcus Cato Penaflor
A 60-year-old Filipino worker, who had seen better days in Saudi Arabia as an industrial electrician, ended up peddling in the streets here to survive the pandemic.
"Tsinelas ko durog na sa paglalakad sa init ng araw. Naawa na rin ako sa sarili ko, pero kailangang lumaban (My slippers got tattered because of walking under the scorching sun. I kind of pitied myself too but I had to persevere)," said Marcus Cato Penaflor, who grew up in Bambang, Sta. Cruz, Manila, and has 5 children, the eldest of whom has a family of his own. 
In these hot desert summer days, the daily temperature would average 45 degrees Celsius.
Life was good, Penaflor said, when he was still gainfully employed in Saudi Arabia. He worked there for almost 19 years, and had a car and accommodations provided by his company.
"Lahat ng suporta sa pamilya ko, naibibigay ko (I provided all the needed financial support for my family)," he recalled.
Tough luck
Penaflor arrived in Dubai 3 years ago to try his luck in the city. However, his age proved to be an issue because the UAE law for expats sets the retirement age at 60; they could still work until 65 provided employers obtain approval from the Ministry of Human Resources and Emiratisation (MOHRE).
"Lagi naman akong nakakapasa sa trabaho, kaya lang kapag nalaman na ang edad ko, sasabihin tatawagan na lang. Kaya tinanggap ko na, na mahihirap akong makahanap (I always pass when I apply for work, but when they learn about my age, they'd just tell me that they'd call me. I came to accept the fact that it's really difficult to find work)," Penaflor said.
Faced with this predicament, Penaflor resorted to part time jobs, from cleaning to even gathering plastic bottles to sell, so he can buy food.
Around 2018, Penaflor finally got a job with an employment visa. He worked as a cook at a company canteen – completely different from his previous work as an electrician.
A year later, however, his visa got canceled and he never got another one since then.
With the money from his previous job and his experience as a cook, he started his small albeit underground business, selling comfort food and packed lunches at the risk of getting caught. Penaflor said he went "wherever my two feet would bring me."
Penaflor said he sold packed lunches and kakanin at Reef Mall in Deira, north of Dubai, a favorite OFW hang-out, which is at least 3 metro stations away from his place in Jafiliya. He had to stop when he was accosted by the mall's security who advised him to sell elsewhere.
He later stopped selling food because having no regular place to hawk his goods, the food would get spoiled under the heat of the sun should he walk the streets. And because he wasn't making money, his small earnings were slowly used up for his needs.
Surviving the pandemic
The COVID-19 pandemic made matters worse for Penaflor, but that did not stop him from trying to make a living. "Naglako ako sa mga kapitbahay ko sa building. Tumatawag sila sa akin para umorder (I sold to my neighbors in the building. They called me to place their orders)," he said.
Fellow OFWs have been supportive, chipping in for his food and rent. But as he wanted to make money on his own, he decided to walk the streets again after the lockdown and sold meat with help from a financier.
Penaflor said he was able to sell 15 to 20 kilos of meat a day. He spent a little over Dh100 of his earnings for food and kept the remaining money for rent and other expenses.
Penaflor shared that he once had to walk from Jafiliya to Rigga – an OFW enclave which is also in Deira and is some 10 kilometers away – carrying 35 kilos of meat to sell.
He knows that selling in the streets is illegal but he had no choice. "Alam ko pong bawal. Pero dito po ako kumukuha ng suporta para sa pagkain ko at pambayad ng renta. Mabuti na lang sinasagot ng mga ibang kasamahan ko dito 'yung upa at 'yung landlady ko naawa din," Penaflor said.
(I know it's illegal. But it pays for my food and rent. Fortunately, my friends have pitched in for my rent and even my landlady has taken pity on me.)
Bedspace in Dubai ranges from Dh600 to Dh750 a month.
Homecoming
The Philippine Consulate General eventually got word of Penaflor's plight and worked on his repatriation.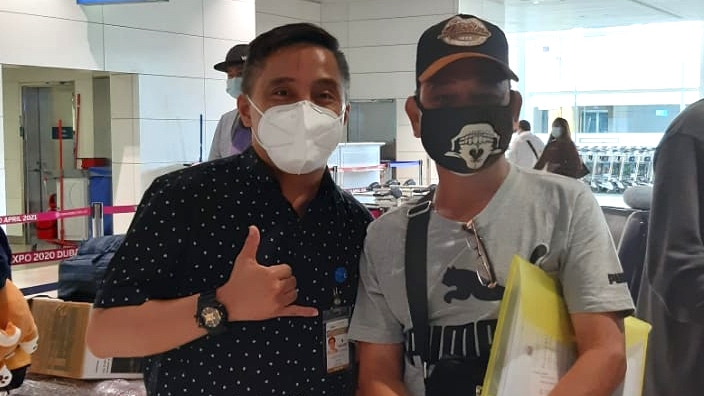 Penaflor said he would ask help from the government for a startup business once he got home. "Plano kong magtayo ng babuyan o magtinda ng bigas.  Sa edad kong ito, hindi ko na kayang magtrabaho ng mabigat (I plan to set up a piggery or sell rice. At my age, I can no longer do hard labor)," he said.
At the time of this interview, Penaflor, who had a few days left in Dubai, was still walking the streets to make a living. He was back in Rigga the other day, selling peanuts sautéed in garlic – a Pinoy favorite.
On the eve of his July 30 flight back to Manila, Penaflor prepared sinigang for the packed lunches that he sold in the building. He said he wanted to make a little more money one last time.
"Para maka-ipon kahit papaano at may maipadala pag-uwi (So that I can still earn money that I can bring home)," he said.
Penaflor left Dubai on board a Philippine Airlines flight 659. The flight had a total of 354 passengers, all overseas Filipino workers (OFWs), according to Agnes Pagaduan, PAL's country manager in the UAE.
The flight took off at 8 pm on Thursday, Dubai time, and was expected to arrive at the Ninoy Aquino International Airport (NAIA) at 9:15 am on Friday, July 31. – Rappler.com