iWantTFC tweets, 'CNTV will no longer air on ANC,' in response to people looking for the China News TV broadcast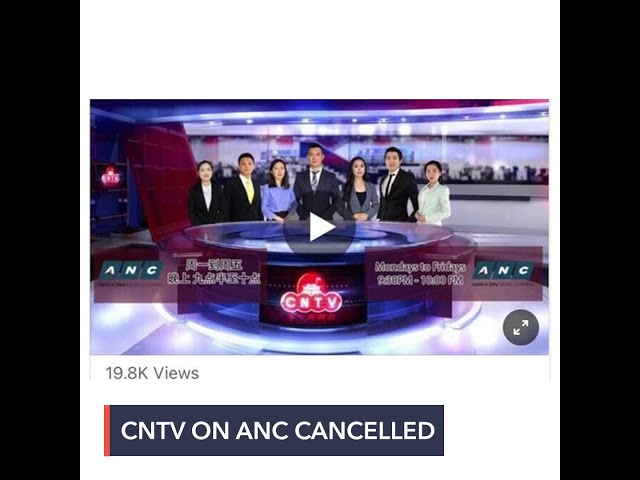 The ABS-CBN News Channel (ANC) has canceled its partnership with Chinatown News TV, the Chinese language newscast owned by a Filipino-Chinese company.
The CNTV newscast, which started airing on ANC on Monday, April 12, did not air on the cable channel on Thursday, April 15.
On Twitter, iWantTFC informed former journalist Jerald Uy on Friday, April 16, "that CNTV will no longer air on ANC." The verified account of iWantTV chimed in a conversation between Uy and another user on where to find CNTV.
"We truly appreciate your support for ABS-CBN and hope that you continue to share with us feedback on our programs," iWantTFC said in a tweet.
iWantTFC, a merged service of iWant and TFC Online, is owned and operated by ABS-CBN Corporation.
The airing of CNTV on ANC drew public criticism owing to CNTV's goal of promoting China's One Belt One Road initiative. Filipinos remain skeptical of China despite President Rodrigo Duterte's closer ties to the regional giant, which has continued its militarization of the West Philippine Sea.
On April 14, the Philippines filed another protest against China over the presence of Chinese vessels in the West Philippine Sea. Days before the first airing of CNTV, Chinese navy ships chased out an ABS-CBN news crew led by journalist Chiara Zambrano from Ayungin Shoal, which is within the Philippines' exclusive economic zone.
ABS-CBN Integrated News and Current Affairs chief Ging Reyes earlier defended the airing of CNTV ANC, saying it "should not be equated with the intrusions in the West Philippine Sea" and cautioned against racial discrimination. She had also assured the public that ANC had editorial control over their content.
CNTV is produced by Horizon of the Sun Communications, Incorporated, the same team behind Chinatown TV, which produced the controversial "Iisang Dagat (One Sea)" video – a song in Mandarin and Filipino that touted the two countries' partnership as "friendly neighbors across the sea" during the coronavirus pandemic. – Rappler.com