This is AI generated summarization, which may have errors. For context, always refer to the full article.
(UPDATED) Former Cambridge Analytica employee-turned-whistleblower Brittany Kaiser says the now-defunct firms' CEO saw it as a 'financial opportunity'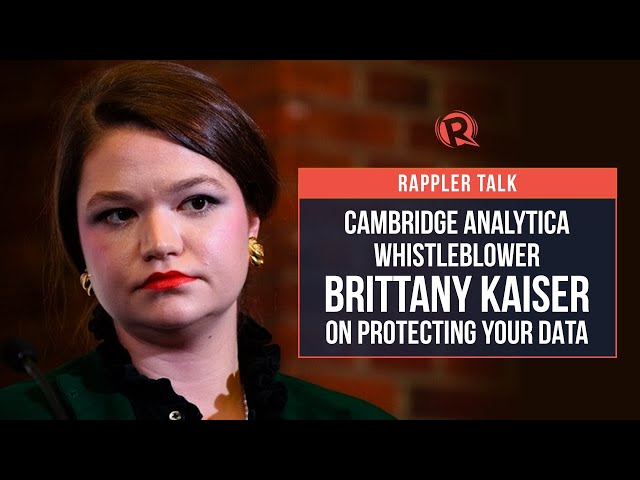 Former Senator Ferdinand "Bongbong" Marcos Jr, son of the late dictator, had approached the highly-scrutinized political data company Cambridge Analytica to "rebrand" the Marcos family's image on social media.
Former Cambridge Analytica employee-turned-whistleblower Brittany Kaiser revealed this in Rappler Talk episode with Rappler executive editor Maria Ressa, saying Marcos' request had been taken up by staff and was debated at the now-defunct political consulting firm.
The Rappler Talk interview will be aired on Wednesday night, July 15.
"So we had a request straight from Bongbong Marcos to do a family rebranding. This was brought in through internal staff in Cambridge Analytica and was debated. There were some people that didn't want to touch it and there were others, like our CEO Alexander Nix, that saw it as a financial opportunity and asked to write the proposal anyway," Kaiser said.
Kaiser, who is author of the book Targeted, warned about rampant microtargeting or the practice of manipulating an individual's thoughts and sentiments through disinformation tactics and the use of available personal data. She described the Marcoses' efforts to rebrand their family as historical revisionism fueled by the use of online data.
"So, as you call it historical revisionism, that's exactly what it is, but it's done in a data-driven and scientific way. You undertake just enough research to figure out what people believe about a certain family, individual, politician, and then you figure out what could convince them to feel otherwise," Kaiser said.
The goal, she added, would be to keep running tests "until you actually start to see people's opinions and attitudes changing."
Rappler reached out to Marcos' spokesperson on Monday, July 13, but did not receive a response as of posting on Wednesday, July 15.
On Thursday morning, July 16, Marcos' Spokesperson Vic Rodriguez denied that Marcos reached out to Cambridge Analytica and branded the report as "patently fake, false, and misleading."
"Former Senator Marcos never reached out to them and, like most of us, was only made aware of Cambridge Analytica's existence through reports of its controversial activities in the media," he said in a statement sent to media.
Rodriguez dismissed Rappler's report as a "marketing ploy" to "drum up support" for the news outlet and said Marcos was mulling possible legal options against Rappler.
"BBM is consulting with his legal team and will be exploring the legal options to fight this injustice. The filing of libel charges is on the table," he said in the statement that was also posted on the official Bongbong Marcos Facebook page.
Why this matters: Kaiser's comments hark back to vast disinformation networks uncovered by Rappler in 2019, which the Marcos family used to pave their way for their future rise in Philippine politics.
The 3-part investigation found that an extensive network of anonymously-managed Facebook pages and groups were used to alter public perception of the family.
This was done by either downplaying or outrightly denying kleptocracy and human rights violations during the Martial Law years. The same groups had also taken to exaggerating the Marcos patriarch's achievements, as well as vilifying critics, rivals, and mainstream media.
The investigation found that while a few Marcos pages were created much earlier, the creation of new pages per month ramped up in 2014, around the time former first lady Imelda Marcos first mentioned she wanted her son to run for president.
Bongbong Marcos would eventually run for vice president in the 2016 elections, where he lost to Vice President Leni Robredo. (Marcos and Robredo remain locked in an electoral protest before the Supreme Court, though a recount in 3 pilot provinces widened Robredo's lead by some 15,093 votes.)
Rappler found the creation of new fan pages continued after the 2016 elections and further ahead into months leading up to the 2019 elections, when another Bongbong Marcos' sister, Imee Marcos, ran for the Philippine Senate.
Read the 3-part investigation here:

Part 1 | Networked Propaganda: How the Marcoses are using social media to reclaim Malacañang
Part 2 | Networked Propaganda: How the Marcoses are rewriting history
Conclusion | Networked propaganda: False narratives from the Marcos arsenal
Kaiser pointed out that while the similar tactics are done for rebranding in traditional politics, it was "extremely dangerous" in the context of figures such as the Marcoses.
The 21-year rule of the Marcos patriarch was marred by killings, torture, disappearances, media oppression, and corruption. His administration was ousted during the EDSA People Power Revolution in 1986.
The Marcoses have never apologized for nor acknowledged rampant abuses committed during the brutal dictatorship and have instead told the public to "move on" from Martial Law.
"In a particular instance where the history of a family and an individual is important for the public to know, this type of work is extremely dangerous," she said.
Other clients: Kaiser said that aside from Marcos' request, Cambridge Analytica CEO Nix sought to actively establish partnerships in the Philippines before the 2016 presidential election.
"From what I understand, he (Nix) met with many candidates and he solidified a partnership with a top political consultancy in the Philippines to make sure that we would have on the ground partners that would help us fulfill the campaigns that we were planning to run," Kaiser said.
A separate Rappler investigation earlier found Strategic Communications Laboratory (SCL), the parent company of Cambridge Analytica, boasted of ties to an affiliate of President Rodrigo Duterte. The local political consulting firm, Istratehiya Inc, earlier admitted meeting with SCL but maintained no partnership was made.
Meanwhile, Nix had also been photographed with Duterte campaign insiders like Jose Gabriel "Pompee" La Viña, who helped craft Duterte's social media strategy for his 2016 presidential campaign. La Viña earlier said he never worked with SCL, but said "Nix influenced my work."
Cambridge Analytica was earlier revealed to have harvested the data of millions of Facebook users to target them for political campaigns in over 30 countries, including the United States.
Former employee and whistleblower Christopher Wylie earlier said the company, whose end goal was to create software to predict and influence voters' choices at the ballot box, used the Philippines as a "petri dish" to test its techniques. – Rappler.com