But a close ally of Speaker Lord Allan Velasco says Representative Alan Peter Cayetano is just being 'bitter'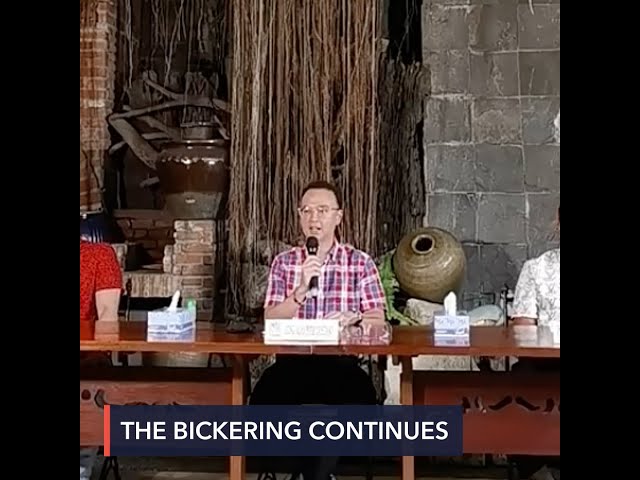 Three months after he was ousted as speaker, Alan Peter Cayetano accused the House now led by his rival Lord Allan Velasco of being preoccupied with politicking instead of helping address the coronavirus pandemic.
The deposed House leader and 6 of his allies said on Thursday, January 14, that they formed their new group – the so-called "BTS sa Kongreso" – because the House leadership would rather focus on issues like Charter Change (Cha-Cha) instead of probing the government's COVID-19 vaccination plan.
"Dati, 'yung malinis na pangalan ng kongresista, ng institusyon, importante. Ngayon po, nakikita natin po 'yung katrapuhan at balik-pulitika. Cha-Cha, death penalty, abolish ang party list – ilan 'to sa mga importanteng issue na pag-usapan, but not right now when we're focusing on the vaccination," said Cayetano, whose refusal to honor his term-sharing deal with Velasco eventually led to his own downfall in October 2020.
(Before, the honorable reputation of the congressmen, of the institution were important. Now, we can see it's all about traditional politics. Cha-Cha, death penalty, abolishing the party list – these are important issues, but not right now when we're focusing on the vaccination.)
Cayetano said the "BTS sa Kongreso" name – which earned him the wrath of the fans of South Korean boy band BTS – is technically not the name of their bloc but just a call for Congress to go "Back To Service."
"Ang BTS po ay simple lang na balik sa tamang serbisyo (BTS is a simple call to go back to service). It was a call, not a name," said Cayetano.
Cayetano was flanked by 6 legislators who once held plum House posts but were subsequently booted out after Velasco unseated him as speaker.
They include Representatives Luis Raymund "LRay" Villafuerte Jr, Camarines Sur 2nd District; Dan Fernandez, Laguna 1st District; Raneo Abu, Batangas 2nd District; Mike Defensor, Anakalusugan; and Jose Antonio Sy-Alvarado, Bulacan 1st District.
Capiz 2nd District Representative Fredenil Castro is also part of their group according to the advisory earlier sent to the media, but he was not present during the press conference.
More allies in Cayetano bloc?
The BTS congressmen's statements on Thursday were rife with accusations that the Velasco-led House was too slow in passing laws and investigating issues in relation to the pandemic.
Villafuerte also implied that the House under Cayetano supposedly performed better compared to Velasco's first 3 months as Speaker.
"The new leadership of the House, if you compare its first 3 months to the time when we were there, you can see that in the middle of the COVID-19 pandemic, we worked and passed very important legislation," Villafuerte said in Filipino.
But it was under Cayetano when the House rejected the franchise bid of ABS-CBN, forcing the country's largest media network to shut down in the middle of the pandemic.
It was also during Cayetano's time when the House approved the controversial anti-terror law, which critics warned would be used by Duterte to silence government dissenters.
Representative Defensor claimed their bloc has many sympathizers in the House leadership who are upset because the Speaker supposedly ordered to stop congressional probes in the chamber.
"And I will assure you – I just won't mention their names – that we are a bigger group. We have many sympathizers, supporters that are currently part of the leadership of the House," said Defensor, former public accounts panel chair.
Less than an hour after Defensor made this statement, Velasco's office announced that the House committee on health will be probing the Duterte government's COVID-19 vaccination program on Monday, January 18.
'Bitter' Cayetano
Cayetano insisted he was not interested in taking back the speakership from Velasco. He said they just wanted to push the House to fix its priorities.
"Sa inyong-inyo na ang speakership. Isaksak 'nyo pa sa baga 'nyo.… Hindi 'yun ang issue dito. Ang issue dito, naghihirap ang tao," he said.
(The speakership is all yours. You can have it…. That's not the issue here. The issue here is that the people are suffering.)
But Senior Deputy Speaker Salvador "Doy" Leachon, a close Velasco ally, was not convinced with Cayetano's statements.
Leachon said Cayetano was being "bitter" for losing the speakership battle.
"This is an obvious publicity stunt and gimmickry from someone who's trying to revive his political career, which suffered a major setback after an overwhelming majority of House members ousted him from the top House post 3 months ago," Leachon said in a statement.
"Sino ba ang talagang namumulitika? Sino ba ang hindi maka-move-on? Sino ba ang bitter?" he asked.
(Who's doing the politicking here? Who can't move on? Who's the bitter one?)
No less than the President himself had forged a 15-21 term-sharing deal between his allies Cayetano and Velasco in 2019.
When Cayetano refused to give way to Velasco at the end of his 15-month stint, it triggered a weeks-long parliamentary battle that culminated in his dramatic ouster in October 2020. – Rappler.com