(UPDATED) Alan Peter Cayetano's ambition – the presidency in 2022, according to political pundits – becomes his undoing
Early in the morning of October 12, luxury cars lined the street and driveway leading to an exclusive sports club in a quiet corner of Quezon City.
Men in crisp Barong Tagalog and women in jumpsuits and dresses emerged from the cars with an air of importance and hushed urgency. They murmured to one another through face masks – gatherings such as this have become conspicuous because of the pandemic. They walked faster when reporters approached them.
Pinned on their collars was the symbol of the House of Representatives.
They were the friends and allies of Lord Allan Velasco, the 42-year-old congressman from Marinduque. They were about to make him the next Speaker of the House.
They came to Celebrity Sports Plaza knowing they already had the magic number secured: 187, the number of lawmakers committed to back Velasco.
A day earlier, Velasco's allies gathered in two venues in Quezon City – the clubhouse of the Nationalist People's Coalition (NPC) in New Manila, and a restaurant roughly a kilometer away – to affix their signatures to a manifesto.
In it, the legislators said they would unseat Alan Peter Cayetano of Taguig as Speaker, and replace him with Velasco by October 12.
The initial plan was to have the breakfast meeting at the sports club as a show of force, and then travel as a group to the Batasang Pambansa nearby to stage their coup.
But the plenary hall at the Batasan was padlocked, the electricity cut off, and the Wi-Fi connection made inaccessible for a livestream. So Velasco and his allies switched to plan B: hold their own session at the sports club.
The stage was set and they brought an improvised House mace – the symbol of the chamber's authority – to the conference hall on the club's second floor.
When members of the media were finally allowed into the hall, 120 lawmakers were already seated on chairs placed a meter apart. The rest of their allies watched the events unfold via Zoom web conference.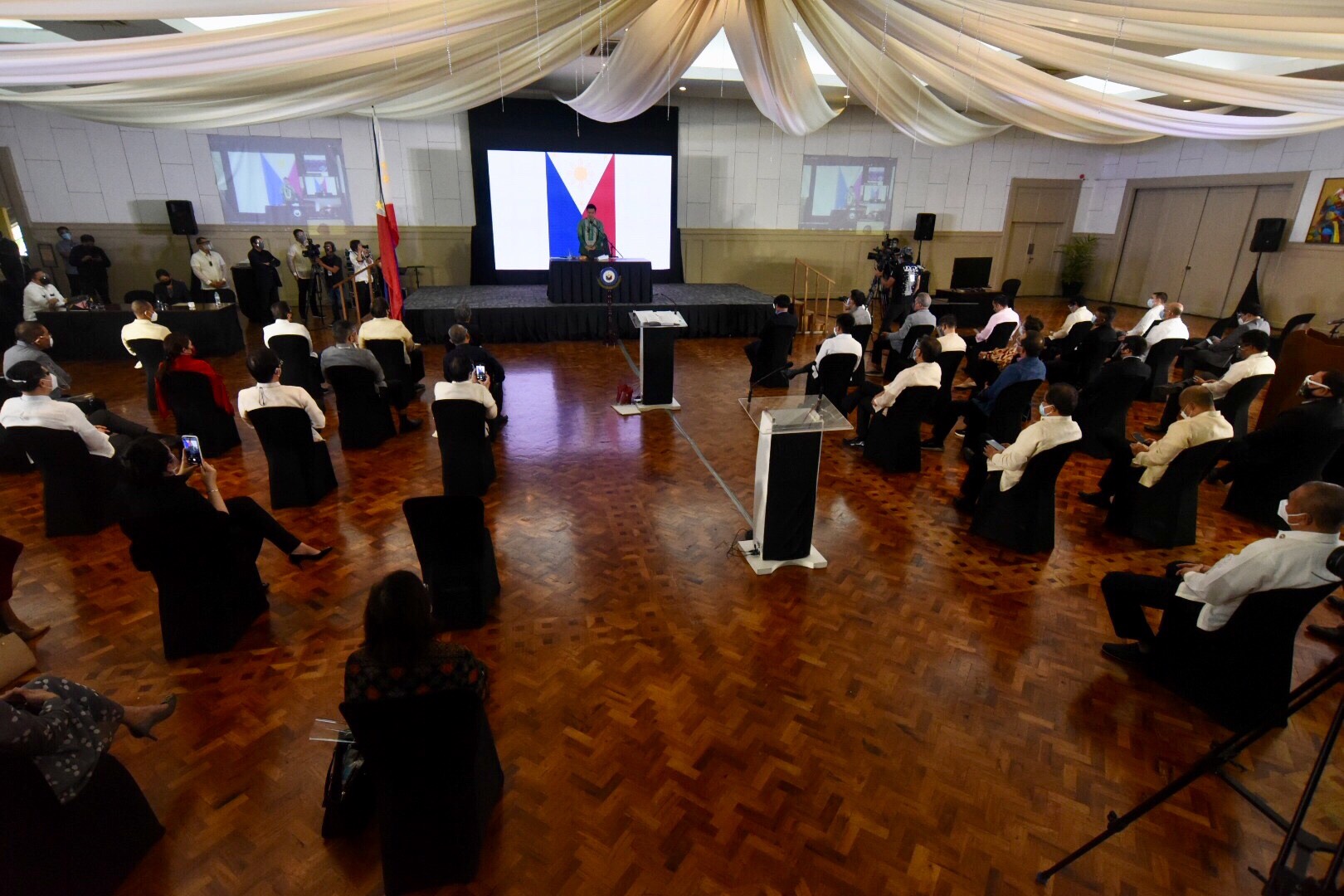 They remained silent as lawmakers who were cast in lead roles – Conrado Estrella III of Abono party-list group as deputy speaker, and Juan Pablo "Rimpy" Bondoc of Pampanga 4th District as majority floor leader – opened the controversial remote session, which Cayetano later described as a sham.
They knew criticism would come, so Cagayan de Oro City 2nd District Representative Rufus Rodriguez – a former law school dean – was tasked to justify holding session in a sports club as legal. In the House, he argued, the true manifestation of power comes from the presence of a majority of its members.
When Buhay Representative Lito Atienza formally moved to declare the position of Speaker vacant, a congressman in a face mask muttered to himself, "We have crossed the Rubicon."
Cayetano's days as Speaker were over.
One by one, Velasco's most trusted allies from 5 influential House blocs nominated him as the sole candidate for Speaker. In the end, a total of 186 legislators voted him as their new leader, just a signature short of the agreed number.
Loud cheers filled the hall as Velasco took the rostrum. His green Barong Tagalog contrasted with the Philippine flag flashed on the LED screen behind him, mimicking the one draped on the high wall of the Batasan's plenary hall.
"Today, history is made once again in these august halls," he said, "at ako po, inyong abang lingkod, Lord Allan Jay Velasco, ay taos-pusong tumatanggap sa hamon na maging Speaker ng Kamara de Representantes (and I, your humble servant, Lord Allan Jay Velasco, wholeheartedly accept the challenge to become Speaker of the House of Representatives)."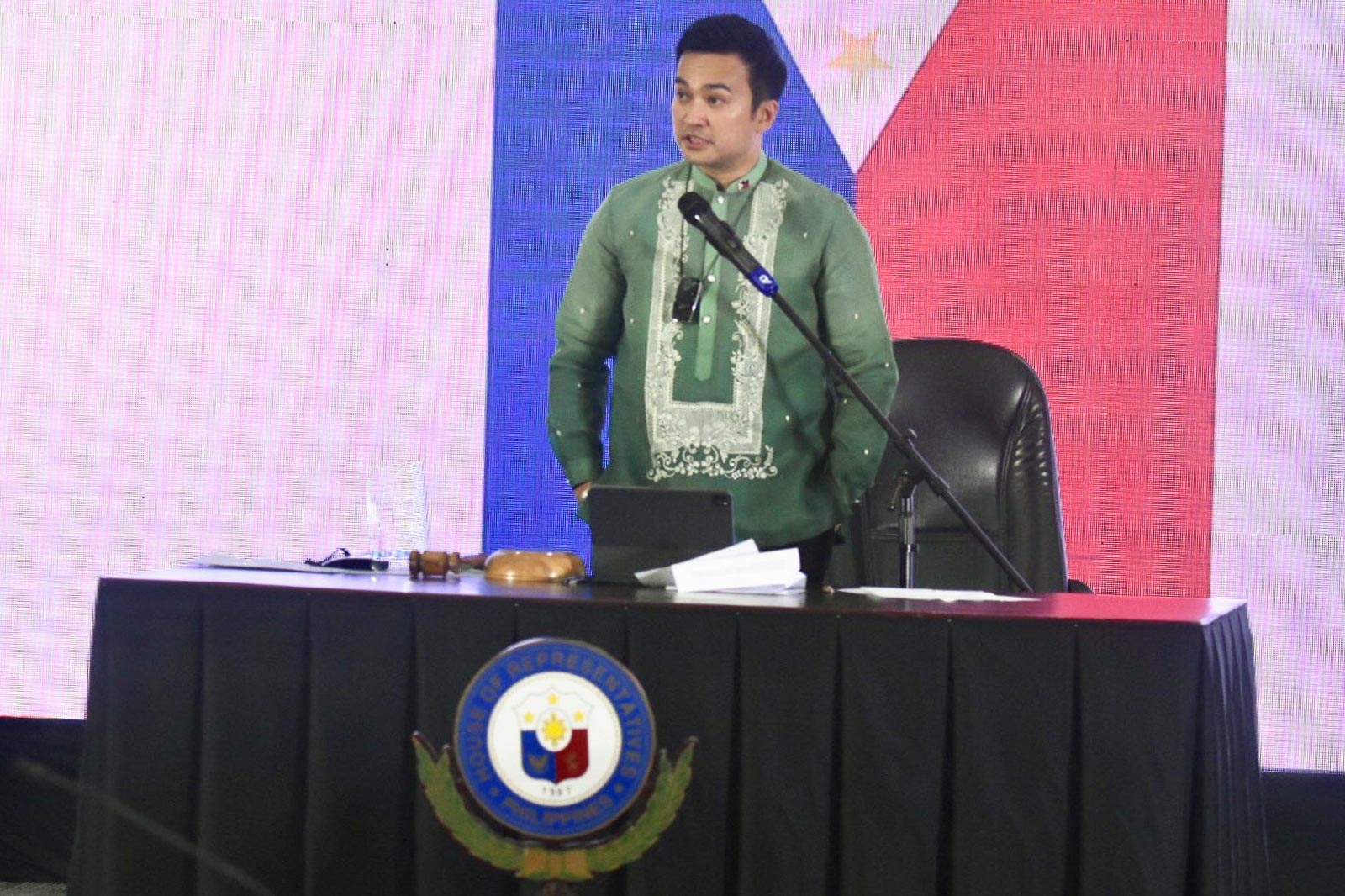 A similar scene played out at the Batasan plenary hall a day later, October 13, to formalize Velasco's election. It settled questions on the legality and legitimacy of the vote at the sports club.
The vote for Velasco again clocked in at 186.
No, they would never fake their numbers, Bagong Henerasyon Representative Bernadette Herrera responded to naysayers.
"'Di namin gagawin 'yung ginawa namin nang lakas lang ng loob. Hindi!" Herrera, Velasco's close friend and ally, told Rappler. (We wouldn't do what we did on sheer gumption alone. No!)
They wouldn't risk humiliating their Speaker that way, she added.
Whether it was a political masterstroke by Velasco that earned him those all-important numbers, or his pedigree and ties to some higher power, what's clear is that his rise to become Lord of the House was unwittingly bolstered by its previous master.
Cayetano, maneuvering to stay in power, had dealt a blow he must have thought fatal to Velasco's ambition. Instead, it backfired, and precipitated his own fall from the top.
Cayetano falls, Velasco rises
For months, Velasco had watched in silence as the more seasoned tactician from Taguig outgunned and outsmarted him at every turn – or so Cayetano assumed.
After convincing President Rodrigo Duterte to give him the better half of the "15-21" term-sharing deal last year, Cayetano went on overdrive to paint his rival as an impassive legislator who didn't bother to make friends with other House members.
Cayetano even cried "coup" against Velasco twice.
Yet the 49-year-old Taguig lawmaker seemed to have forgotten one thing: he became speaker only at the President's bidding.
The end began for Cayetano the moment he belittled his younger rival, and put himself at odds even with Duterte. Cayetano's own ambition – the presidency in 2022, according to political pundits – became his undoing.
"I think it was a miscalculation on the part of former speaker Cayetano," Dindo Manhit, political analyst and president of Stratbase ADR Institute, told Rappler.
"I think the accusations that he didn't work, that he didn't have the support – Speaker Velasco did his work quietly, and in the end he showed there were people who decided to join him. That's what I think took speaker Cayetano by surprise," said Manhit.
Cayetano went too far, they said, when he railroaded the approval of the proposed 2021 national budget on 2nd reading, and suspended session until November 16 – a ploy to bar Velasco from taking over. This way, Cayetano disregarded the gentleman's agreement brokered by the Chief Executive himself.
Angered by the developments and also feeling duped by his former running mate Cayetano, the President called on Congress to convene a special session to ensure the timely passage of the budget bill.
Duterte did not have to say it out loud. Velasco knew this was the President's kiss of death to the man trying hard to cling to the speakership.
"A rejection of the agreement is a rejection of palabra de honor (word of honor), and likewise a rejection of Mayor-President Rodrigo Duterte himself," the Marinduque congressman told his allies after they catapulted him to the speakership on October 12.
Opposing the President – a popular one – is political suicide for a lawmaker with lofty aspirations, especially when preparing the budget for a year running up to elections.
In Philippine politics – the saying goes – there are no permanent friends or enemies, only permanent interests. When it became apparent that Duterte's blessing no longer rested upon Cayetano, once loyal allies abandoned him for Velasco.
"Our politics is still tied to personalities, certain political individuals, instead of party programs and loyalties," political analyst Ela Atienza of the University of the Philippines said. "We don't have institutional checks to party switching, and we don't have incentives for strong political parties."
After waiting in the wings for months, the stars finally aligned for Velasco, and he found his opportunity to stage a real coup.
How the alliances shifted
Three weeks earlier, it was hard to imagine Cayetano being deposed by Velasco, the son of retired Supreme Court associate justice and now Marinduque Governor Presbitero Velasco Jr.
On September 30, the Taguig congressman flexed his numbers when he offered to resign as speaker, only for 184 legislators to reject it.
He still had control of the majority at the time, even if Davao City 1st District Representative Paolo Duterte – the President's son – had already threatened to unseat him on September 21. It added fuel to the power struggle that had gripped the House these past two months.
But when Cayetano suspended session a week early on October 6, showing he would let the national budget hang in the balance just to keep his post, his numbers began to dwindle.
Herrera said lawmakers became suspicious when Cayetano insisted that Duterte wanted him to stay on as speaker until December.
Velasco earlier accused Cayetano of favoring his allies in the 2021 budget. Cayetano denied it.
"We feel that there's so much at stake for them with that budget," Herrera said. "So it wasn't hard. Because when you showed them what really happened to the budget, what they did, it was easy to convince the members."
His reputation as a shrewd politician did not help Cayetano. He had switched alliances several times before, for his own benefit. This put his colleagues at the House on guard.
The other lawmakers never really liked Cayetano, House insiders claimed, but they had to support him because Duterte approved his term-sharing deal with Velasco.
By suspending session early and jeopardizing the budget, Cayetano drove away many allies whose loyalty to him had been fragile all along.
"The speakership fight is a test of character. If you don't have integrity, how can you even say you're entitled to lead? We're talking about your character here," said one pro-Velasco lawmaker who refused to be identified.
It then became much easier for Velasco and his allies to secure votes the weekend before their October 12 meeting at the sports club.
"It's a simple matter of organizing it. It was never contentious in the sense that a majority of the congressmen really lost faith in [Cayetano] as a leader, as a man of integrity. You didn't have to ask people. They just had to be organized," said the Velasco ally.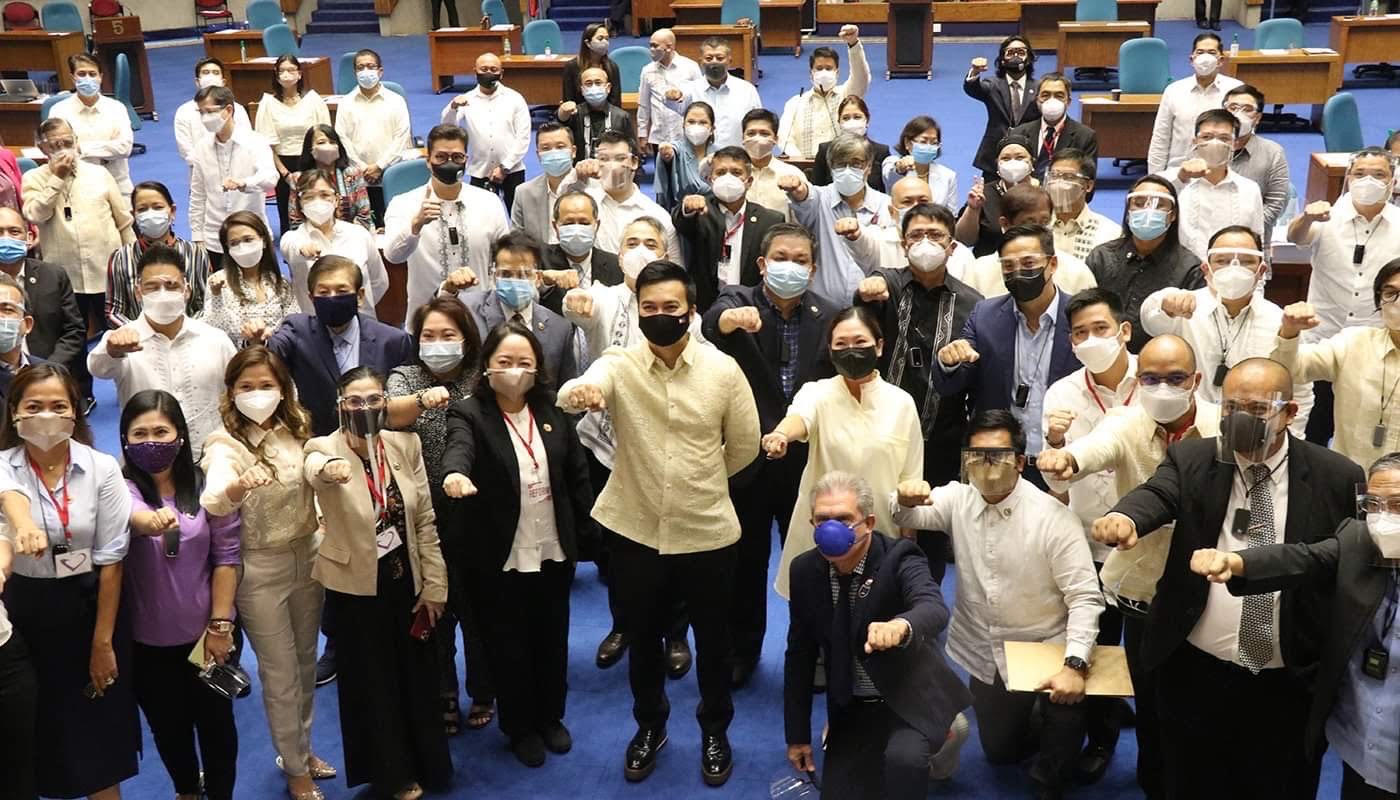 Three influential House blocs played key roles to secure the numbers for Velasco.
The following blocs have solidly backed Velasco even during the heated speakership race in 2019:
PDP-Laban, the ruling party
Partido Demokratiko-Pilipino-Lakas ng Bayan (PDP-Laban) has 61 members in the House.
The party counts Velasco as a member. Making him speaker would help PDP-Laban save face, as it has consistently lost members in the House despite it being Duterte's party.
NPC, the party formerly chaired by Ramon Ang
The Nationalist People's Coalition (NPC) has 42 members in the House.
The NPC pushed for Velasco as the party used to be chaired by business tycoon and San Miguel Corporation president Ramon Ang, known to be quite close to Duterte and the new Speaker's family. The Filipino billionaire is a friend of the President, and he funds the Pilipinong May Puso Foundation headed by Velasco's wife Rowena. 
The NPC is currently chaired by Senate President Vicente Sotto III.
PCFI, the party-list coalition
The Party-List Coalition Foundation (PCFI) has at least 52 members in the House.
Velasco is close friends with many members of PCFI or the party-list coalition, including its billionaire president and 1-Pacman Representative Michael "Mikee" Romero.
The 3 blocs – PDP-Laban, NPC, and PCFI – had to battle it out against Cayetano's party, the Villar-led Nacionalista Party (NP) that has around 40 members in the House, and the National Unity Party (NUP).
The NUP is the second largest political party in the chamber with 47 members.
Several party-list legislators had initially been Cayetano supporters, too.
Cayetano effectively declared war on the pro-Velasco blocs when he stripped 4 legislators from these groups of their key House posts – something the Taguig congressman claimed he would never do.
Among the casualties were Romero and AAMBIS-OWA Representative Sharon Garin, who were booted out as deputy speaker and chairperson of the House committee on economic affairs, respectively.
Romero, Garin, and Herrera then became instrumental in ousting Cayetano. So did Ilocos Sur's 2nd District Representative Kristine Singson Meehan from the Northern Luzon Alliance.
On the weekend before October 12, these lawmakers gave up sleep calling up colleagues to rally support for their friend Velasco.
Michael John "Jack" Duavit of Rizal 1st District, Weslie "Wes" Gatchalian of Valenzuela City 1st District, Mark Enverga of Quezon 1st District, and John Rey Tiangco of Navotas mobilized their forces in the NPC for Velasco.
Oriental Mindoro 1st District representative Salvador "Doy" Leachon of PDP-Laban worked overtime for Velasco, whom he has backed strongly since the speakership battle in 2019. Cayetano removed Leachon as chairperson of the House of Representatives Electoral Tribunal in March because he was supposedly "sowing intrigues" in the chamber.
Bondoc of PDP-Laban also became a reliable Velasco ally. The Pampanga congressman ran the proceedings during the ouster of Cayetano.
With these 3 powerful House blocs coming together, Velasco mustered the support he needed.
Arroyo's Lakas-CMD as swing vote
The swing vote that sealed the deal for Velasco was the Lakas-Christian Muslim Democrats (Lakas-CMD) party, whose president is House Majority Leader Martin Romualdez.
Though Lakas-CMD has only 19 district lawmakers as members and 17 party-list allies, it remains influential in the chamber. Former president Gloria Macapagal Arroyo – who staged her own coup against Davao del Norte 1st District Representative Pantaleon Alvarez for the speakership in 2018 – is the party's president emeritus.
By joining the ouster plot, Lakas-CMD members helped Arroyo exact revenge on her mortal enemy Cayetano. He was one of Arroyo's worst critics when she was president, and even sought her impeachment.
Sources from the Lakas-CMD said that by 11:30 pm on October 12, Velasco himself had succeeded courting Arroyo's son, Pampanga 2nd District Representative Juan Miguel "Mikey" Arroyo, and Negros Occidental 5th District Representative Maria Lourdes Arroyo, for their e-signatures.
When the Arroyos fell behind Velasco, a majority of Lakas-CMD members followed, including Romualdez.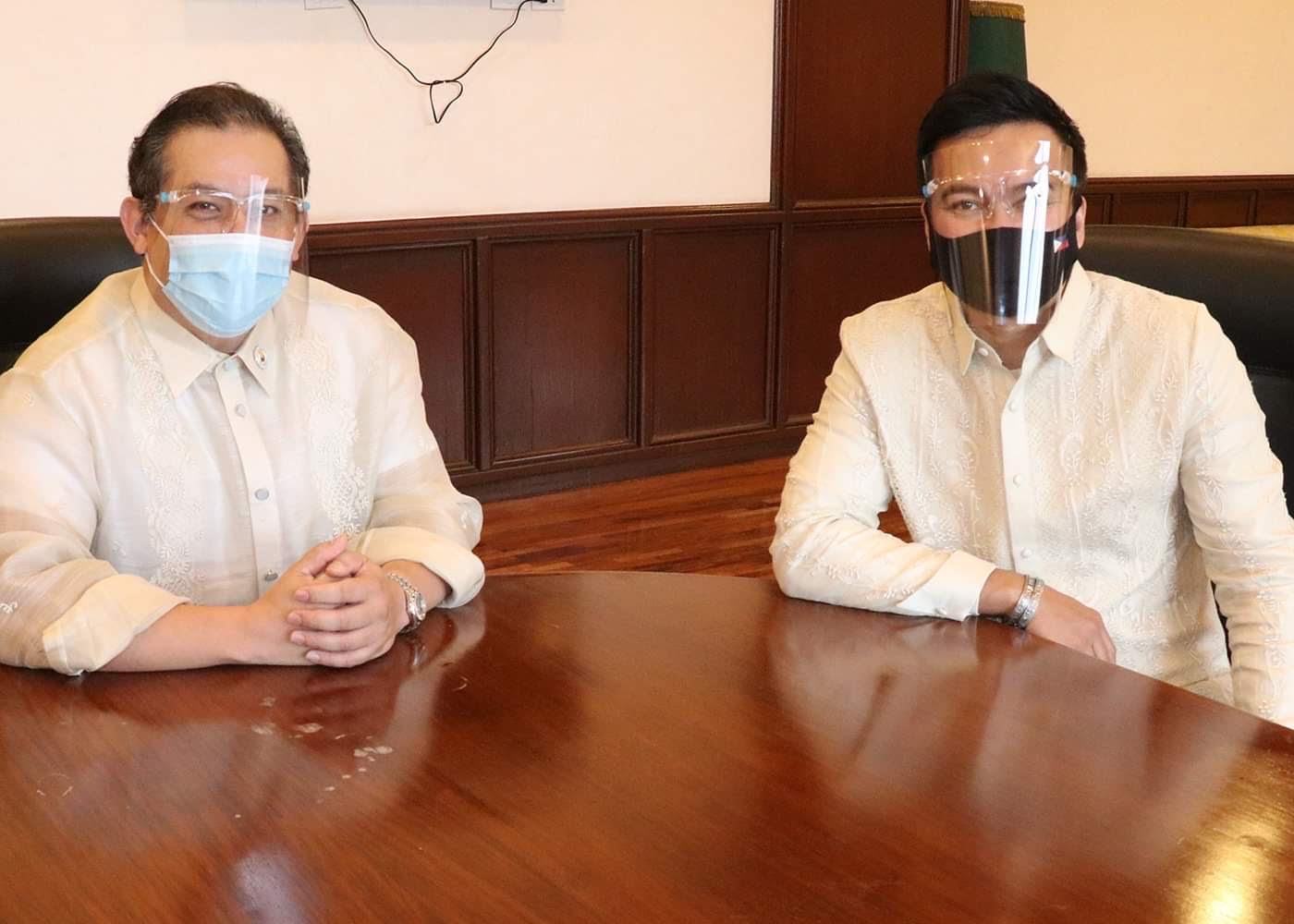 Romualdez had been a strong contender for speaker in 2019, but gave way to the Cayetano-Velasco term-sharing deal. The Leyte 1st District congressman then agreed to be majority leader instead.
Romualdez gets to keep his post under the Velasco speakership.
The Sara Duterte factor
Representatives from the following blocs also reaffirmed their support for Velasco: the Northern Luzon Alliance, the Mindanao bloc, the National Capital Region bloc, the Visayan bloc, and the Bangsamoro Autonomous Region in Muslim Mindanao bloc.
Even the opposition Liberal Party, the object of Duterte's ire, threw its support behind Velasco.
Naturally, the Hugpong ng Pagbabago (HNP) regional party of Davao City Mayor Sara Duterte – the President's daughter – also backed Velasco.
Velasco had sought Sara Duterte's help to secure the speakership. The mayor called up lawmakers over the weekend to help her ally.
"I told him that HNP was created to propel unity and development in Davao Region and assist the administration of President Duterte. I also emphasized that HNP will respect the term-sharing agreement as ordered by the President last year and reiterated that the party fully supports Presidential Proclamation 1027," Sara Duterte said in a statement.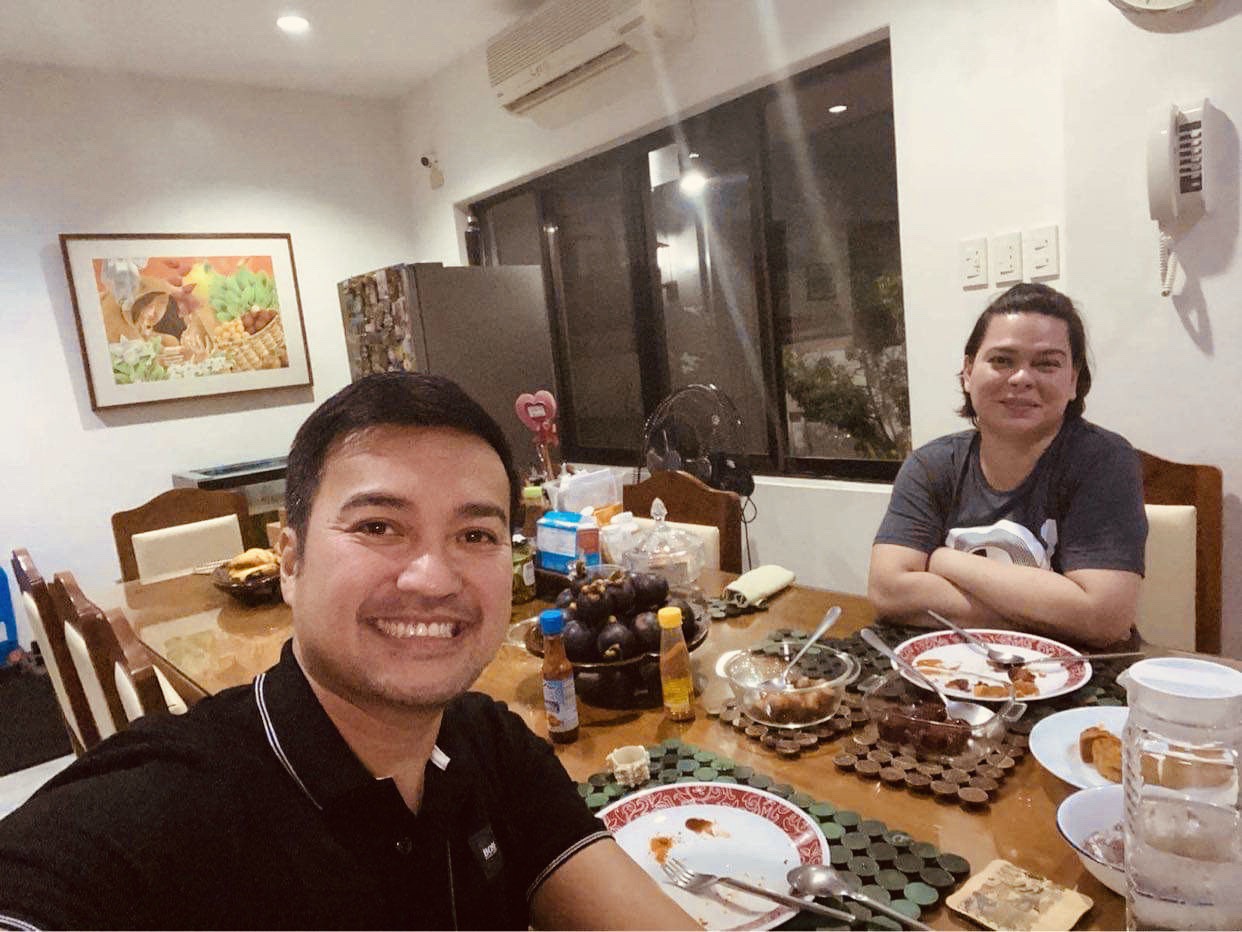 This is the second time the President's feisty daughter has played a key role in ousting a sitting speaker. She had a hand in Alvarez's ouster that gave way to Arroyo.
Back then, Sara Duterte's move to unseat Alvarez upset her father. Lawmakers knew she acted without her father's blessing.
This time, the younger Duterte endorsed her friend Velasco's speakership bid with the President's consent.
Just call me 'Alan'
As all eyes were on the Batasan's plenary hall where Velasco was taking his oath as the new House Speaker, Cayetano went live on Facebook.
"Nandito po kami sa aming kalye, sa aming tahanan sa Pasong Kalabaw, Bagumbayan, Taguig City," Cayetano greeted his viewers. (We're here on our street, at our home in Pasong Kalabaw, Bagumbayan, Taguig City.)
In his expensive-looking Barong Tagalog, the lawmaker paced the sidewalk introducing some of the people in his neighborhood.
"Love, wave ka!" Cayetano called out to his wife, Lani, across the street. Mrs Cayetano, the adjacent district's congresswoman, waved at her husband's phone camera from the tall, green gates of the couple's home. A tricycle drove by.
Where was he going with this livestream? After that introduction, Cayetano thanked the President profusely, enumerating the various posts he held in the Duterte administration: senator, foreign secretary, House speaker.
He then talked about the budget bill being the most important thing at the moment, how the House had been divided, and how it needed to be unified.
Then it became clear – he was singing his swan song as leader of the House.
Some 9 minutes into the video, Cayetano dropped the bomb. He was resigning "irrevocably" as speaker – except that Velasco had beaten him to the announcement, having been sworn in as speaker 9 minutes earlier.
The way Cayetano put it, he was stepping down to save a fractured House, not to concede defeat. Since padlocks failed to prevent his rivals from taking over the rostrum at the Batasan, the politician went for the complete opposite – the sidewalk, the streets, the passersby.
"I am happiest being here, being with my people and my friends," he said.
"We will be okay," he added a few times. His valedictory tone showed hardly a trace of a bruised ego.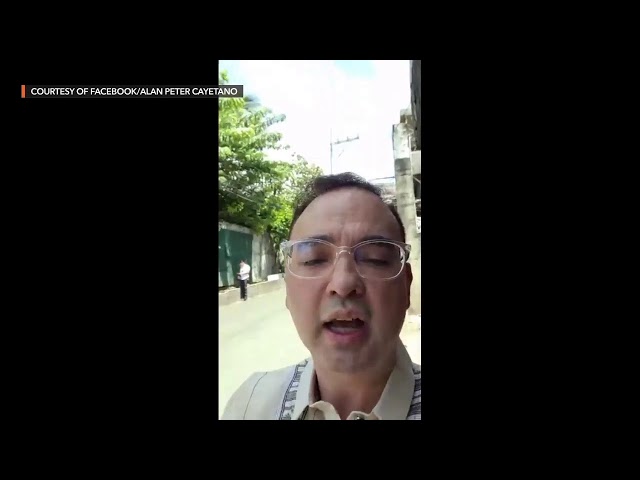 Cayetano then apologized to Duterte for having "misunderstood" his will on the term-sharing deal with Velasco. Cayetano said he thought the President meant for him to remain speaker until the budget bill is passed.
"Mali ang intindi ko (I understood wrong) – that's on me, not on the President," he said.
"'Yung resignation niya, it's saving face, pero alam na niya na kulang siya sa numbers (His resignation, it's saving face, but he already knew he lacked the numbers)," said Atienza, the political analyst from UP.
"Part of our culture is saving face – his video," added Atienza, who described Cayetano's farewell as "performative."
Was Cayetano's performance convincing enough to the public? Manhit believes it does not matter much.
"I think he remains to have a national political following more than other members of the House of Representatives. How he turns this and builds toward a national position will define what his political future will be," said Manhit.
"There can be ways for him to restore his name, his prominence, his reputation," said Atienza. Prominent surnames still resonate among Filipino voters, and "Cayetano" definitely still rings a bell, she added.
If anything, Cayetano is now freer to work on his prospects for the 2022 national elections because he no longer has 300 other lawmakers to herd and manage.
"Now, you can be Alan Cayetano going around and talking to the national support base," Manhit said.
Judging by his Facebook live broadcast on October 13, Cayetano appears to have begun doing just that.
"Please start calling me Alan again. If you call me Secretary, Senador Alan – naiiba-iba pa, nalilito pa kayo (it gets mixed up, you get confused) – Alan o Kuya Alan. And I'll always be here with you," Cayetano said, capping off his selfie video.
Velasco, the homeboy; Cayetano, the threat
Cayetano's stature as a public figure and history as an astute politician played into his ouster, too.
That double strike – abrupt approval of the budget bill on 2nd reading and sudden suspension of session – showed how ruthless an opponent Cayetano could be, and that must have unsettled the house-full of politicians.
"There's always this fear that [former] speaker Cayetano had his own political plans also. So that was always the fear of some party members, I think, and of the President," Manhit told Rappler.
The whole episode revealed how fragile the House's majority "super coalition" actually is. After all, Cayetano, a Nacionalista stalwart, was not from the same fold as Duterte – their source of political capital.
Meanwhile, Velasco is from PDP-Laban. All things considered, having a full ally at the helm as the 2022 election nears is a far safer bet for Duterte and everyone else whose political fortunes are tied up with him.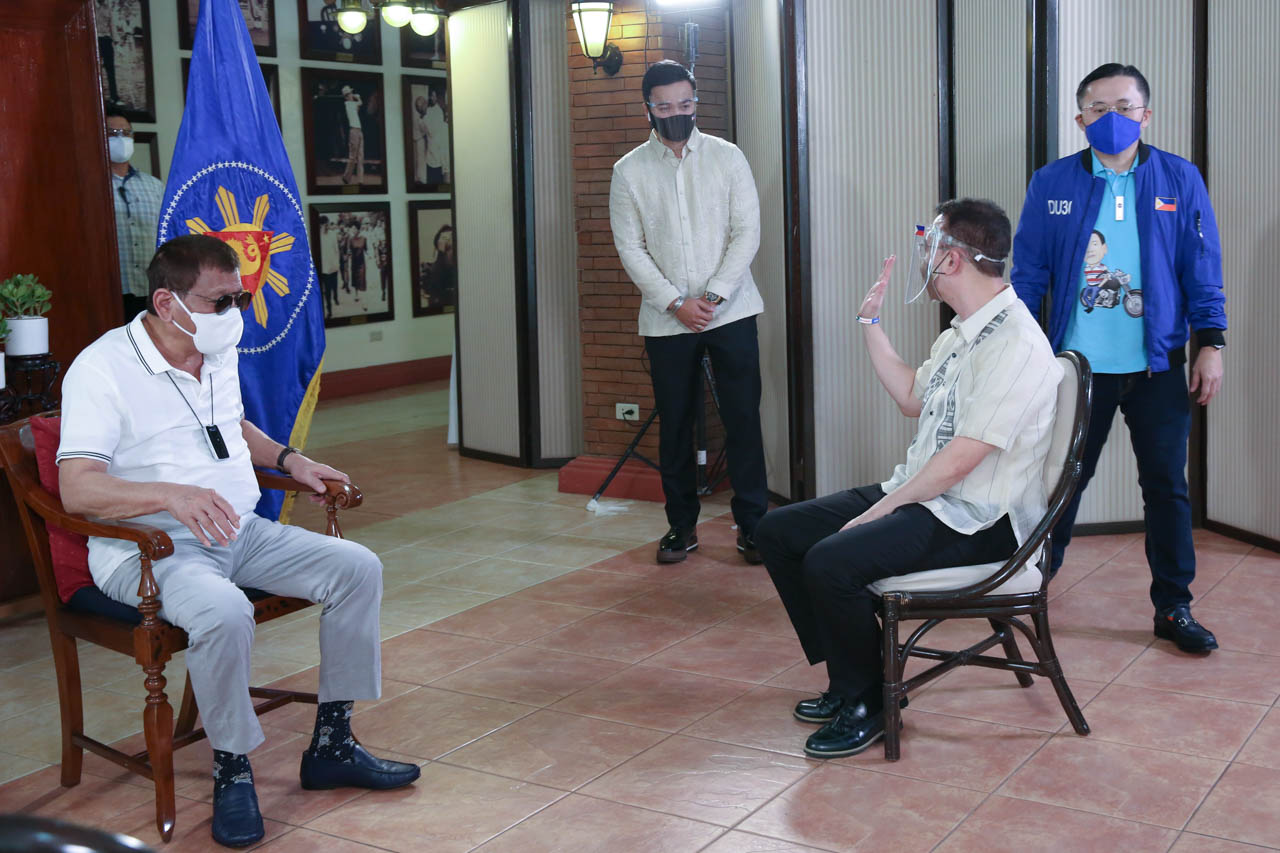 Velasco, of course, must now prove himself worthy of the position. His first test – the budget bill. Because of the COVID-19 pandemic, the urgency of passing and enacting the 2021 national budget on time is more apparent than ever.
Beyond passing the budget bill, Velasco must also get the House's 300 members to work with one another. His own ascent to the speakership attests to how chaotic it can all get.
Here is where Velasco can take a leaf from Cayetano's book.
"No matter how many people dislike Cayetano…you need a speaker like that, who can also cross party lines and personalities, and even appeal to the opposition," said Professor Atienza.
As the dust settled from the coup, Speaker Velasco met with leaders of NP and the NUP. He assured them they would not lose their leadership posts even if they had sided with Cayetano.
Velasco also met with the minority bloc and the progessive Makabayan lawmakers, who told him they would stay where they were, and would not join his super majority. House Minority Leader Bienvenido Abante Jr was told he would retain his post, but he later decided to join the Velasco-led majority.
Velasco made Paolo Duterte chairperson of the committee on accounts – the power of the purse – in charge of the House's internal budget. Meehan was named vice chair of the same panel.
Quezon 4th District Representative Angelina "Helen" Tan, an NPC member whom Cayetano removed as health committee chief, was given her post back.
Romero was reinstated as deputy speaker, booting out Camarines Sur 2nd District Representative Luis Raymund "LRay" Villafuerte, Cayetano's loyal attack dog. And for sticking it out with Velasco even when certain party mates abandoned them, Leachon was made senior deputy speaker.
Cayetano himself was kicked out as legislative caretaker of Camarines Sur 1st District and replaced by Velasco ally Duavit, who is now in charge of attending to the needs of the district left behind by the late Marissa Andaya.
This post-takeover shakeup showed Velasco acting as past Speakers did – rewarding his closest allies with plum positions.
So the change in the House leadership was, in the greater scheme of things, no change at all, because power was handed from one elite Duterte ally to another.
"In a way it was unnecessary to have all this drama, all these gimmicks. What was held hostage was, of course, the deliberations on the budget, which should be the job of the two houses of Congress," said Professor Atienza.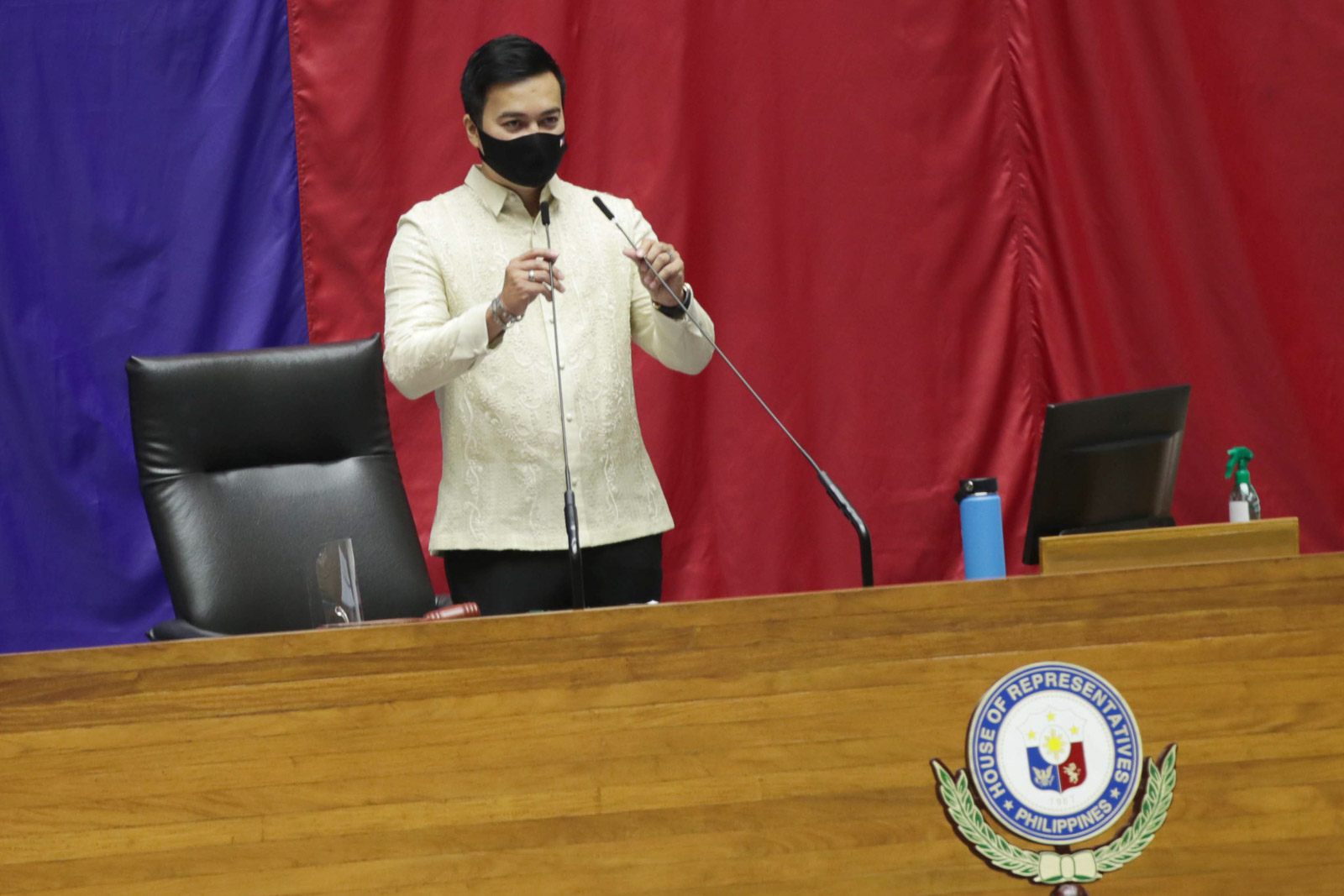 "There's no benefit for the people because it's the same political class that clashed," Atienza said.
It was a contest among local lords of varying clout and consequence. Each one is after their slice of the budget to take home as projects to dazzle their constituents. For this, they would rally behind the overlord who can guarantee – not trample or threaten – their parochial interests.
This latest speakership coup showed that at the House of Representatives, a Lord rises not on his own, but on the backs of comrades ready to submit to the one who can harness their collective power to protect their individual interests.
If he is to avoid the fate of his predecessor, Lord Allan Velasco, the new Speaker, must remember how he rose to become the Lord of the House. – Rappler.com
Editor's Note: An earlier version of this story said that businessman Ramon Ang is chair of the Nationalist People's Coalition (NPC). This has been corrected to say the party is headed by Senate President Vicente Sotto III. The story also said there are 34 NPC members in the House of Representatives; this has likewise been corrected to indicate 42.