An additional 100 Chinese ships entered the Philippine waters since May 2021, says Simularity
More than 200 Chinese ships were spotted in different maritime features located in the West Philippine Sea from May to June, according to a report by US-based geospatial intelligence firm Simularity.
According to the firm, a total of 238 Chinese vessels were spotted in the country's exclusive economic zone (EEZ) from mid-May to June 17. This was an increase of more than 100 ships from its initial count of 129, the firm added.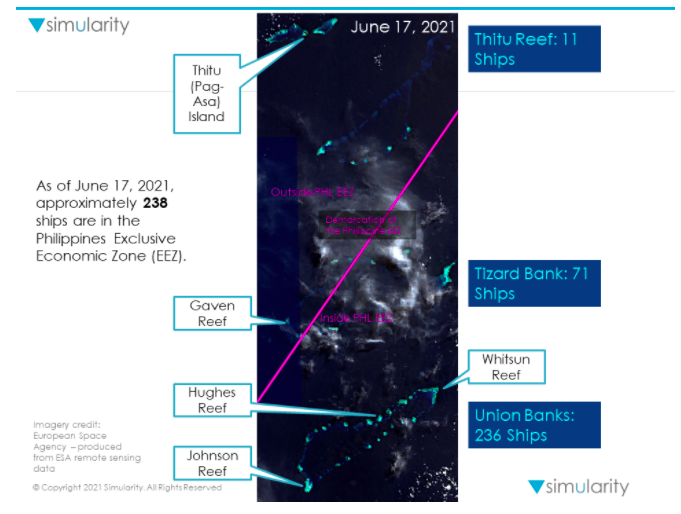 The same report cited that a total of 236 Chinese vessels were spotted in the Union Banks from the same time period. Julian Felipe Reef, where over 200 Chinese ships were first seen in March, is located in the Union Banks. 
Meanwhile, Chinese ships in Gaven Reef decreased from 234 to 71, according to Simularity. The reef is located three nautical miles away from the country's EEZ.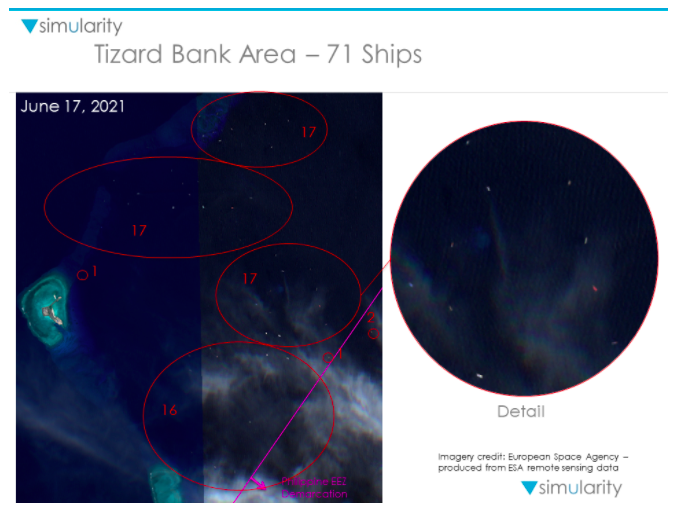 Simularity's analysis is the most recent report on the movement of Chinese ships in the West Philippine Sea. The Philippines' very own West Philippine Sea task force and defense department has yet to release information on the Chinese vessels lingering in the country's maritime features. 
The latest data released by the National Task Force for the West Philippine Sea (NTF-WPS) on May 9 revealed that 287 Chinese ships were scattered across the Philippine waters.
On June 9, Senate President Vicente Sotto III filed a bill, which seeks to map out the country's maritime zones at the height China's territorial threats.
The bill will redefine the Philippines' maritime zones to include internal waters, archipelagic waters, territorial sea, contiguous zone, exclusive economic zone (EEZ), and continental shelf.
This is in accordance with the principle of the 1982 United Nation Convention on the Law of the Sea (UNCLOS), which states that all features located within the EEZ of a country, belong to that country. – Rappler.com