The complaints include trafficking, child abuse, and rape
The Criminal Investigation and Detection Group (CIDG) of the Philippine National Police, together with former rebels who surrendered to the government, filed criminal complaints against exiled Communist Party of the Philippines (CPP) founder Jose Maria "Joma" Sison and three other alleged insurgents. 
CIDG Director Police Major General Albert Ignatius Ferro, self-described former rebels Lady Desiree "Ka Shane" Miranda, Florida "Ka Pong" Sibayan, Francisco "Buboy" Cortez Baesa Jr., and other authorities filed the complaints on Monday, August 23, before the Department of Justice (DOJ). 
Sison and a certain Redsa Balatan, alleged recruiter of Miranda, were accused of violating the following:  
• Section 3 in relation to Section 3 (a) (b) and Section 4 (i) of Republic Act 10364 or Expanded Anti-Trafficking in Persons Act of 2012; and
• Section 10 (a) in relation to Sections 3 (d) (4) of Republic Act 7610 or Special Protection of Children Against Abuse, Exploitation and Discrimination Act.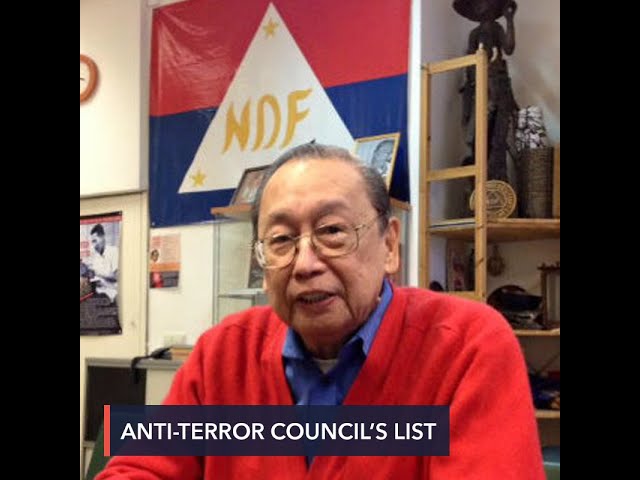 Meanwhile, Miranda also filed rape complaints against her alleged former commanders in the New People's Army. She sued Rey Dela Peña, bynamed Reynaldo Santos, of two counts of rape; and four counts against Joel Caliwliw.  
Ferro said the complainants were former NPA members who surrendered to the government. Due to the assaults committed by her former commanders, Miranda left the rebel group and contacted her family. She surrendered and was assisted by the CIDG to file the cases.
According to the CIDG, Miranda said she was recruited by the rebel group at the age of 14, and became a full-fledged member at 18. In her complaint, Miranda claimed that sometime in 2016, she was raped by Dela Peña, her commander in the underground movement. Then in 2018, Miranda narrated in the complaint that, she was assaulted by Caliwliw.
Ferro said complainants Miranda, Sibayan, and Baesa were all free.
Except for Sison, all those sued are incarcerated in different detention facilities in Nueva Ecija and Nueva Vizcaya.  Sison is in political asylum in the Netherlands.
The Office of the Prosecutor General said on Wednesday that the complaints were already forwarded to Senior Assistant State Prosecutor Lilian Doris Alejo, chairperson of the Anti-Trafficking in Persons Task Force.
Alejo will then assign a prosecutor or panel of prosecutors to conduct a preliminary probe on these complaints.
In 2020, Sison was among the individuals who faced complaints for alleged radicalization and kidnapping of Alicia Jasper "AJ" Lucena, a former senior high student of Far Eastern University. The DOJ eventually junked the case due to lack of probable cause.
Sison, along with 18 other individuals, were designated as terrorists by the anti-terror council in May. In a statement, Sison slammed the so-called "inconsistent" list and said he was not "bothered" by it. – With reports from Lian Buan/ Rappler.com