CHR finds several patterns of discrepancies between police reports and accounts of witnesses, including some alleged 'nanlaban' victims who did not initiate shootout
The Commission on Human Rights (CHR) pointed out the possible use of excessive force by police after finding out that there were only 11 survivors in shootouts during anti-illegal drug operations in 3 regions.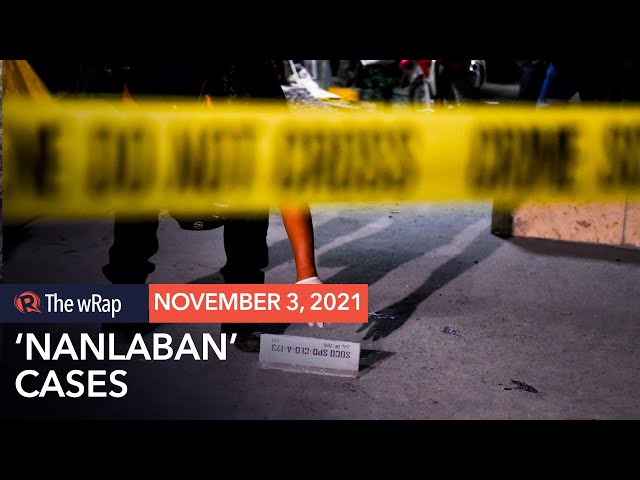 CHR's report released on Tuesday, November 2, showed that only 2.36% survived out of 466 suspected drug personalities who "initiated aggression or resisted arrest," also known as "nanlaban" in National Capital Region (NCR), Central Luzon, and Calabarzon.
"Police protocol prescribes the employment only of necessary and reasonable force in order to subdue resistance put up by an aggressor," CHR said.
"Excessive use of force, especially when law enforcement outnumbers a lone aggressor, could indicate possible abuse of strength and intent to kill," it added.
The commission analyzed 579 drug-related incidents in the 3 regions that registered the highest number of deaths from July 2016 to February 2020.
Out of the total incidents analyzed, 451 were police operations which targeted 705 people. At least 538 were killed, while 167 "survived or had unknown conditions."
"The status and content of the investigation records and reports available to CHR, as well as the recurring obstacles in accessing police records pertaining to cases in question, impacted the extent of the study," CHR Commissioner Gwendolyn Pimentel-Gana said in a statement.
This means that the CHR admitted it could have done more exhaustive reports but were systematically denied access to police records.
President Rodrigo Duterte's violent war on drugs has led to 6,201 deaths in police anti-drug operations alone as of September 30, according to official government data. This count does not include victims of vigilante-style killings, which human rights group estimate to reach 27,000 to 30,000.
Witness accounts vs police
In the cases it investigated, CHR found several patterns of discrepancies between police reports and accounts of witnesses, including:
Alleged operations might have not been conducted
'Nanlaban' victims did not initiate shootout
Victims were already taken by police when they were killed
'Unjustified violence' was seen in operations
Some victims killed were not the intended targets of operations
But CHR's analysis was hampered by the lack of available information on the operations. In the 3 regions it analyzed, only 48% of case records had police documents.
"Denial of access to police documents has contributed to the dearth of information vital in identifying patterns and trends involving drug-related killings," CHR said.
According to the report, the denials were often attributed to the directive issued by Duterte and other high-ranking officials.
CHR's findings further cemented observation of many human rights organizations and lawyers' groups, that police do not follow protocol in carrying out Duterte's war on drugs.
The Free Legal Assistance Group, in October 2019, said that the police reports it examined showed recurring quotes from drug suspects, indicating a "cut and paste" template. (READ: 'Putang ina, pulis ka' is recurring phrase of suspects in TokHang reports)
The United Nations Human Rights Office, in its scathing report in June 2020, said that it "found that the police repeatedly recovered guns bearing the same serial numbers from different victims in different locations."
No access to documents
Out of the total number of incidents CHR investigated, 104 were committed by unidentified perpetrators in the 3 regions. (READ: Vigilantes able to run amok in Bulacan)
The commission told the government that if could not just shrug off these killings. The CHR said extrajudicial killings also "encompass killings by any other groups or individuals which the government fails to investigate, prosecute, and punish when it is in a position to do so.
"The brutal way by which killings are carried out and the means adopted to foster anonymity contribute to the climate of criminality in the regions," the commission said.
"The observable pattern from this class of killings is their brazen method, possibly encouraging repetitions of emboldened attacks," it added.
However, the CHR said it is having a hard time to confirm if state agents are doing their job against unidentified killings since the commission does not have access to important documents.
"The denial of access to police documents… severely limits the ability of the CHR to determine whether such killings are being investigated and prosecuted by the State," CHR said.
The difficulties faced by CHR mirror the overall experience of the commission. It continues to be kept out of the loop in the Department of Justice's drug war review panel.
"With thousands of cases left to be scrutinized, we urge the government to do more in investigating deaths being linked to the so-called drug war," CHR commissioner Gana said in a statement.
"There is a clamor for justice waiting to be answered," she added.
The International Criminal Court's pre-trial chamber recently green-lit an investigation into Duterte's violent campaign. The chamber said that killings "took place in pursuant to or in furtherance of a state policy." – Rappler.com