Until the ceremonial rollout of the country's first vaccines from Sinovac, health workers express reluctance to receive the shot, opting to wait for different vaccines to become available
After nearly 580,000 infections, over 12,300 lives lost, and a year into quarantine restrictions, the Philippines finally launched its vaccine drive against COVID-19 on Monday, March 1.
The historic day, long anticipated by millions as the world receded into lockdown, marked a turning point in the Philippines' fight against the pandemic.
Government officials who witnessed the arrival of 600,000 donated Sinovac vaccines celebrated these as the first "doses of hope" – the moment bringing leaders close to tears, vaccine czar Carlito Galvez said.
But for most of the country, the delivery of the first COVID-19 vaccines was met with a mix of anxiety, anger, and a lack of enthusiasm as the public had been made to expect the arrival of Pfizer and AstraZeneca vaccines perceived to be better options.
At the Philippine General Hospital, where the President's pandemic representatives gathered for a ceremonial vaccination on Monday, officials spent considerable time convincing health workers to receive the vaccine.
"Huwag nating hintayin 'yung tinatawag na (Let's not wait for the so-called) best vaccine. There is no such 'best vaccine' because the best vaccine is the one that is safe and efficient, and arrives earlier," Galvez said.
Manila Mayor Isko Moreno echoed the appeal, calling available vaccines an "answered prayer."
"Let me address those who are waiting – I will respect you, your beliefs, and your views but kung ako ay tatanungin ninyo…hinihikayat ko kayo, 'wag ninyo ipagpabukas, 'wag ninyo ipagbakasakali ang kaligtasan ninyo," he said.
(Let me address those who are waiting – I will respect you, your beliefs, and your views, but if you ask me, I'm urging you, don't put off until tomorrow or leave your safety to chance.)
Moreno added: "Remember, if not all of you, most of us, most of you prayed last year to have a vaccine. In God's mercy, he heard us. I think doctors and scientists here will agree that to develop a vaccine takes so many years but God has so many ways to hear us and I think now it's up to us to act."
Health workers' hurt
Until the day of the ceremonial rollout, health workers from hospitals taking part in the distribution opposed the injection of Sinovac on them, citing its lower efficacy of 50.4% from Phase 3 trials among health frontliners in Brazil.
Hospital workers from the Lung Center of the Philippines (LCP) staged a protest during their lunch break expressing "exasperation" at the Duterte government's "consistently inconsistent" pronouncements on the mass vaccination program.
Health workers criticized the government for passing on the burden of encouraging public trust in vaccination, saying it was the government's responsibility to provide the best vaccines and be transparent.
The vaccinations on March 1 were the first legal vaccinations in the country, following the inoculation of several officials and government workers with smuggled vaccines in 2020.
"Many from our ranks have been infected and some died combating the deadly virus. Our health and lives are always at stake, it is just right and humane that we demand the free, safest, and most efficacious vaccine," said Eleazar Sobinsky, president of the LCP employees association-Alliance of Health Workers.
At PGH, workers also called on the government to deliver the "best" vaccine to health workers. The hospital, among the few COVID-19 designated centers, reported a marked drop in willingness of its employees to get vaccinated days before the start of the rollout.
PGH Director Gerardo Legaspi said that over 90% of the hospitals' workforce had earlier said they were willing to get vaccinated, following the government's announcement that health workers would receive Pfizer's vaccine first.
The figure dropped to some 13% after officials said Sinovac would be offered instead, since paperwork on indemnity requirements stalled the delivery of Pfizer doses.
Just days before the scheduled rollout, the PGH Physicians Association (PA) decried in a statement the PGH administration for not consulting them, when administrators said the hospital was ready to take "whatever vaccine becomes available."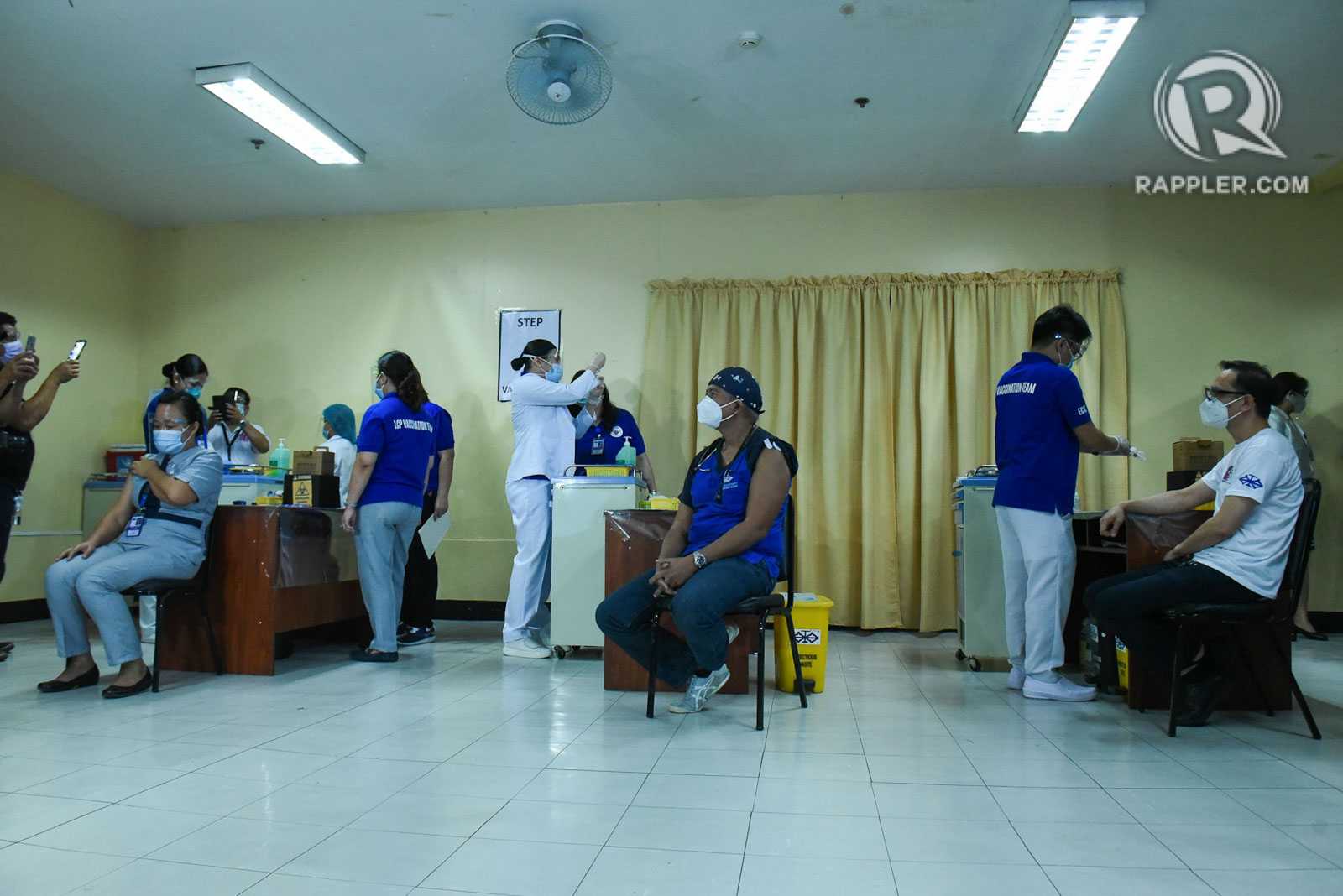 The physicians urged leaders to wait for the assessment of the country's Health Technology Assessment Council which reviews the "ethical, legal, social and health system implications" of medical technologies like vaccines, saying this would aid each worker to make a better-informed decision on whether or not to receive Sinovac's CoronaVac.
"The PGH PA stands firm that Sinovac, despite being the only vaccine available at hand should undergo appraisal by the HTAC…. PGH should uphold the ideals of ethical and evidence-based medicine, for which it is a bastion of," the group said.
More reluctance
Meanwhile, at the Veterans Memorial Medical Center, health workers were likewise reluctant to receive the Sinovac vaccine, preferring to wait for other vaccines to arrive.
Food and Drug Administration Director General Eric Domingo, who received the Sinovac vaccine, only appealed to health workers to get themselves vaccinated.
The FDA earlier granted Sinovac emergency authorization, but its experts did not recommend it for health workers exposed to COVID-19 since lower efficacy from trials in Brazil had led experts there to not recommend its use in the priority sector. The Brazil trials involved health workers exposed to COVID-19.
Experts belonging to the National Immunization Technical Advisory Group, later approved the use of the vaccine for health workers, emphasizing that it is safe and effective. With doses limited and deliveries uncertain, health workers should be given the option to choose whether or not to get the Sinovac vaccine, they said.
"Consider yourselves and your personal situation and if you are ready, give your informed consent that you are willing to get vaccinated. Just don't decide to not get vaccinated," Domingo said in Filipino.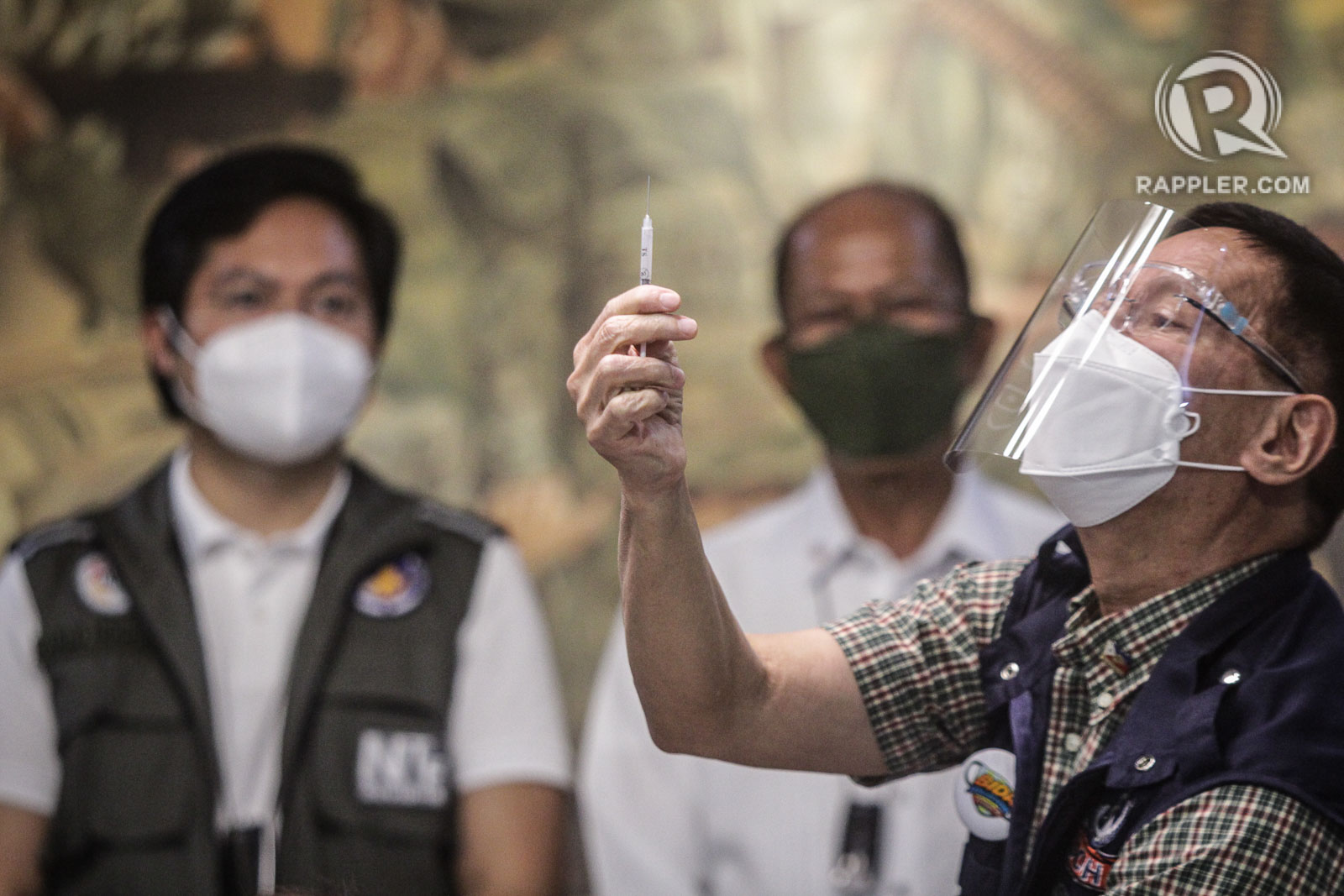 Vaccinations a priority
The decision of health workers to receive a vaccine is made more difficult by the uncertainty of when succeeding vaccines will arrive. At least 525,600 AstraZeneca doses were expected on Monday, but this was delayed by about "a week," owing to limited global supply.
Despite government's vaccine campaign and promises that more shots would be available, there is no guarantee when this would happen.
Galvez was scheduled to travel to India from March 9 to 12 to sign the Duterte government's first supply agreements that would pin down a specific date for the delivery of AstraZeneca and Novavax vaccines.
Amid the muted response to the Sinovac vaccine, experts who anticipate a surge of new cases in Metro Manila in the coming weeks, said health workers should get vaccinated while the surge is still in its early stages.
"Our healthcare workers in the region must seize this opportunity," Octa Research said.
The issue is further compounded by rising vaccine hesitancy, with a recent survey showing some 46% of Filipinos are still unwilling to get vaccinated against COVID-19.
Former health secretary Manuel Dayrit said in an interview with CNN Philippines that his main concern is how fast vaccinations could continue. He pointed out that 500,000 Filipinos would need to be vaccinated daily to achieve government targets.
The more vaccines are delayed, the more impact this could have on health, rising hunger, and unemployment. While the Philippines was among countries hardest hit by the pandemic in Southeast Asia, it was the last in the region to receive COVID-19 vaccines after starting talks with vaccine firms only sometime in November 2020.
Delayed negotiations have narrowed down options for vaccines to be purchased as supplies fluctuate and remain scarce. Until then, Filipinos have no choice but to wait as officials continue to urge people to get themselves vaccinated. – Rappler.com