Davao City records 779 COVID-19-related deaths since the start of the pandemic
Davao City accounted for over half the number of COVID-19 deaths in Southern Mindanao, which registered the most number of documented infections and fatalities among Mindanao's six regions since the start of the pandemic last year.
Based on data from the Department of Health (DOH) in Region 11, Davao City accounted for 67% of the 1,160 COVID-19 deaths recorded in Southern Mindanao since 2020.
The DOH regional office's list showed Davao City with 779 documented COVID-19-related deaths as of Sunday, June 6, a far cry from Davao del Norte province, which at 182 deaths had the second highest number of pandemic fatalities.
In its report on Tuesday, June 8, the Octa Research team noted that Davao City has surpassed Quezon City's new COVID-19 cases. From June 1 to 7, Davao City logged 213 cases on the average while Quezon City recorded 207.
The following are the other Davao region areas with their corresponding cumulative COVID-19 deaths: Davao de Oro, 78; Davao del Sur, 72; Davao Oriental, 42; and Davao Occidental, 7.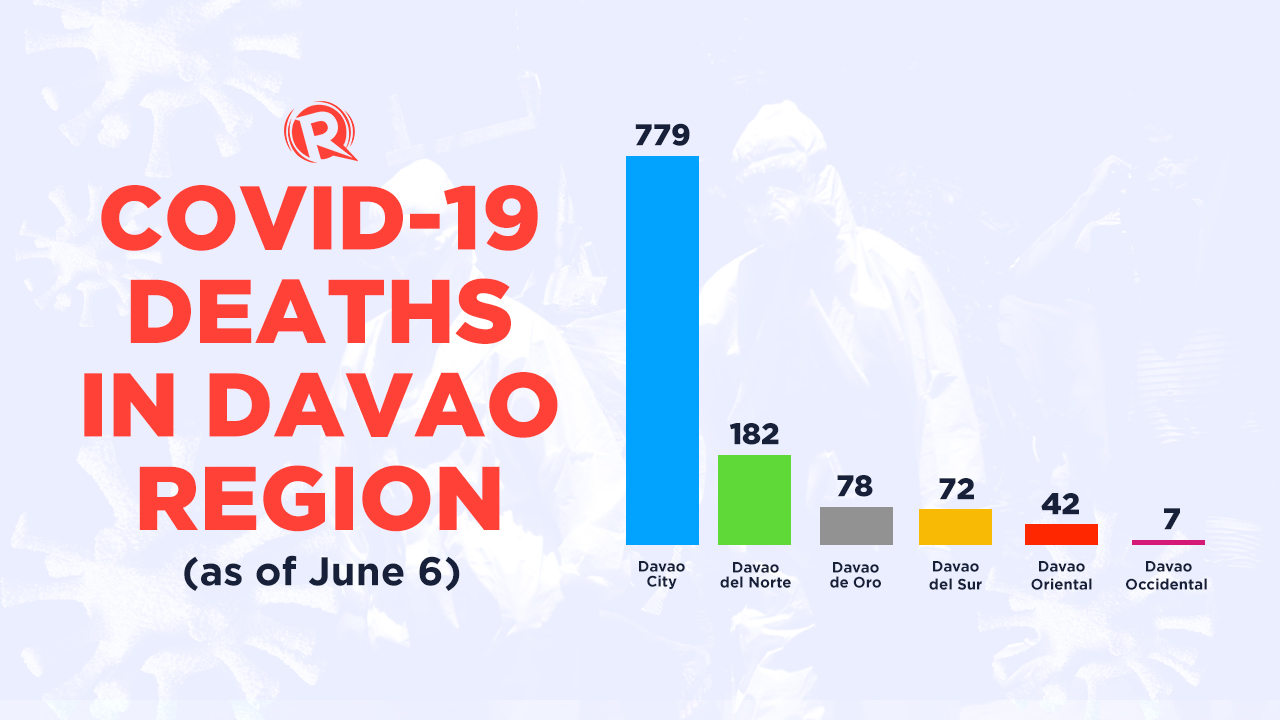 The Davao region accounted for 31.6% of the 3,667 recorded deaths due to the deadly virus throughout the country's second largest island, based on available data from various DOH regional offices on the same day.
Northern Mindanao registered the second highest number of confirmed COVID-19 cases, and it also ranked second, at 19.6%, among the Mindanao regions in terms of COVID-19 deaths.
Data collated by the Rappler Mindanao bureau showed Northern Mindanao recording 719 cumulative deaths. Its capital city, Cagayan de Oro, had 329 fatalities alone.
The Zamboanga Peninsula ranked third, at 16.9%, registering 622 fatalities. Most of them were documented in Zamboanga City, which has registered 439 COVID-19 deaths.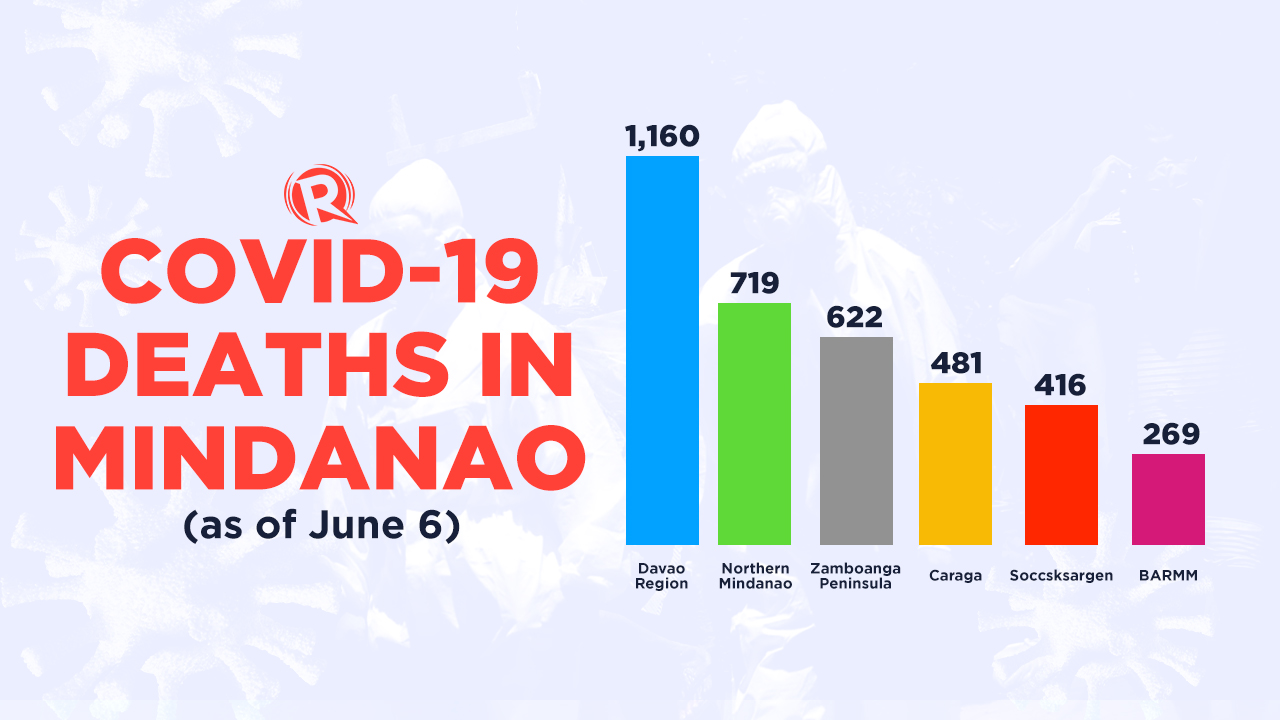 Caraga recorded the fourth highest number of COVID-19 fatalities at 481, accounting for 13.1%. Data from the DOH office in Region 13 did not show which area in Caraga had the most COVID-19 deaths, but the regional center, Butuan City, has registered the highest number of confirmed infections since last year. Butuan counted 122 cumulative deaths so far due to COVID-19.
Following Caraga is Soccsksargen at 11.3%. General Santos City had 131; North Cotabato province, 115; and South Cotabato province recorded 107 of the 416 deaths so far documented in the southcentral Mindanao region.
Marawi City, and the provinces of Lanao del Sur and Maguindanao, accounted for 138 of the cumulative 269 deaths in the Bangsamoro Autonomous Region in Muslim Mindanao (BARMM), making it the Mindanao region with the least number of pandemic-related deaths since 2020.
Based on data from BARMM's Ministry of Health, the special administrative region had 269 documented COVID-19 fatalities so far, or 7.3% of Mindanao's cumulative deaths as of this posting. – Rappler.com