(1st UPDATE) Health Secretary Duque explains that the DOH's order using the P41 billion under the Bayanihan law was separate from the supplies bought from PS-DBM's virtual store using separate funds from the General Appropriations Act
The Department of Health in 2020 transferred P42 billion to the Procurement Service-Department of Budget and Management to purchase medical supplies on its behalf. But did the PS-DBM sell to DOH the same face shields, which the agency already paid for?
Senate President Vicente Sotto III, Senate Minority Leader Franklin Drilon, and Senator Panfilo Lacson asked this question during the Senate blue ribbon committee hearing on Tuesday, September 7, and Health Secretary Francisco Duque III could not answer with certainty.
"Isn't that double payment – you shelled out money to buy the items, then you buy those using your own money again?" said Lacson.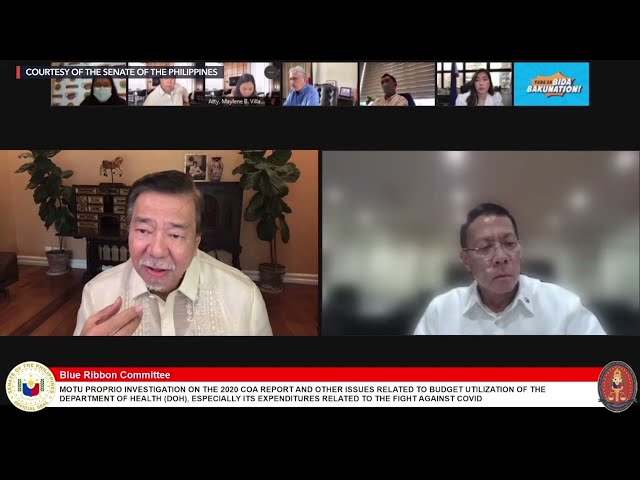 The PS-DBM bought 1.3 million face shields for P120 apiece from the Philippine Blue Cross Biotech Corporation. Since these items were part of PS-DBM's inventory, there are questions now whether these were bought using DOH funds or using PS-DBM funds.
To drive the senators' point, Drilon pressed Duque for answers, asking him the same question over and over for about 30 minutes.
"When you moved P42 billion to PS-DBM, did you move it so they can purchase medical supplies and equipment for you, which are now common-use supplies and equipment?" Drilon asked. "Or did you transfer the P42 billion so PS-DBM can build an inventory from where public hospitals can get their supplies?"
Duque said that it was the former, adding that the fund was meant to buy items on behalf of DOH.
But for Drilon, Duque's answer did not add up, as DOH Undersecretary Carol Taiño confirmed that the department did buy face shields from PS-DBM at P124 each. Taiño, however, also said she did not know where the PS-DBM sourced the funds for procurement.
"Ginamit ang pera ng DOH para bumili. Pinagtubuan pa – tubong lugaw. (DOH funds were used to buy these items. Then they bought these again with a markup – very large profits)," said Drilon. "They made P4 profit then they got a [4%] commission using budget and funds allocated by Congress."
Duque insisted that PS-DBM merely bought on their behalf: "Mr. Chairman, I'm sorry, but I have no information…that we purchased this [again]."
"What I understand is, the budget that was used to purchase these common supplies and equipment is separate from the money utilized to purchase the face shields," added Duque.
Drilon answered back: "What was the budget of PS-DBM in 2020? I assure you, they don't have that kind of money to be able to purchase P42 billion worth of common supplies and equipment which are medical equipment."
"You cannot say that the budget used was from PS-DBM. The budget came from DOH," asserted the minority leader, in Filipino.
Duque responded: "I beg to disagree. But we will look into this. Give me a little more time to verify this."
For the Commission on Audit (COA), if the DOH merely bought common-use supplies from PS-DBM's store, then a memorandum of agreement should not be needed. But since DOH insisted that it hired the services of PS-DBM to procure on behalf of them, then it should have been covered by a MOA.
Resigned PS-DBM undersecretary Lloyd Christopher Lao, the former official central to the alleged procurement irregularities, was at the hearing on Tuesday, but he did not volunteer to answer the question.
According to the 2020 COA report, about 485,000 expensive face shields were sitting in PS-DBM depots. Lao had said that the agency had difficulty in selling them.
No double payment, says Duque
On Friday, September 10, during the continuation of the Senate blue ribbon committee's hearing, Duque clarified that the DOH did not pay twice for face shields it secured from the PS-DBM. He cited findings from the COA that funds from the DOH's 2020 budget were used to purchase face shields from the PS-DBM, which had in turn been bought using the PS-DBM's revolving fund.
Duque explained that the DOH placed an order with PS-DBM using the P41 billion under the Bayanihan law. While waiting for this order to arrive, the DOH also bought supplies from the PS-DBM's virtual store using separate funds from its budget under the General Appropriations Act.
PS-DBM Officer-in-charge Jasonmer Uayan also confirmed the DOH did not pay twice for face shields it bought from the agency. Uayan added that the PS-DBM sold items like face shields and face masks to other agencies following standard retail prices. – with a report from Sofia Tomacruz/Rappler.com
Read the other stories from the September 7, 2021, Senate blue ribbon committee hearing: