(3RD UPDATE) At the start of lockdown, the DOJ leadership uses RA 11332 to warn that quarantine violators can be arrested without warrant. In clearing Senator Koko Pimentel, prosecutors say the law only covers health officials.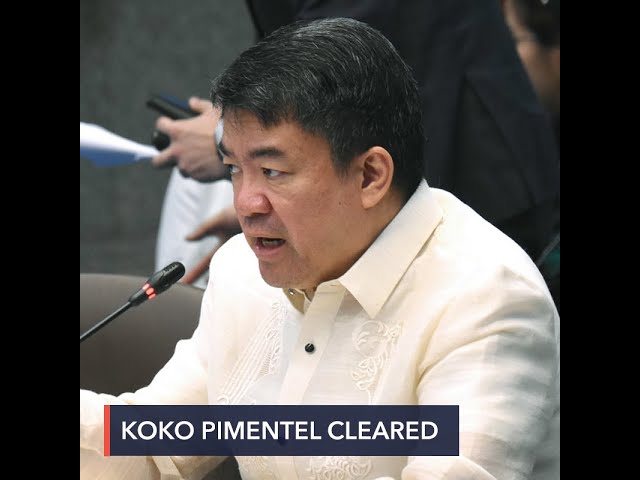 The Department of Justice has cleared Senator Koko Pimentel of quarantine breach, shrinking the scope of Republic Act No. 11332 – the same law that the DOJ has used to warn quarantine violators of warrantless arrests.
"Senator Koko Pimentel is not a public health authority, therefore, not obliged to report under RA No. 11332. The mandatory reporting under RA No. 11332 was meant for public health authorities only," the DOJ's Office of the Prosecutor General said in a statement on Thursday, January 21.
RA 11332 or the Mandatory Reporting of Notifiable Diseases and Health Events of Public Health Concern Act, punishes the "non-cooperation" of certain people in a health crisis.
Justice Secretary Menardo Guevarra said at the start of the Luzon-wide lockdown in March that quarantine violators can be charged under Section 9 of the law.
Thousands were arrested – many without warrants – and many more suffered from prolonged detention just because they breached quarantine rules.
Pimentel went to the Makati Medical Center (MMC) to accompany his wife who was about to give birth even though he had already taken a test for coronavirus at the time. He found out he was positive while inside the hospital.
Pimentel 'cooperated' – DOJ
Section 9(D) of RA 11332 punishes non-cooperation of persons and entities that should report. The DOJ said Pimentel is not covered by this as he is not a person who should report, meaning he is not a health official.
However, Section 9(E) punishes the non-cooperation "of the person or entities identified as having the notifiable disease, or affected by the health event of public concern." The DOJ had said before that this covers different people.
In the case of Pimentel, the DOJ said that "assuming that as a private individual he was mandated to report his medical condition under RA No. 11332, there was nothing to report then when he went to" the hospital because at the time, he didn't know his results yet.
"There is no non-cooperation under Section 9(e) of RA No. 11332 as Senator Koko Pimentel was deemed to have cooperated when he left the hospital premises immediately after receiving the information about his medical condition," the DOJ said.
Guevarra said on Friday, January 22, that he would rather not comment on the issue since the case can be appealed to him for review.
"Please note that a large number of people apprehended by law enforcement officers during the early days of the COVID-19 pandemic due to various quarantine violations were subsequently released and their cases dismissed by DOJ inquest prosecutors," Guevarra said instead on Friday.
Guevarra did not answer questions on how the department would reconcile this resolution with its earlier warnings where they seemed to apply the law to all, and not only to health officials.
Guevarra did not also respond to a follow-up question on whether other quarantine violators should have also been deemed cooperative, as Pimentel was, when they obliged to the apprehension of law enforcement.
The National Bureau of Investigation (NBI) conducted a separate investigation into Pimentel, but the DOJ said that the "NBI submitted to the DOJ a final report recommending that the case be closed and terminated."
The DOJ also said the complainant, lawyer Rico Quicho, was not a proper party to sue. The DOJ said Quicho's news reports citation was mere hearsay. This is despite an incident report submitted by MMC to the DOJ.
"Bulag, pipi at bingi ang DOJ (The DOJ is blind, mute and deaf)," Quicho said.
"This promotes the wrong message that ordinary people must suffer the full extent of the law and some, while those in power get a free pass," Quicho added.
Pimentel said in a statement that the DOJ decision is "unassailable and correct."
"The complaint criminally charged me for violation of non-penal DOH issuances which are not even addressed to me. How can something non-criminal all of a sudden become criminal when you are not even expected to be knowledgeable or an expert about their contents? And the person who charged me was not even anywhere near me or the place of the incident," the senator said.
Police chief General Debold Sinas is also facing a complaint for violating RA 11332 for holding a mañanita – a birthday party – during the Luzon lockdown when mass gatherings were strictly prohibited. There is no update yet on how DOJ prosecutors resolved this.
Sinas' and Pimentel's cases are examples of how under the pandemic, there was due process for allies of the administration, while others were subjected to warrantless arrests. A glaring example is Winston Ragos, the former soldier who was gunned down by a Quezon City cop following an argument over enforcing the rule against people leaving their homes for non-essential tasks. – Rappler.com