Top Duterte government officials and soldiers are among the first to be vaccinated against COVID-19 in the Philippines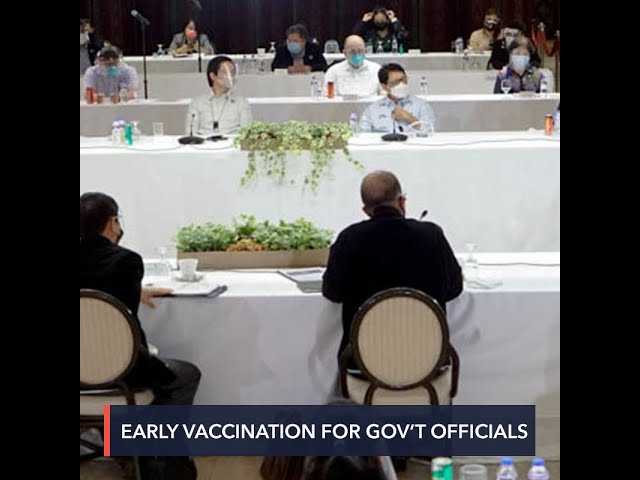 Ahead of hundreds of thousands of health workers across the Philippines, some Cabinet officials and soldiers have already been vaccinated against the novel coronavirus, officials confirmed on Monday, December 28.
"I know some from the Cabinet and from the presidential security guards," Department of the Interior and Local Government (DILG) Secretary Eduardo Año said in an interview with dzMM.
Meanwhile, Philippine Army chief Lieutenant General Cirilto Sobejana confirmed that soldiers have been inoculated in an interview with dwIZ on the same day, adding that he did not know which vaccine provider the immunizations came from.
Keeping it secret
Sobejana declined to name the unit where the soldiers belonged to, but Año identified the Presidential Security Group (PSG) – which is composed of soldiers, cops, coast guards, and civilian personnel – as a beneficiary of the early vaccination.
The Armed Forces of the Philippines, in a statement on Monday afternoon, confirmed that the soldiers belonged to the PSG.
As for the Cabinet officials, Año declined to name them, citing their right to privacy. Año appeared to have one Cabinet official in mind when he was asked to reveal their identities.
"I cannot confirm it unless that person will say that he's confirmed [to have had the vaccine]. Only he can give the confirmation," Año said.
Was the process followed?
Año and Sobejana said the vaccination was necessary as the Cabinet officials and soldiers were considered frontliners. It is unclear if they followed the government's own process for vaccine approval.
Under Duterte's own order, only the Food and Drug Authority can issue emergency use authorizations (EUAs), which could cut the review period of 6 months down to 1 month only.
Duterte signed the order on December 2. It is unclear how the vaccines were properly processed in such short period of time. Rappler sought the comment of Año and Defense Secretary Delfin Lorenzana through text message and calls, but they have yet to answer as of posting. – Rappler.com