'Yan ang training ng presidente, maghubad,' says President Rodrigo Duterte, making a dig at the Manila mayor
The cat's out of the bag.
Any doubt that President Rodrigo Duterte's ire in recent weeks was directed at Manila Mayor Isko Moreno was dispelled on Monday, August 9, when he ranted about a local chief executive's sexy photos and supposed "disorder" at the mayor's vaccination sites.
Moreno is the only Metro Manila mayor whose past as an actor in sexy roles is public knowledge.
"Hindi lang tayo puwede magsalita ng pulitiko dito, pero 'yan, kayong mga Pilipino, huwag kayo magpaloko diyan sa mga pa-drama magsalita. Nakita ko nga sa Facebook kanina, lahat ng, nakabikini ang gago. Tapos may isang picture pa doon na sinisilip niya 'yung ari niya," said Duterte during his weekly public address about the pandemic.
(I just can't talk about politics here but, you Filipinos. Don't be fooled by someone who talks dramatically. I saw on Facebook earlier, the fool was in a bikini, and then he has a photo where he is looking at his penis.)
He derided Moreno, saying a man with such a past shouldn't be Philippine president. Moreno has performed relatively well in surveys on voters' preferences for possible presidential and vice presidential candidates, even placing second to Duterte's daughter Sara and the President himself.
"'Yan ang gusto ninyo? Ang training parang, para lang call boy, naghuhubad… 'Yan ang training ng presidente, maghubad at magpapicture, at magsilip, magyabang sa kanilang ari," said Duterte.
(That's what you want? Someone trained like call boy, stripping… That's the training for a president, stripping and having his picture taken, peeking, flaunting their penis.)
Moreno, however, has been candid about his past in showbiz, saying that part of his life is an "open book." Sexy photos of him have been previously used by his political rivals in other elections.
Before entering government at the age of 23, Moreno got his start in show business, landing acting and singing gigs. His now famous rags-to-riches story was how Moreno rose from his impoverished childhood in Tondo.
While Duterte slammed Moreno for supposed lewdness, he has been unapologetic for his own lewd remarks and behavior – including publicly claiming he molested his maid as a young man, ogling at Vice President Leni Robredo's legs, kissing an overseas Filipino worker in the mouth during a public event, and threatening to shoot female rebels in the vagina. (READ: Not just a joke: The social cost of Duterte's rape remarks)
Withholds power to distribute aid
But Duterte had more punches to throw.
The President said he has ordered that Manila City be prohibited from distributing aid to citizens coming from the national government. The aid would instead be distributed by either the Department of the Interior and Local Government or Department of Social Welfare and Development.
"There is one city there I won't give the power to distribute aid," said Duterte in Filipino.
He justified this decision by accusing the mayor of having a "disorganized mind" and being incompetent in distribution and organizing.
"There's only one [city] in Metro Manila, I saw in TV the disorder and chaos prevailing whenever may mga pamana, kung ano (whenever there is aid or whatnot)," said Duterte.
"Tinanggal ko muna 'yan sa kanila at binigay ko doon sa Department of [the] Interior and Local Government, pati ang DSWD. Kayo na muna hanggang matuto sila," he also said.
(I took it from them and I gave it to the DILG and DSWD. You distribute it first until they learn.)
Yet in June, the DILG had given Manila a certificate of recognition for its "efficient and timely completion of the distribution of Ayuda." Dated June 30, it was signed by Interior Secretary Eduardo Año.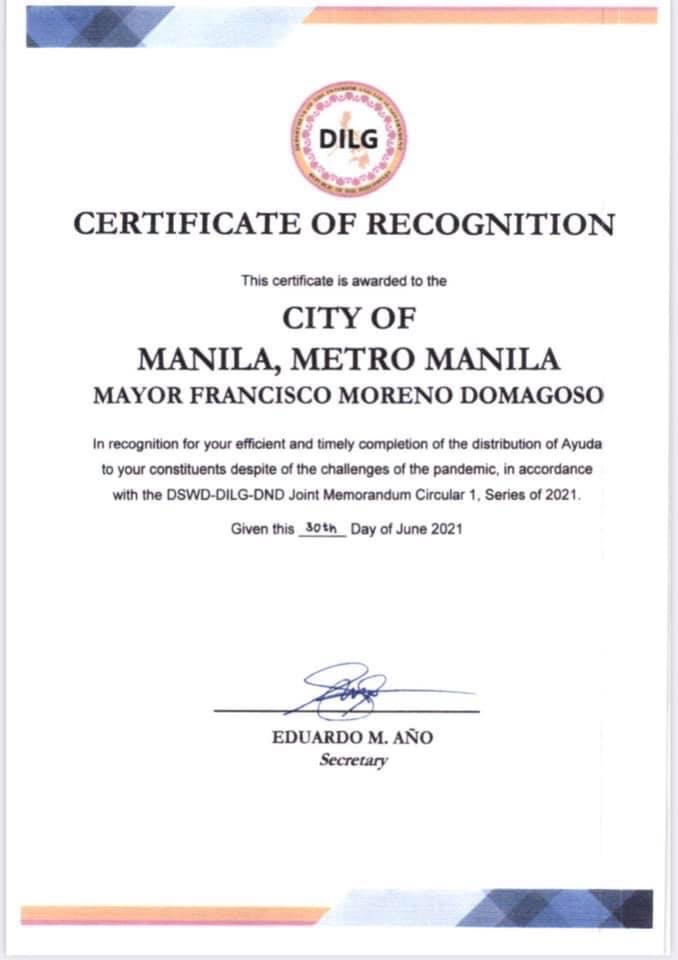 Handing distribution to national government agencies doesn't always spell efficiency either. In the second tranche of aid for lockdowns last year, DSWD was also hit by local government units and lawmakers for delays in distributing the cash assistance to beneficiaries.
Manila has already received P1.4 billion intended for cash aid beneficiaries from the national government.
Over the past weeks, Moreno himself has also been making digs at incompetent government officials whom he also did not name.
The anonymous word war between President and mayor began a few days before Duterte's State of the Nation Address when the Chief Executive decried how people lined up under the rain at a Manila vaccine site.
The week before, Pulse Asia released its survey showing Moreno's performance among possible presidential and vice presidential candidates. – Rappler.com