The Philippine leader speaks of a 'long wait' for a South China Sea code of conduct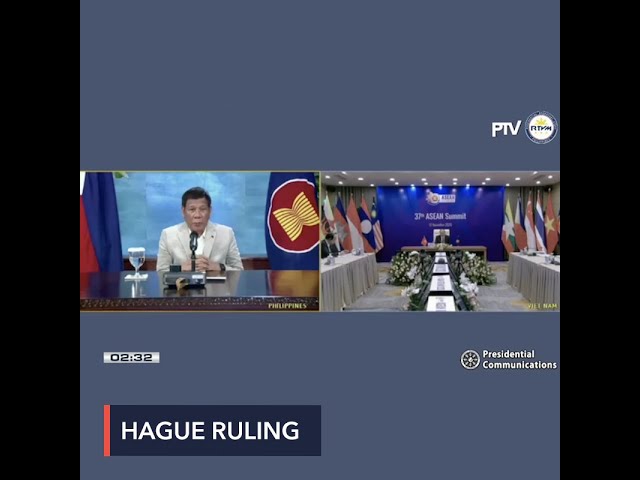 President Rodrigo Duterte again strongly asserted the historic victory of the Philippines over China's claim to the West Philippine Sea during a speech at a meeting of Southeast Asian leaders and their ally countries.
Referring to the 2016 Arbitral Award on the South China Sea, Duterte said: "It is now part of international law. And its significance cannot be diminished nor ignored by any country, however big and powerful."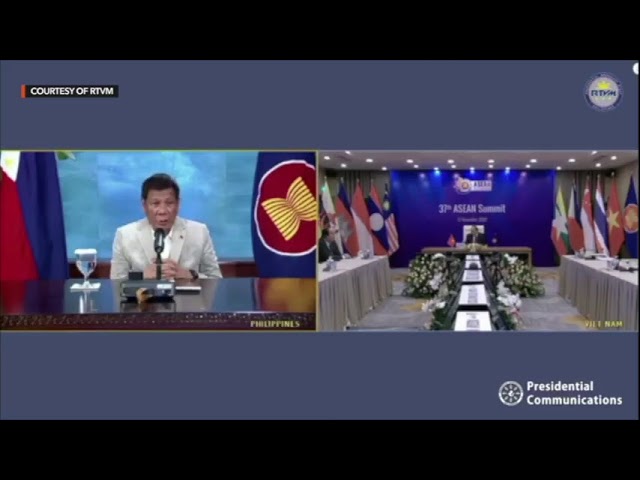 He was speaking at the plenary of the 37th Association of Southeast Asian Nations (ASEAN) Summit and Related Summits on Thursday, November 11.
The plenary, conducted virtually because of the COVID-19 pandemic, included in its audience the leaders of ASEAN countries as well as heads of state and government of their ally countries, the United States, China, India, Japan, South Korea, and others.
Duterte's remarks echo his speech at the United Nations General Assembly last September where he surprised many when he asserted the arbitral award and thumbed down "attempts to undermine it."
At the ASEAN meeting, the Philippine President described the Hague ruling as an "authoritative interpretation" of the application of the United Nations Convention on the Law of the Sea (UNCLOS).
China, though a party to the UNCLOS, has refused to acknowledge the ruling, which invalidated the 9-dash-line it uses to claim virtually the entire South China Sea. The portion of this water body that lies within the Philippine Exclusive Economic Zone is the West Philippine Sea.
"The Philippine position is clear and firm. We must solve the disputes peacefully and in accordance with international law, including UNCLOS," said Duterte.
'Long wait' for sea code
The Philippine leader also expressed hope for the finalization of a South China Sea Code of Conduct, as he has done many times before. But in this speech, there was a hint of impatience, as he spoke of a "long wait" for the code.
"We are committed to the immediate conclusion of a substantive and effective Code of Conduct in the South China Sea. And if I may add, it has been a long time and it is a long wait," said Duterte.
The 10 ASEAN member countries and China are supposed to work together to finalize this sea code. China has vowed to finish the job by 2021, only two months away.
The Philippines is currently the coordinator of the ASEAN-China Dialogue, giving it a crucial role in the finalization of the document.
The Code of Conduct is supposed to lay out protocols and rules of engagement for China and ASEAN countries with claims in the South China Sea to avoid violent confrontations. – Rappler.com