(3rd UPDATE) The President says he will devote his last years in office to 'fighting corruption,' particularly in the public works and highways department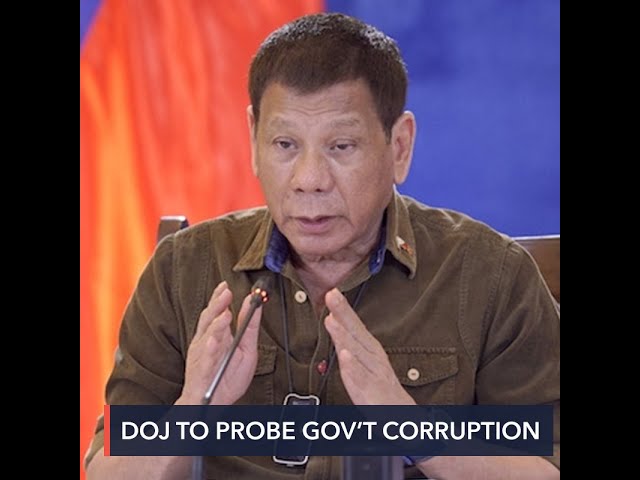 Philippine President Rodrigo Duterte ordered the Department of Justice to commence an investigation into allegations of corruption "in the entire government."
In a speech aired on Tuesday, October 27, he announced that he had issued a memorandum as part of his promise to dedicate the remaining years of his term to "fighting corruption."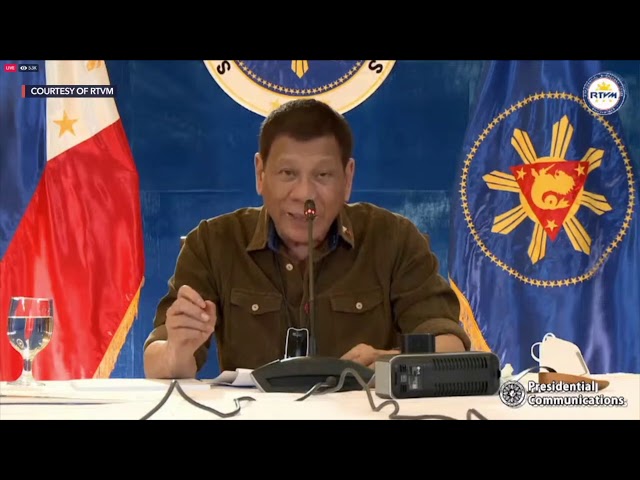 "The DOJ shall have the authority to decide which allegation to investigate, taking into consideration the gravity thereof and their impact on the delivery of government service," said Duterte, reading from a copy of his order.
He directed the DOJ to "create as many panels as it deems necessary" and to "invite or direct" other government bodies and agencies to assist in their investigation.
"The DOJ shall prosecute and file the proper charges against all those involved in the anomalies, investigate, whether against government or private persons as may be warranted by the evidence gathered, subject to applicable laws and rules," said Duterte.
Presidential Spokesman Harry Roque said during his Tuesday press briefing that Duterte has created a "mega task force," similar to the inter-agency task force for PhilHealth anomalies. The Office of the Ombudsman, Civil Service Commission, Presidential Anti-Corruption Commission, and Commission on Audit, would be a part of the group.
Earlier in his speech, the Chief Executive said he wanted "special focus" on corruption allegations in the Department of Public Works and Highways (DPWH). He also mentioned supposed corruption in the Department of Agriculture.
But he made clear that he did not blame Public Works Secretary Mark Villar for wrongdoings in his agency.
"Let me state here and now that I have nothing against Secretary Villar. He is one of the hardworking [officials] and Secretary Villar has many accomplishments. But, you know, accomplishments alone, to me, should not suffice…. But it's not his job to be running after crooks," said Duterte.
The Chief Executive warned that "in the coming days," the public should expect a string of suspensions of government officials. He gave assurances that he would spare persons "without fault."
What about the Ombudsman?
But there is already a government entity primarily charged with investigating and prosecuting government officials accused of graft and corruption: the Office of the Ombudsman.
The Office of the Ombudsman is supposed to be independent of the executive branch. Though it has fiscal autonomy, its head, the Ombudsman and their deputies, is appointed by the President.
The Ombudsman can investigate corruption complaints filed before it. It can also launch its own investigations.
Duterte acknowledged the role of the Ombudsman.
"The Ombudsman is the pinaka-number one. 'Yung malaking pera, diretso mo na sa Ombudsman, if I were to have my say. Pero ang gobyerno, ang presidency can investigate, can send you to prison," said Duterte.
(The Ombudsman is number one. For complaints, involving big money, go straight to the Ombudsman, if I were to have my say. But the government, the presidency, can investigate, can send you to prison.)
Roque, in his press briefing, explained that Duterte chose the DOJ to lead the task force because it has "20 times" the number of prosecutors as the Office of the Ombudsman.
Duterte warns resigned PhilHealth executives
His new order on a corruption crackdown stems from his earlier directive for the DOJ to investigate Philippine Health Insurance Corp (PhilHealth) anomalies. The probe led to charges filed against top PhilHealth executives, including Duterte appointee former PhilHealth President and CEO Ricardo Morales. Morales and his fellow executives denied wrongdoing.
The newly-appointed PhilHealth chief Dante Gierran had ordered the resignation of the state insurer's vice presidents, senior vice presidents, and senior managers.
But Duterte warned resigned executives that resignation "will not save your neck."
"If you think it will save you from criminal prosecution or administration, that resignation will not help you at all, let us be clear on that," said the President.
Focus until 2022
Amid the coronavirus pandemic that threatens to stretch into Duterte's last years in office, the President said he would focus on his crackdown on corruption until he steps down.
"I made a pledge that I will concentrate on the last remaining years of my term fighting corruption kasi hanggang ngayon hindi humihina, lumalakas pa lalo (because, until now, corruption is not weakening, it's getting stronger)," said Duterte.
Speaker Lord Allan Velasco welcomed the President's call for a government-wide investigation, acknowledging the order came after the reported involvement of House members in corrupt practices in the DPWH.
"While we are saddened that some congressmen and the institution have been dragged into this controversy, we welcome such probe by any government agency, as an investigation by the House would be self-serving and would only create a cloud of doubt," Velasco said in a statement.
Curbing corruption in government had been among his major promises at the start of his presidency, apart from suppressing drugs and criminality. During the presidential campaign, he promised to end corruption, along with crime and the drug trade, in just 3 to 6 months – a broken vow that landed him in Malacañang. (READ: Duterte bares details of 3- to 6-month anti-crime plan)
But his administration has been tainted by the "recycling" of government officials involved in anomalies and allegations that he himself has hidden wealth.
The President is yet to make public his 2018 and 2019 Statements of Assets, Liabilities, and Networth (SALN), a document that shows any changes in his wealth while in office.
He is the first president in 3 decades not to make his SALN publicly available, raising doubts about his commitment to transparency and accountability.
"Do not invent a sin against me because I have painstakingly avoided being corrupt," he claimed. – With a report from Mara Cepeda/Rappler.com