(2nd UPDATE) The President scores his highest satisfaction rating in November 2020, then it slips to 75% ratings in the May and June 2021 polls by Social Weather Stations
Philippine President Rodrigo Duterte scored his highest satisfaction rating yet in a Social Weather Stations (SWS) survey in November 2020, before dropping by nine percentage points six months later in June 2021.
His satisfaction rating was 84% in a survey conducted last November, said SWS in a forum on Thursday, September 23. It is a better showing than his previous highest SWS satisfaction rating, 82%, in December 2019 or about three months before COVID-19 was declared a pandemic.
Though he scored 84% in November or nine months earlier, Duterte's satisfaction ratings went down by nine percentage points come May 2021.
In terms of net satisfaction rating (satisfied minus dissatisfied), this is the third time in Duterte's presidency when he experienced a double-digit drop, from November 2020 to May 2021.
The first was observed in September 2017 after the brutal murder of teenager Kian delos Santos during a drug raid. The second was seen after Duterte called God "stupid" in June 2018.
In an unprecedented move, SWS released three batches of satisfaction survey results in one go during the Thursday forum.
The results were from surveys conducted in November 2020, May 2021, and June 2021.
Duterte's satisfaction ratings were as follows:
November 2020 – 84% combination of somewhat satisfied and very satisfied
May 2021 – 75% combination of somewhat satisfied and very satisfied
June 2021 – 75% combination of somewhat satisfied and very satisfied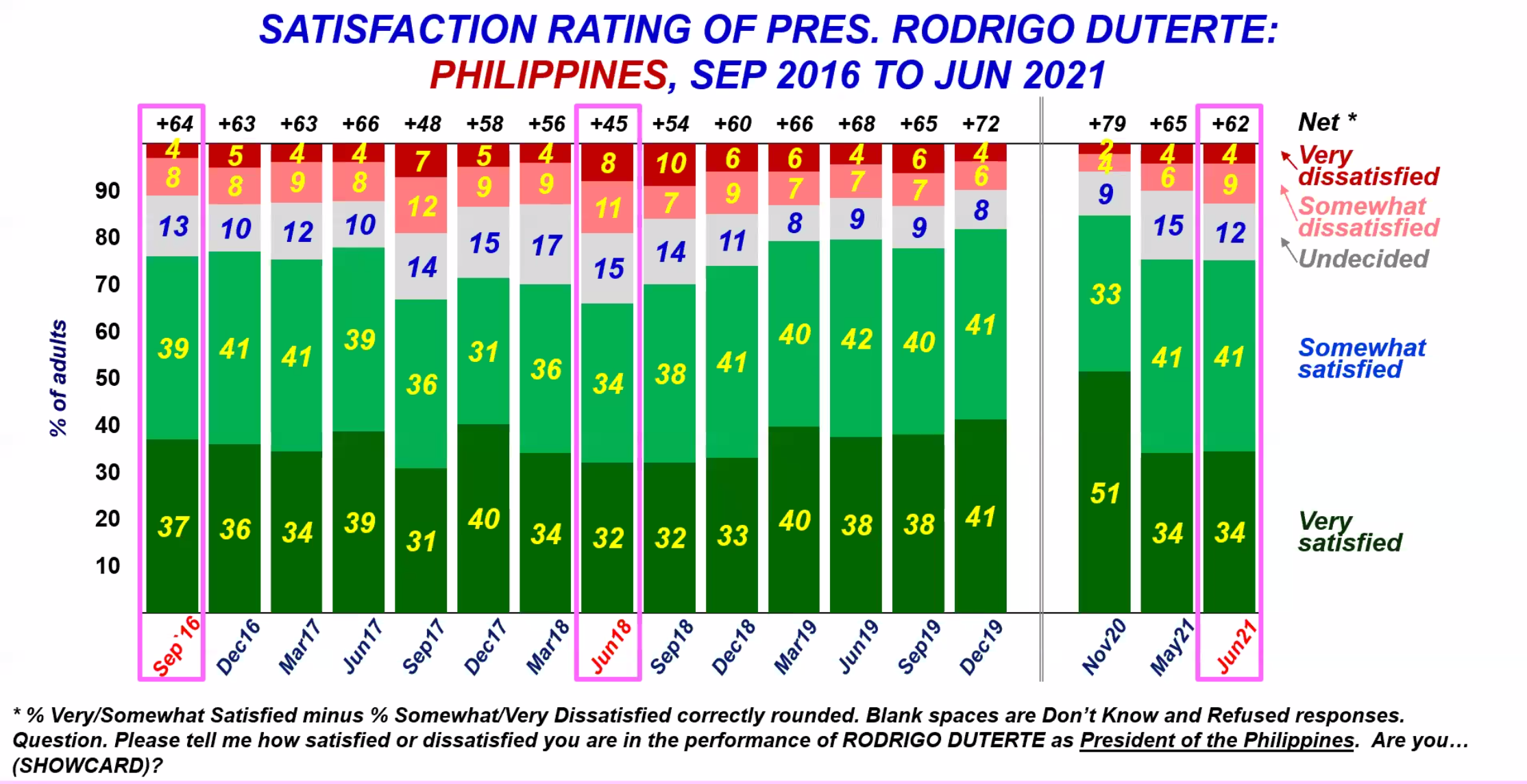 All of these surveys were conducted during the pandemic.
Asked to explain how Duterte could have garnered his best satisfaction rating during the health crisis, SWS fellow and political science professor Jorge Tigno said it could be because, around that time, COVID-19 infections appeared to have been suppressed.
From October 2020 to February 2021, new cases reported daily hovered from around 1,000 to 2,500, sometimes even going below 1,000.
"I would situate that in that context. People were sensing that, okay, this is now starting to be over and we're relieved this has happened and that we're satisfied with what the government has done," said Tigno.
But soon after, in March, cases started soaring again, pushing the government to impose enhanced community quarantine in Metro Manila in April.
SWS fellow and economics associate professor Geoffrey Ducanes, meanwhile, said most Filipinos don't think the Duterte administration is failing to respond to the pandemic, based on SWS data.
"Most people don't think the government mismanaged the pandemic. They gave the government relatively high rating in terms of taking care of those who got COVID-19 and also relatively high rating in terms of vaccination," he said.
A perception of mishandling was less significant to people's satisfaction with Duterte than a perception that the government was helping the poor during the pandemic.
SWS board member Steven Rood said that, in 2020, 69% of families they spoke with received COVID-19 aid. In 2021, 79% of Metro Manila families got aid.
Why delay survey results release?
It's the first time that SWS chose to delay the release of presidential satisfaction survey results and release three batches in one go.
From March 2020 to October 2020, SWS could not conduct surveys because of the pandemic. But come May that year, they began doing mobile phone-based surveys focused on the pandemic. After two more such surveys in July and September, they did their first pandemic-time face-to-face survey in November.
This was partly why SWS decided to delay the release of results.
"Since there was a big change, a change in methodology, there was a decision not to release it initially and then later on the thinking that maybe before we release it we should try to understand what's driving this rating," said Ducanes.
Rood, meanwhile, said, "Things are so different nowadays with the pandemic and so on that the satisfaction does not have the same meaning, so we wanted to make sure that that was studied first before we went back to releasing it." – Rappler.com