With only a year left, President Rodrigo Duterte is also likely to defy the lameduck fate of most Philippine chief executives
After five years of controversies that may have felled any other political career, Philippine President Rodrigo Duterte is on track to becoming the country's most popular post-Marcos president, a huge asset for his last year in power.
Compared to his three predecessors, Duterte alone has kept his approval ratings above 75% for most of his term, according to Pulse Asia, one of the country's most credible poll firms. Social Weather Stations, another top survey firm, has not recorded a net satisfaction rating for Duterte lower than +45, which counts as "good." In comparison, the late Benigno Aquino III's net satisfaction rating once fell to +11. SWS last released such ratings in December 2019.
Unfortunately, because of the pandemic, the two firms were unable to conduct at least the first two quarterly surveys for 2020. Pulse Asia was able to resume in September that year but hasn't released new ratings since. SWS last released Duterte satisfaction and trust ratings end of 2019 and September 2018, respectively. This means we don't have a full picture of Duterte's popularity and how it dipped or rose during the pandemic, the biggest crisis to hit his administration.
Duterte's last Pulse Asia approval rating, recorded in September 2020, was at 91%. The poll firm has conducted even more recent surveys but executive director Ana Tabunda told Rappler they may not even release these because "they don't change." Against so many odds, the President has "maintained" his high ratings, she said. Social Weather Stations is also yet to release any Duterte trust and satisfaction ratings this year.
Duterte's Pulse Asia and SWS ratings now hover over those of his four predecessors.
Even the government's widely-criticized COVID-19 pandemic response – defined by harsh and confusing lockdowns and severe blows to jobs and the economy as a whole – have appeared not to dent Duterte's teflon popularity.
Nine out of 10 Filipinos said they think Duterte has "done well" in "preventing the spread of COVID-19 in the country," according to a Pulse Asia poll conducted in September 2020.
Duterte's worst year was 2018 as this was when he got his lowest SWS net satisfaction rating (June) and lowest Pulse Asia trust and approval ratings (September). The June survey was conducted right after he called God "stupid" during a tirade against the Catholic church. The September drop was after a rice shortage led to record-high inflation, which hit the poor hardest.
Fear factor?
Political observers and veteran journalists like John Nery and Luis Teodoro attribute Duterte's high ratings to "fear factor" cowing respondents into giving Duterte a thumb's up. But Tabunda said they didn't see that during their field interviews with survey respondents.
"Because when our people went with our field interviewers, the people would actually say, because they were given the rating board, on the rating board we have: 'Talagang aprubado,' 'Aprubado.' (Strongly approve, Approve) They would put, 'Ah, dito, ito, talagang aprubado.' (Ah, here, I really approve.) So, it was voluntary and that's what we have been observing," said Tabunda.
Yet an SWS poll in June 2019 found that a majority of Filipinos think it's dangerous to print or broadcast anything critical of the Duterte government.
"It's possible there's fear factor, we're just not seeing it when we're going out into the field. It's possible that they fear giving negative comments, but when we do ask them why they trust this President, they do have their reasons," said Tabunda.
The million-dollar question
Political analysts and those critical of Duterte may be stumped on the reasons for Duterte's persistent popularity, but to longtime Duterte supporters, it's a no-brainer.
Kenneth Lucio, a 47-year-old businessman, lives and works in Guihulngan, ground zero of ambushes and killings in Negros, many related to persons identified with the Left.
But while the Negros killings have fueled accusations of impunity against the Duterte administration, Lucio is happy about the military response to communist rebels.
"When there is a problem, like the Guihulngan ambush, you will really feel them respond. I think that is the Duterte appeal in the province. It's rare to happen, the seat of power in Malacañang paying attention to your small town, giving that amount of resources," he said.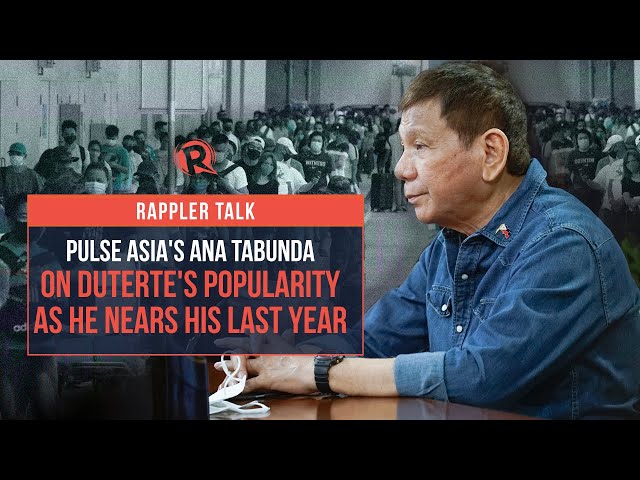 He claimed he used to get calls every week from New People's Army rebels threatening to burn his convenience store and restaurants if he didn't cough up P50,000 to P100,000. Those calls don't happen as often now, he said. He credits Operation Sauron, a joint military and police campaign targeting communist insurgents.
Sauron stemmed from a 2018 Duterte memorandum order deploying more cops and soldiers to Negros Oriental, among other provinces, to "suppress lawless violence and acts of terror."
"We needed a strong hand to really clean up the place and at least give us a sense of security. That's one of the very basic things, to establish peace and order in your province and then everything follows in business," Lucio told Rappler.
Kelly Dayag, an overseas Filipino worker, is also still firmly on Duterte's team.
"I still support PRRD. Like any other administration, his governance is far from being perfect but he delivered well in terms of creating infrastructure, combating corruption, and mitigating the impact of the pandemic," he told Rappler.
One other major Duterte program that low-income Filipinos and communities nationwide are feeling is his drug war.
Tabunda is convinced that the drug war continues to shore up approval for Duterte because, to many Filipinos, "it was a promise that was kept" and proved that what he wants, he gets.
I think there is a generation that's been saved by the war on drugs.
Kenneth Lucio, Duterte supporter
Eight out of 10 Filipinos said they are satisfied with the drug war, based on an SWS survey conducted in September 2019, the most recent poll conducted on the topic. But the same number of Filipinos also believe the drug war is riddled with human rights abuses, SWS found in a survey conducted a few months later.
Does this mean Filipinos just don't care about human rights abuses? And why do poor Filipinos still approve of Duterte when drug operations typically target their communities?
Tabunda said poor communities should not be seen as homogenous. There's a small portion of drug addicts and peddlers, and a larger portion of the community who are actually "relieved" when these drug addicts surrender to authorities, or even when they get killed.
"Maybe they didn't see it in terms of human rights violations. They probably viewed drug addicts as being against the law," said Tabunda.
Pulse Asia data show the poorest Filipinos, Class E, often giving Duterte the highest approval ratings among economic classes. The period when their approval for him dipped to its lowest was in March 2017, when self-confessed hitman Arturo Lascañas accused Duterte of masterminding extrajudicial killings and the President himself ordered a stop to the drug war due to police corruption. But even at this low point, 77% of the poorest gave Duterte a thumbs up.
Lucio echoed Tabunda's views and said he sees it manifested in communities around him. He's impressed by how "hardcore" drug users in villages would meekly present themselves before barangay anti-drug councils, cowed by Duterte's kill threats.
"I think there is a generation that's been saved by the war on drugs…. That's part of the Duterte legacy, the youth are really scared," he said.
As for the pandemic, Tabunda thinks Duterte's popularity was not affected because most Filipinos think the problem was too big for any one person to handle. Instead, they're "giving the administration some slack."
True enough, the sentiment was echoed by Lucio.
"Naku, there is no singular person to blame about this. It's a worldwide phenomenon, lahat naghihirap pati 'yung mga superpowers (everyone is struggling, even the superpowers)," when asked by Rappler for his assessment of Duterte's pandemic response.
Duterte Spokesperson Harry Roque couldn't have said it better himself.
Even Duterte's weekly late-night addresses are doing him good, at least based on feedback from some participants in Pulse Asia's focus group discussions. According to Tabunda, the FGD participants thought Duterte was "very industrious" for holding meetings so late at night about the pandemic.
What most of the public doesn't know is that these meetings are not aired live. They are broadcast a few hours after the meetings end, around 8 pm or 9 pm, and the footage is always edited.
To Duterte supporter Lucio though, the President is still the ideal man in charge of the health crisis.
"He has the command and control. I just cannot imagine any other president who would be capable of dealing with the autonomy of the LGUs (local government units), where everyone is doing their own thing. Imagine how chaotic things would be if the top leadership is unstable," he told Rappler.
If only Lucio's stamp of approval was reflected in third party assessments of the government's pandemic response. A Bloomberg study ranked the Philippines the second lowest in terms of resilience to COVID-19 in 53 countries. Australian think tank Lowy Institute placed the Philippines in the bottom 20 among 98 countries in terms of success in containing COVID-19 infections.
Defying the lameduck curse
Duterte's record-beating popularity means he will likely defy the fate of most outgoing presidents: becoming lameducks on their last year in power.
The lameduck curse is when sitting presidents lose political influence as election for their successor nears and the coalitions that carried them to power break up to form new alliances with emerging electoral contenders.
"With President Duterte, that's not the case. Compared to his predecessors, he didn't endure a rapid decline in popularity close to the elections," said De La Salle University political science lecturer Cleve Arguelles.
His stellar survey ratings are a major asset for getting his priority programs accomplished and his priority bills passed before he steps down.
Roque said Duterte will spend his last year continuing his crackdown on illegal drugs, criminality, and corruption. Ensuring every Filipinos is vaccinated is also another box to tick, he said.
But for Duterte's number crunchers, COVID-19 response and the Build, Build, Build infrastructure program will get the biggest budget priority in their proposed 2022 national budget, Duterte'st last budget.
The list of the government's 2022 budget priorities, sent by Budget Secretary Wendel Avisado to Rappler, include an "expanded vaccination program for booster shots," the establishment of the Virology Science and Technology Institute, and the full rollout of the National ID system.
But other flagship programs like the Barangay Development Program of the anti-communism task force NTF-ELCAC could suffer a blow from a development beyond Duterte's control – the implementation of the Supreme Court's 2018 ruling saying that LGUs are entitled to a share of all national taxes, not just the national internal revenue taxes.
Called the Mandanas ruling, the bigger allocation it secured for local governments will take effect in 2022.
It means that the national government will have to draw on a reduced pool of taxes for its programs next year, possibly constraining funds for programs like those of the NTF-ELCAC.
"Given the limited fiscal space because of the implementation of the Mandanas ruling, we will see up to what extent we can implement this program next year," said Avisado.
Duterte would have to work extra hard on Congress to ensure big funding for NTF-ELCAC. There are also a range of bills he and his Cabinet want to pass before he steps down – laws lessening restrictions on foreign investments, his personal advocacies of creating an OFW department, and bringing back the death penalty.
But it's also among Congress allies that his leadership could be tested, a prelude to the starker political lines to be drawn in 2022. Already, his erstwhile ally Senator Manny Pacquiao has openly challenged him. Pacquiao is widely believed to be planning a presidential run next year.
And while politicians put much stock on popularity ratings for their gambits, ordinary Filipinos may not. The strategies of Duterte challengers and the 2022 elections will be the final judge of Duterte's standing with the Filipino people. – Data visualization by Michael Bueza/Rappler.com