President Rodrigo Duterte orders the issuance of a memo blocking the attendance of Cabinet members and orders uniformed personnel to ignore arrest warrants issued by the Senate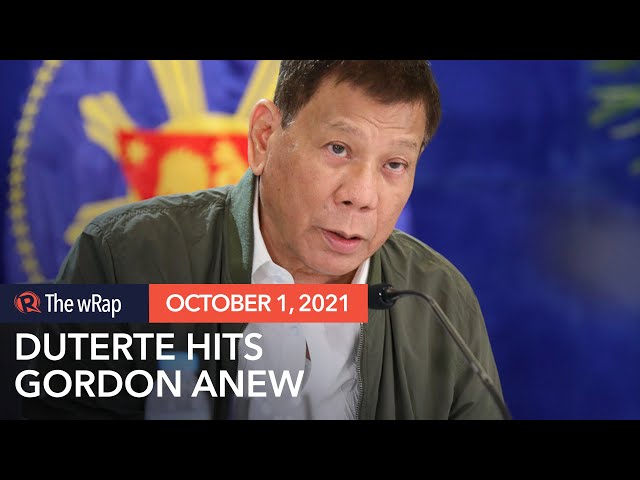 President Rodrigo Duterte continued to rage against the Senate on Thursday night, September 30, spewing a series of orders that would limit the appearance of Cabinet officials and witnesses in an ongoing probe into the alleged corruption in his administration's pandemic response.
In his now bi-weekly public addresses, Duterte was furious over hearings at the Senate blue ribbon committee, after its chairman, Senator Richard Gordon, claimed that the panel would continue its investigation "until kingdom come" as witnesses remained "evasive" in answering lawmaker's questions. Gordon said the chamber had a lot more to dig on questionable pandemic purchases.
"Who are you to say that? Sabi ko (I'm saying), that is a very undemocratic statement and you want the Fiilipino nation patay kami dito sa executive department (to suffer, to drag us here in the executive department?)" Duterte said.
He warned that the senator was "overstepping" his jurisdiction on the issue.
Duterte said that Health Secretary Francisco Duque III and National Task Force Chief Implementer and vaccine czar Carlito Galvez Jr have wasted so much time in Senate hearings. The President ordered Executive Secretary Salvador Medialdea to craft a document that would order Cabinet officials to ignore the panel's summons.
"I have ordered Secretary Medialdea to prepare… I will issue a memorandum na lahat ng nasa (that everyone in the) executive department will no longer obey your summons because of your 'til kingdom," Duterte said.
The President accused Gordon of "playing God" and told Duque and Galvez: "Never mind Gordon, he is nothing."
Before this, Duterte only said that Cabinet secretaries would need his approval before participating in the Senate's hearings.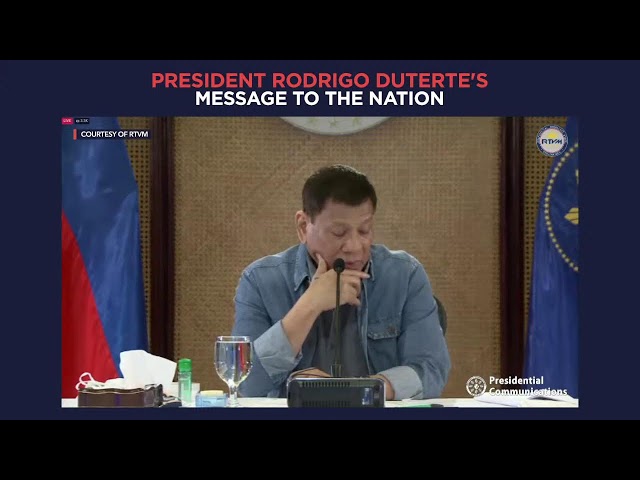 Duterte made the statement hours after the Senate wrapped up its 10th hearing on Thursday. Lawmakers have continued to uncover findings, raised suspicions of conflict of interest and the failure of the government to apply due diligence in dealing with Pharmally Pharmaceutical Corporation, a small firm owned by a Singaporean wanted in Taiwan.
Pharmally has managed to bag at least P10 billion in pandemic deals, also has links to Michael Yang, former economic adviser to President Rodrigo Duterte.
'Crisis'
During his address, Duterte threatened that he would file a malversation case against Gordon for allegedly misusing public funds as former chief of the Subic Bay Metropolitan Authority way back in the 1990s. Duterte also insisted the Philippine Red Cross, which the senator currently chaired, be audited.
Duterte also lashed out at Gordon and the blue ribbon committee for citing people in contempt, particularly when they failed to appear after subpoenas were issued. Since launching hearings in late August, most of Pharmally's members and those suggested to have been involved in its transitions had been subpoenaed by senators several times to appear before the committee.
This included Yang, who had been cited in contempt and was issued two arrest warrants. The first was for ignoring two subpoenas to attend previous hearings and for his evasive answers during the September 10 probe.
In citing people in contempt after refusing to answer subpoenas, Duterte accused Gordon going "out of bounds amounting to lack of jurisdiction."
"So sabihin ko sa sergeant at arms ngayon, do not attempt to ever arrest anybody kasi ikaw ang aarestuhin ko. Ngayon you will order the police and the military to help the sheriff? Ako naman as commander in chief of all uniformed personnel of government, I am ordering the police and the military and everybody to stay out of this trouble," Duterte said.
(I will order the sergeant at arms, do not attempt to ever arrest anybody because I will arrest you instead. Now, you will order the police and the military to help the sheriff? As the commander in chief of all uniformed personnel, I am ordering the police and the military and everybody to stay out of this trouble.)
Duterte warned the police and military against aiding the Senate probe, saying, "There will be a time maybe which I am just afraid you will have to intervene. But not now, because it's just brewing."
To defend his statement, Duterte called on his spokesperson, Harry Roque, who chimed into the meeting through a video call.
Roque claimed that while the legislative had the power to conduct investigations in aid of legislation, the Senate's hearing was broaching on "grave abuse of discretion." He cited Gordon's statement that hearings could go on as being tantamount to this as some guests were in charge of leading the government's pandemic response.
A former representative until he joined the Duterte administration, Roque said the Senate's probe "is a witch hunt, it is a persecution, it is in aid of election." He argued Duterte had the power to block appearances in hearings as the Chief Executive was "exercising inherent police power of the state to promote public health."
Roque said this might give way to the "beginning of a constitutional crisis" but that the Senate would later "ultimately realize" it had no police power to enforce contempt powers if acted "in a manner that was…bereft of legitimacy."
Duterte praised Roque's argument and continued to throw insults at Gordon and his nickname, Dick until the end of his address.
"Prepare tomorrow because tomorrow you will be one of those impotent by your making. An impotent worker of government," said Duterte. – Rappler.com