The senator shares what he brings to the table in a possible Duterte-Cayetano tandem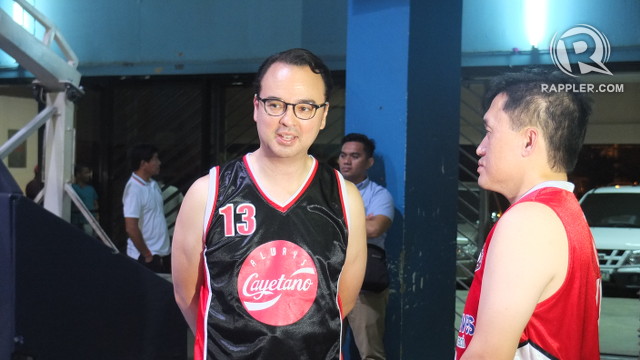 DAVAO CITY, Philippines – "A good partner is worth waiting for," said Senator Alan Peter Cayetano a few minutes before the start of his basketball game against staff of Davao City Mayor Rodrigo Duterte.
Earlier that day, Cayetano declared his bid for the vice presidency, though he was still without a running mate.
He's hoping that runningmate can be Duterte. 
The 44-year-old lawmaker from Taguig City thinks he and Duterte could be a winning tandem because of the values they share.
"We believe in good governance, fighting corruption. I've been in local and national government for 23 years so I also bring some experience. I've handled crisis situations. I've also had personal experience as councilor and helping my wife build up Taguig," he told Rappler.
Though the other declared vice presidential candidates all have their advantages, a possible Duterte-Cayetano tandem has its own, said Cayetano.
"The question there is, what team can get things done. Because all the platforms are similar but the 'how?' and 'can it be done?' I think that will be the big question." 
Views on BBL
Duterte has been vocal about his support for the passage of a Bangsamoro Basic Law (BBL), frequently saying "nothing short of the BBL can bring peace in Mindanao."
Supporting such a bill goes hand-in-hand with his belief in a federal form of government that would give more power and autonomy to local governments.
Cayetano, on the other hand, comes across as a fierce critic of the current bill.
But despite the different messaging, Cayetano believes his and Duterte's positions, at their core, are not all that different.
"Actually, our views are not different. Because we both believe in peace, we both believe in development. Mayor Duterte himself has said that there are some provisions of the BBL that have to change," said Cayetano.
He also pointed out initiatives of the Taguig local government for its Muslim community, specifically in Maharlikha Village. 
"I think BBL and the love for Mindanao will be an asset in a possible tandem rather than a burden," he said.
Cayetano is hoping to speak with Mayor Duterte face-to-face about 2016 plans. Meanwhile, each passing day brings candidate-hopefuls closer to the week of filing of candidacy from October 12 to 17. 
Duterte, who says he needs time to do final soul-searching, has the entire country on tenterhooks waiting for his decision. 
In the end, though Cayetano is hoping to find a runningmate in Duterte, it's the mayor who has the final say.
After all, Duterte can still choose to run with other possible vice presidential candidates, like Ferdinand "Bongbong" Marcos Jr, should he decide to join the presidential race.
Marcos, with his Ilocos and Visayas bailiwicks, could help Duterte's ratings in Luzon, though he comes with the baggage of the Marcos dictatorship. 
Cayetano said, "I guess it's really for [Duterte] and for the people to see what you bring in."
At the middle of the game, the senator left the gym to join Duterte for dinner with his wife Lani and sister Senator Pia Cayetano.
What they discuss may be a game-changer for the 2016 elections. – Rappler.com