Who among the 5 candidates has the best platform to address global warming and natural disasters?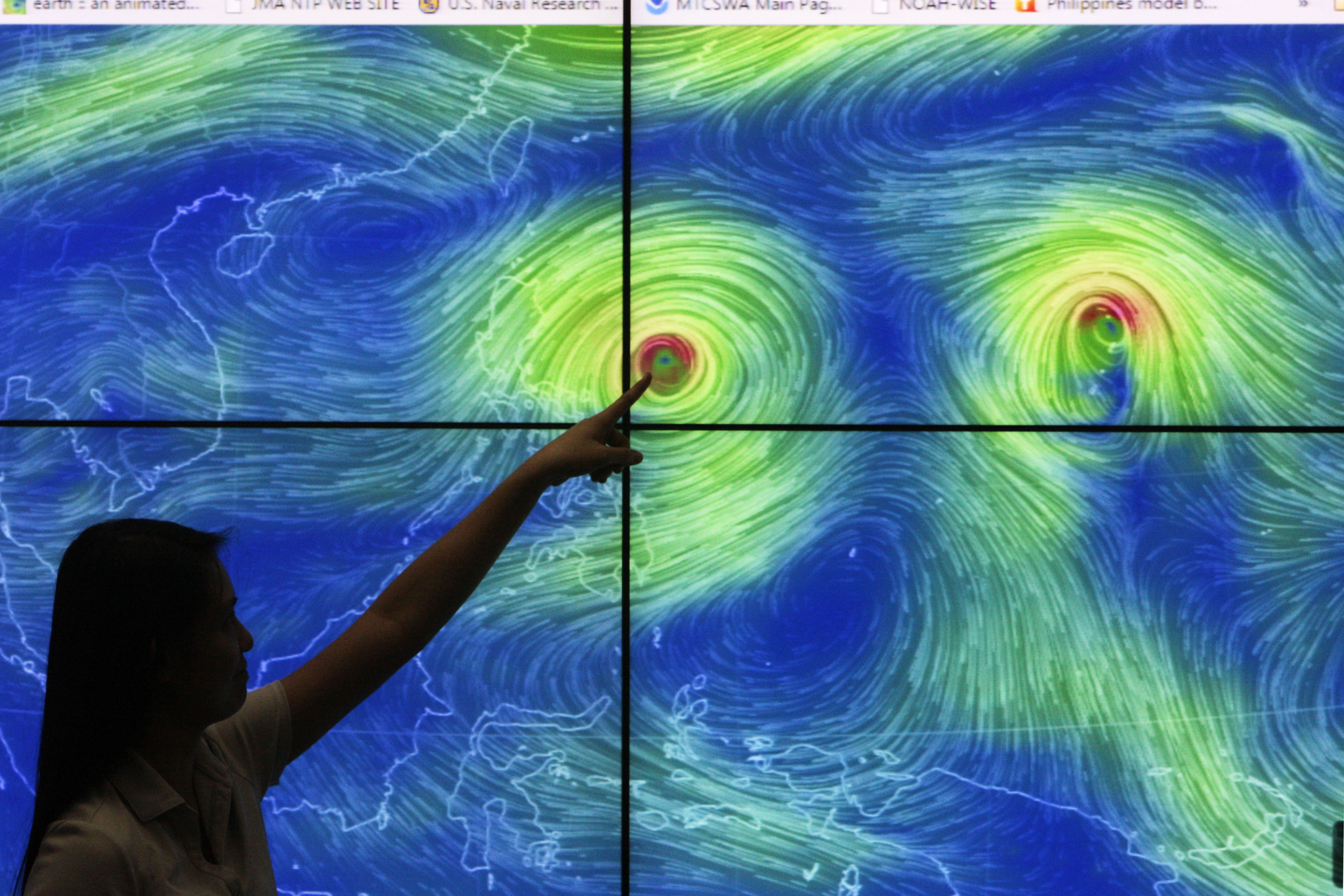 MANILA, Philippines – The Philippines needs a president who can face the reality of climate change and disasters, being a country vulnerable to strong typhoons, drought, floods, landslides, and storm surge.
Who among the 5 presidential candidates can live up to the challenge?
Rappler looks into their platforms and categorizes them into two topics:
Adaptation – Policies to help protect citizens, the economy, and the environment from climate change impacts like storms, drought, flooding, landslides, and heatwaves
Mitigation – Policies to reduce the carbon emissions from our transportation, garbage management, agriculture, energy, and industrial sectors 
Jejomar "Jojo" Binay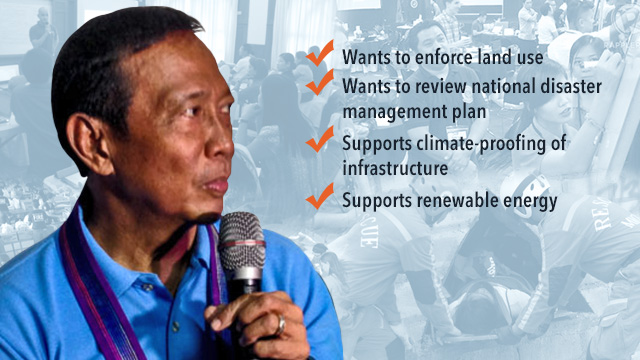 The standard-bearer of opposition party United Nationalist Alliance (UNA) and incumbent vice president of the country has a comprehensive climate change action plan.
Adaptation:
He said, if elected, he would review the disaster management system down to the barangay level, particularly the early warning systems and prepositioning of relief goods.
He would also initiate the retrofitting of infrastructure and updating of building codes to fit climate-resilient standards.
Recognizing the part geographic location plays in exposing communities to disasters, he said he would relocate informal settler families from danger zones and create jobs for them in the safe zones.
He also plans to strictly enforce land use policies. 
Mitigation: 
Binay wants to fully implement the Renewable Energy (RE) law and achieve 50% RE in the country's power supply by 2030. He would promote particularly hydro power as one of the cheapest forms of RE.
Rodrigo "Rody" Duterte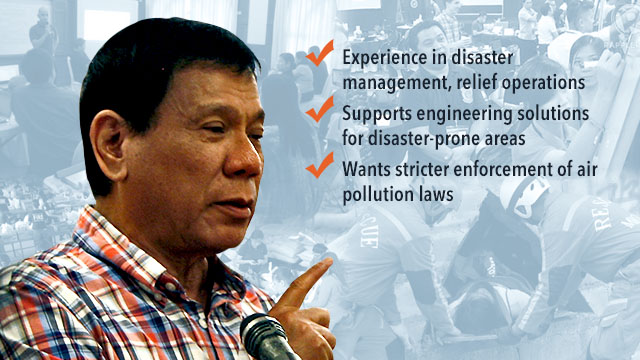 The newest candidate in the presidential race, Duterte is yet to thresh out his climate change action plan.
Adaptation:
As Davao City mayor, he has had experience dealing with natural calamities including massive floods and Typhoon Pablo which struck the Davao region in 2012. 
To address flooding, he showed a preference to engineering solutions. He spent millions installing drains in Davao City. In 2011, he again proposed spending P60 billion for new drains and the relocation of families affected by the construction of the drains.
Duterte was also on the ground during Super Tyhoon Yolanda relief operations, being one of the first mayors to rush to Tacloban's aid, carrying P7 million in cash as a donation.
Mitigation:
Duterte has a grasp of carbon mitigation issues. He acknowledges that the United States and China are the two biggest carbon polluters and that the Philippines' carbon emissions are negligible.
His mitigation policy would be to purchase state of the art anti-pollution equipment and crack down on industrial factories or companies that spew greenhouse gases.
"Sabihin ko lang sa kanila, what's the law? Lahat ng pabrika dito, what's the law? Ano sabi ng science and technology? Ganito gawin niyo. 'Di mo masunod? I'll give you 60 days. Hindi mo masunod, sarhan kita. I don't care if you're a multibillion enterprise."
(I will ask them, what's the law? All the factories here, what's the law? What does science and technology say? That's what you do. You can't follow it? I'll give you 60 days. If you can't follow I will close you.)
Grace Poe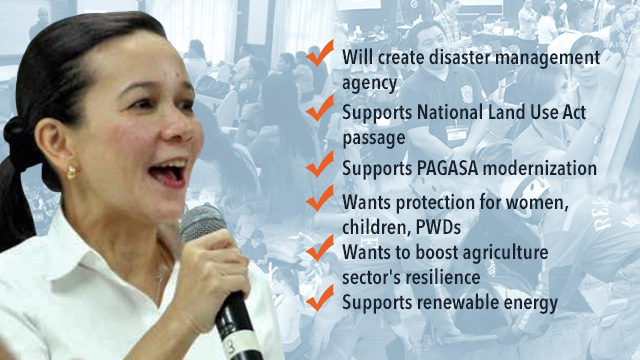 The candidate leading in election surveys, Poe presented a comprehensive action plan against disasters during a Presidential Forum on Resilience. The action plan was read out by her representative. 
Adaptation:
The highlights of her plan include the creation of an independent disaster management agency to solve the coordination problems she says is bogging down current disaster efforts being led by the National Disaster Risk Reduction and Management Council (NDRRMC). 
She also recommends the passage of the National Land Use Act to identify hazard-prone areas in all communities and help LGUs make informed decisions on where to construct disaster support facilities like shelters and evacuation centers.
She will push for the modernization of PAGASA, the country's weather agency, to boost its ability to predict typhoon tracks and impact of heat waves and dry spells.
Learning from the Yolanda experience, she said she would create an information hub and online portal to monitor the use of humanitarian aid after disasters. She will also expand the mandate of the Commission on Audit so they can audit the distribution of relief goods and rehabilitation efforts.
One thing that stands out is her emphasis on human rights protection during calamities.
For instance, she wants to use the United Nations' Operational Guidelines on Human Rights and Natural Disasters to ensure the human dignity of typhoon victims is respected even during times of disaster.
She stressed that vulnerable sectors like women, children and persons with disability should be considered.
For instance, evacuation centers should be accessible to PWDs and emergency kits should contain items for women's hygiene.
She also supports the passage of the Children's Emergency Relief and Protection Act currently lodged with Congress, recognizing the plight of children orphaned after disasters or those who are trafficked or forced into prostitution.
Poe also addresses slow-onset impacts of climate change in her platform. She said she would improve the agricultural sector by boosting irrigation, land reform, and farm mechanization programs. A more robust agricultural sector means it has more chances of surviving drought, storms, and pests introduced by the changing climate.
Mitigation: 
Poe said she would prioritize renewable energy as a source of power for the country. 
Manuel "Mar" Roxas II
Adaptation: 
Handpicked by President Benigno Aquino III to succeed him and continue his programs, Roxas probably has the most experience of major natural disasters among all the candidates. 
As Secretary of the Interior and Local Government, he was on the ground during landfalls of Super Typhoons Yolanda and Ruby and led relief operations in the storm-stricken provinces.
He counts as among his achievements the restoration of communications in Yolanda-hit areas within a week and the clean-up operations that allowed relief goods to finally reach typhoon victims. But he was also severely criticized for the slow pace of relief operations and the lack of clarity on leadership during the critical period right after landfall.
But he has said he has learned from the experience. One of his contributions to climate adaptation efforts is Operation Project Listo, a checklist for local government units on what should be done before, during, and after a calamity.
Casualties from Ruby, the next big storm comparable to Yolanda, was considerably less because of advanced evacuations implemented by LGUs.
Mitigation: 
Roxas says he's committed to fully implementing the Renewable Energy (RE) Act which seeks to increase the share of green energy to 50% of the country's power supply in 30 years.
Miriam Defensor Santiago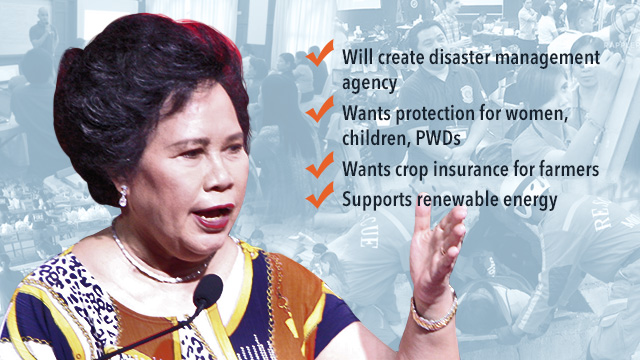 Adaptation:
Like Poe, Santiago wants an independent, dedicated disaster management agency to replace the NDRRMC. She also put emphasis on protecting women, children, and PWDs.
Santiago said the disaster management agency should have emergency procurement powers to address how the usual government bureaucracy will only slow down rehabilitation efforts. The agency will also have power to administer disaster funds and enough manpower.
Santiago stands out by emphasizing the need to boost the country's insurance system – especially for farmers and people living in disaster-prone areas.
She said the People's Survival Fund can be used to provide risk insurance to farmers whose livelihoods are literally wiped out during natural calamities. She would coordinate with the insurance industry for a national flood insurance program, a bill for which she has already filed.
For women, she wants women's help desks to be increased in disaster-prone areas. It was also she who filed the Children Emergency Relief and Protection Act which heightens measures against child trafficking and other abuses to children after calamities.
The bill improves steps for family-tracing and reunification for unaccompanied, separated children and prioritizes the timely delivery of services for pregnant, lactating mothers.
Mitigation:
Santaigo wants to fast-track the implementation of the RE law. She also filed a bill to increase the use of RE in the agricultural sector, one of the major sources of greenhouse gas emissions.
– Rappler.com
(This article will be updated as the candidates elaborate on their platforms during the campaign season.)
Want to read more about their platforms?