In a pre-dawn interview with Sun.Star, Rodrigo Duterte gives a glimpse of his presidency: commercial flights, less provincial trips, and the declaration of Lapu-Lapu as a national hero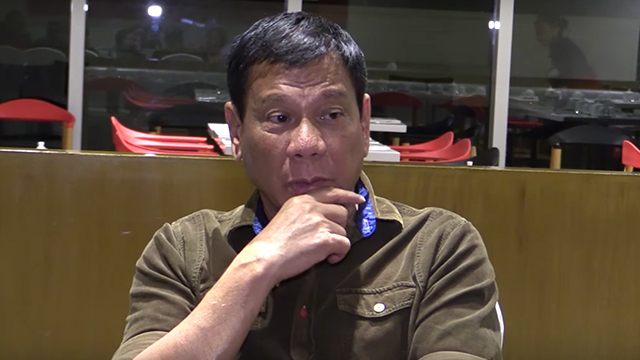 CEBU CITY, Philippines – The man whom the people talked about the most in this election loves to talk.
"I saw myself in the crowd," said Rodrigo Duterte, recalling a moment in one of his campaign sorties. Correct messaging, he added, helped him win the presidency. (READ: Rody Duterte: The rebellious son, the prankster brother)
It was a few minutes past 3 am Wednesday, May 18, when he met with some executives and editors of the Sun.Star Media Group. He had just been through a barrage of courtesy calls and back-to-back recording sessions with TV public affairs crews, one of them interrupted by a call from US President Barack Obama.
Yet the 71-year-old night owl seemed just as ready to discuss "the fiction of Daang Matuwid (Straight Path)," his skepticism with a religion that many Filipinos observe "out of a force of habit," and the challenges of delivering the campaign promises that won him the support of 4 in 10 voters who cast their ballots this year.
If the punishing schedule he resumed a week after the May 9 elections had taken its toll, the incoming president did not let it show.
He still cracked jokes, some of them at his expense. Seeing a group of young women surrounding his new spokesman, lawyer Salvador Panelo, he began to talk about his girlfriends then quickly added, "Hindi na ako yung Lothario or Casanova. Matanda na ako. Masakit na ang likod ko (I am no longer a Lothario or a Casanova. I'm old. I have backaches)."
He seems to enjoy making people laugh. But Duterte and his advisers are also getting down to the serious business of forming a government. They have already unveiled a broad economic agenda, announced potential Cabinet members for public scrutiny, and forged alliances with at least two other political parties.
It's not yet clear how closely Duterte and his inner circle are working – if they are at all – with the transition team that President Benigno Aquino III has created.
But the numbers speak clearly. In 6 weeks, Duterte will step down from the Davao City mayor's office that he has held for more than 20 years, and step into Malacañang.
Here are some excerpts of that pre-dawn conversation.
Mayor, where do you get all your energy at this time?
Well, it has always been there, actually. I have not really changed physically. I'm quite awake at night. I'm in my best element at night. I stopped smoking and drinking a long time ago, when I became mayor and ordered the ban on smoking [in public places]. Ngil-ad tan-awon ang mayor nga mag-lala (It's terrible for a mayor to be seen getting drunk in public). It's not good to look at.
I exercise on the treadmill for one hour before I sleep, irrespective of the time. And paggising ko (when I wake up), another 30 minutes just to perk up. I sleep for 8 hours, whatever time I come home.
We come from the community press. With you being the first president from Mindanao, what assurances or assistance can you grant the community press in terms of access to Malacañang?
You will all have full access to Malacañang; any media in the Philippines.
But, of course, I cannot be there available at all times. For press conferences, lahat, walang (everyone, no) restrictions. Whether the answers are good or bad, or the questions are good or bad.
There will be a press office and a presidential spokesman, who is Atty [Salvador] Panelo. You know, he's funny. Today, he's wearing leather pants.
Anyway, that's it: a press office and a presidential spokesman. There will be no press secretary.
How do you plan to push for federalism?
I will create a commission whose membership will be mixed: Moro, Christian, Lumad. They will go around the country immediately after I assume office in order to educate people about federalism. They won't have years to do that; they will have days, weeks.
Without federalism, there will be no peace in Mindanao.
Will you be going to the provinces frequently during your presidency?
No. I have a very limited period of time, 6 years. Fixing the government and [fighting] corruption will take up much of my time.
Nakita naman nila ako sa kampanya (Anyway, people saw me during the campaign). Besides, I have said I am selling Ang Pangulo [the presidential yacht].
What's the point of maintaining a presidential yacht when so many are suffering? It's almost obscene.
So you'll be spending most of your time in Malacañang?
Yes, working. But I will live outside. In order not to incur so much expenses, pinapatingnan ko 'yung bahay ni (I'm asking people to look into the house of) President [Cory] Aquino. (The Arlegui mansion near Malacañang, which served as the official residence of President Corazon Aquino from 1986 to 1992, and President Fidel Ramos from 1992 to 1998).
Why won't I live in Malacañang? Maraming mumu doon (There are many ghosts there). When I was working for [President Gloria] Arroyo as consultant for law and order, she once called me around 2 am. I was brought to a sala (sitting area) with paintings of the presidents, while I waited for her to dress up.
It was really giddy. Tiningnan ko 'yung mga mukha nila (I looked at the faces on the portraits). The presidents were in different poses, but they were all looking in front. The wind blew or siguro malakas ang aircon (or maybe the aircon was on full blast). Nang tumingin ako, nakatingin sila sa akin lahat (When I looked again, they were all looking at me). Put—ng ina. Lalabas ako dito. (Son of a bitch, I'm out of here). Nabuang na ni (It's crazy).

That place is haunted, and not only because it is an imperialist leftover.
Mayor, I'm from Sun.Star Bacolod. If President Aquino issues a presidential proclamation before he steps down, for the establishment of a regional center for the newly formed Negros Island Region, will you continue it?
Well, are the people happy with it? Have they accepted it? Then I will support it.
Hindi naman masama lahat sa Aquino administration (Not everything the Aquino administration did was bad). The good programs pursued by him will be pursued by me. I do not mind continuing projects of the previous administration. Sayang, eh (It would be a waste.) Those projects that have given huge benefits for the people, I will continue.
'Yung Pantawid (The Pantawid program) I will continue, but I will add one more sack of rice. 'Pag napapakain mo ang mga tao, para sa akin, okay na yun (When you feed the people, that's okay with me). Life is really hard now.
You garnered 260,000 votes in Negros Occidental. You were number two there. What is your message for voters there?
Number two lang ako (I'm only number two)? What will I do? Patayin ko lahat ng Ilonggo (I will kill all Ilonggos). Damo sang ga-promise sa akon na pag ako ang magdalagan, mag-landslide daw ako. Karon, why man number two lang ako (So many Ilonggos promised I would win by a landslide, so why am I only number two)?
(After a pause) Well, I'm happy. Maybe because they also chose a Bisaya. Eh, doon sa kanila, nag-landslide din sila. Natural. (In their turf, they also won by landslide. That's natural). 
You were number one in Cebu….What is your message to Cebuanos?
By a landslide. Daghang salamat! Nahibawo man gyud ko. During the surveys, one of my people said delikado tayo sa Cebu, number 3 lang daw ako sa Cebu. I said, "Maniwala ka diyan. Bolero ang mga Cebuano, Duterte ang mga 'yan." Bisaya man. Tuo lang nako. (Thank you. I knew it. One of my people said I was only third in the surveys in Cebu, but I told him not to believe that. Cebuanos are for Duterte, a fellow Bisaya. Trust me.)
Your pronouncements to enforce a curfew on minors and a ban on liquor sales have been received with mixed reactions. Those working in the hotels and restaurant services are wary.
The [nationwide] ban will be at 2 am. It's only in Davao where the ban on liquor sales starts at 1 am. If you really want, then there can be legislation for that.
But that ban on smoking in public spaces, that's already a law. And smoking is really deleterious to one's health. Hindi magandang tingnan (It's not good to look at, too).
How did you find this election? How do you feel about all the public attention you're getting?
The election was mostly the same. But [the fact of winning] the presidency has not sunk in.
I do not want glorification. I hate adulation. Naninindig ang balahibo ko (It gives me goosebumps).
That's why I have ordered that the planes assigned to the Office of the President be converted into air ambulances for the military and the police. If someone is severely injured in an encounter, they can be brought to Cebu or Manila immediately for treatment. Pinabigay ko na (I am giving them away).
I will travel using commercial airlines. I would be happy with just two or three [security]. I do not want people following me. Tapos paglabas ko sa bahay, ang security pa ang mangulitawo sa mga babaye. (And when I step out of the house, the security would be the one to court the girls.)

Where will your inauguration be held?
In the Office of the President. Not in Davao, because I do not want to create a traffic situation. I do not want to inconvenience people. I do not want an aberration in the movement of the day.
I will just take my oath of office in my office. I will invite my children, my wife, si Elizabeth at si Honeylet (Elizabeth and Honeylet), if they can tolerate each other's presence.
There will be finger food to keep them busy, while waiting for the hour, for noontime [on June 30]. Then I will take my oath.
After that, I will go on TV and talk to the nation about some things that I will do and some things that I will not do, for about 30 minutes, then I will say, "Let's start."
How do you intend to win over the senators and congressmen?
Somebody is working on that, talking to those who are interested to join. Alam mo na (You already know), you do not fight City Hall. Might as well work with City Hall. What would you get by not cooperating with the president?
Ang problema kasi (The problem is), the president is the disbursing officer. You can write anything and everything in the budget, send it to the bicameral conference committee and pass it, but if the president does not release the money, then patay ka (you're done for).
You've announced that you will offer to the Left the Cabinet positions for social welfare, labor, environment and agriculture. Was there any feedback or interest?
Matagal na namin yang pinag-usapan (We talked about that a long time ago). It's time for them to show what they can contribute for the good of the country. Kasi (Because), I am the first president coming from the Left.
One problem in Metro Manila that is affecting the economy is congestion in NAIA. How do we solve that? What's the plan?
We are talking here about success in tourism.
If you want to see an island 100 times more beautiful than Boracay, you go to Tawi-Tawi. But because the Abu Sayyaf is there, walang pumupunta (no one ever goes there). You have to have order first. Then you have to have good roads to tourism destinations.
When a guy goes somewhere, he would always go for the destination he can reach the fastest, then the cheapest, and then the safest, including the infrastructure.
Do you have any plans specifically for Cebu?
Hindi ako nagpapatawa, ha? (I'm not joking, okay?) I will raise Lapu-Lapu as a national hero. What the Manila people did was, instead of raising him to the level and dignity of a hero, putang-ina (son of a bitch), he was demoted. Isda na lang, escabeche (They named a fish after him, a viand, sweet and sour fish).
I will assign this to the proper office. I will issue a decree that Lapu-Lapu should be included in the listings of the national heroes. He was the first guy to resist imperialism. He not only resisted imperialists; he killed imperialists.
Are you not afraid that because of your stance against illegal drugs and criminality, there may be attempts to assassinate you or to bring down your government?
Well, I have always stated that if it's my time, then it's my time.
During the miting de avance [in Luneta last May 7, on the final day of the official campaign], they did not want me to move away from the rostrum. It had a [bullet-proof] glass front. But I disobeyed them and I went in front of it.
If I'm afraid to die, then there's no point in being a mayor or a president. If you are afraid to kill, then do not be president.
When you think about the next 6 years, what do you look forward to most?
I look forward to the cessation of abuse in the Philippines….
It's like this. (He borrows two pens, holds one up vertically, then places the other one horizontally on top of it, forming a T.)
Why are elections so hotly contested? Why do people kill for public office?
It's the oligarchs on top, the limited few, the elitists, who can buy whoever is in power, whoever wins. Government is the fulcrum. In the barangays, people go to the government, to their barangay captains, for all of their needs. Trabaho, pagkain, tubig, lahat (Jobs, food, water supply, everything).
Tatakbo naman ang barangay captain sa mayor (Then the barangay runs to the mayor for help), and the mayor dispenses. All their goodies come from the fulcrum, which is the government.
We are in a feudal state.
In a modern society, bali [it's the other way around]. In these societies, the fulcrum is not the government, but the middle class. They do not give a shit if you vote or not.
When you become president, the Church might keep criticizing some of your pronouncements, as some of its officials did during the campaign. How will you address that?
During the election, I received word that I was being junked. People were told not to vote for me, because I'm evil. And I said, okay. I accept that. Let this election be the referendum between me, Rodrigo Duterte, and the Catholic Church. Kayong mga Katoliko (You Catholics), don't vote for me because magkakasala kayo (you will sin). You have to follow your bishops.
Let this be a referendum. I have a majority of 6 million. I have 15 plus something million votes total. So, quo vadis, Church? Ano ngayon (What now)? I won. By a landslide. Where now is your injunction on the people?
I believe in God. I have a deep and abiding faith that there is something out there that is a universal mind, and I cannot understand it. I believe in the Holy Spirit.
The one who enters your mind and body is God, through the Holy Spirit.
Pero 'yung religion (But religion)? Ang Katoliko, puro pageantry (Catholicism is all about pageantry). The Church does not have moral authority….(He mimics reading a book) "And Solomon went to the temple…" Anong pakialam natin? Putang-inang Solomon na 'yan! (Why should we care? That Solomon, son of a bitch!) "And on the way to Bethlehem, there was a great…" So? So?
You're not afraid of being excommunicated?
Kadaghan relihiyon! Di mag-Sabadista na lang ko. (Plenty of religions exist. I just might join the Seventh Day Adventists.)
But will you still help the Church if they need the government's help?
Kung may sunog, ipada nako ang bombero, alangan (If there's a fire, then of course I will send the firefighters to them).
Contribution, contribution. You know? The Catholic religion has its own pageantry, its nice clothes, its songs. Mao ra (That is true). We are really Catholics because of force of habit, because we were told to be Catholics since we were children.
I would rather go to a place in the forest, sit down there, and think about God and ask Him, "What the hell is happening in the world?"
You won overwhelmingly among overseas Filipino workers. What are your plans for them?
They have said, ibalik mo na ang kapayapaan sa ating bayan (make our country peaceful again). I read about a husband and wife working in different countries, sending money but eternally worried that their children will be waylaid or baka malulong sa droga (might be lured into drug abuse).
Malakas ako sa kanila (I won their support) because I carried the right message. Messaging 'yan (That's messaging).
But I will create an independent body so that overseas workers don't have to run from one office to another. I want the NBI [National Bureau of Investigation] and other agencies to have someone there. A one-stop shop, where they can apply for passports and sign their contracts. I do not want to see people queuing.
Maniwala ka (Believe me). When I say I will do something, I will do it.
Are you ready for criticisms from the media about your administration?
Di man pod ko maminaw ninyo (But I'm not going to listen)! Do you think that [criticism] changes everything? Of course not.
So there's no reason for us in the media to be afraid of your administration?
You only die once, so what's the problem? Death is a one-time affair. Hindi naman (It's not) by installment. Wala ka namang babayaran (You don't have to pay for anything).
In the end, we say, ay salamat, thank you for liberating me from this body. I would have said to my folks, please, make another one.
Do you regret running for president?
In a way, yes. But ayaw kong sabihin (But I don't want to say why).
– Rappler.com
This article is republished under Rappler's content sharing agreement with the SunStar network in the coverage of the 2016 national and local elections. It was first published on May 19, 2016.