Nancy Binay on her new job, the RH law, CCT, Taiwan and being the first Binay in the Senate
MANILA, Philippines – After shunning politics for decades, Senator-elect Nancy Binay can only describe her new job as one thing: destiny.
"I tried running away from this calling but at the end of the day, hahabulin ko rin pala (I'd be chasing it after all)," Binay said in an interview on ANC's Headstart with Karen Davila on Monday, May 20.
Widely criticized for instantly becoming senator without a prior government post, Vice President Jejomar Binay's daughter said she has learned to embrace a job she initially did not seek out.
"This is all a calling. I really had no plans of entering politics. I said it will skip me. I did not want to join because I know it's difficult. I will lose my privacy, my anonymity and that was very important to me in spite of the fact that my father is vice president," said the 40-year-old Binay.
Formerly a personal assistant to her father and mother, ex-Makati Mayor Elenita Binay, Nancy said she and her father were initially adamant in opposing her inclusion in the United Nationalist Alliance's (UNA) senatorial ticket.
"In the first meeting of UNA, my name was there. My dad said, 'Take out her name because she will not run.' That was his request. Up to the last minute, our slate was complete. I still kept rising in the surveys. It came to a point, I said, 'Please take out my name because I am not running and our supporters are getting excited.'"
Yet Binay said destiny had other plans.
"Last minute, Joey de Venecia backed out. Cong Toby [Tiangco] was given the authority to decide. And he was the one who decided. I was even the third choice."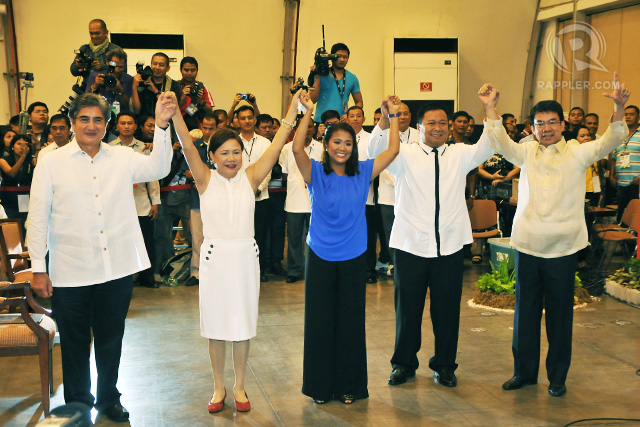 'I don't want to be insecure'
Since then, there was no stopping the eldest Binay's foray into politics.
After going on what she called a 20-year on-the-job training with her parents doing behind the scenes work, Binay ran for senator.
She said she was the target of the worst black propaganda during the campaign with the attacks ranging from her inexperience, her refusal to join debates, to her skin color.
Still, she took it in stride.
"If you're coming from local politics, this is nothing new to me. Sanay ang pamilya ko binabatikos kami every election. I thought this 2013, iba na ang pamamalakad ngayon eh, so akala ko iba na ang uri ng pagca-campaign but apparently, it's more vicious."
(My family is used to criticism every election. I thought this 2013, the leadership is different, so I thought the type of campaign will be different but apparently, it's more vicious.)
Binay said she just dismissed the attacks against her.
"I don't let it affect me. I have to move on or less made-derail ako sa campaign ko. 'Pag nabasa mo, you get insecure so 'di ko hinahayaan. If I allow those things to affect me, magkakaroon ako ng feelings of insecurity so I didn't let that happen."
(My campaign will be derailed if I did not move on. When you read it, you will get insecure so I did not let that happen.)
Binay said that her decision to choose campaign sorties over debates and TV guestings paid off.
"That strategy, face-to-face contact with constituents worked. If we could do one-on-one campaigning, we would. We did the local style, house-to-house campaign. We will start before sunrise and after sunset, we're still on the road, doing our motorcades and rallies."
Responding to persistent questions about her lack of competence, Binay stressed that being personal assistant to her parents was "experience enough." 
"'Di lang nila alam ang ginagawa ko behind the scenes kaya akala nila wala akong alam." (They just don't know what I do behind the scenes that's why they think I know nothing.)
She said she will bring to the Senate lessons her father taught her.
"[Turo ng father ko na] ang projects na ginagawa namin, dapat nararamdaman ng mga kababayan natin. Sa Makati, ang thrust namin, results-oriented: senior citizens' program, health program. Dapat kasama sila sa pag-unlad, nadadama nila." (My father taught me that the projects we do should be felt by our countrymen. In Makati, our thrust is to be results-oriented: senior citizens' program, health program. They should be part of progress. They should feel it.)
Nancy Binay's priorities include pushing for more daycare and feeding centers, especially in rural areas and government offices and private establishments.
She also plans to expand the government's immunization program.
On being anti-RH, CCT and Taiwan  
If given a choice, Binay said she wants to head the Committee on Women and Children, or the Committee on Tourism. After all, she is a University of the Philippines tourism graduate.
Yet Binay explained why she is against the reproductive health (RH) law, which aims to promote women's rights.
"I am anti-RH kasi ang hirap (because it's hard) to promote something that I'm not using. I have spaced my kids right without using artificial means."
She added that in Makati, families have an average of 4 children. Binay is also a mother to 4 kids.
"Usually 'pag working na ang both parents, parang nagiging natural na ano iyon eh, way of controlling na iyon eh how many kids you will have kasi busy na eh." (Usually if both parents are working, that sort of becomes a natural way of controlling how many kids you have because you are both busy.)
In the Senate, Binay said she will also call for a review of the Conditional Cash Transfer program.
"I don't know if long-term wise, that really helps. I think it needs to be reviewed. It shouldn't be done forever. There is a limit and as early as now, we should assess little by little, are they improving themselves?"
What are the senator-elect's views on the Taiwan row?
"I think we should start preparing for the eventuality that our fellow Filipinos will come back. There should be measures how we can absorb the work force that will be displaced."
Binay said the Taiwan row points to a bigger problem involving Filipino workers.
"'Yun na nga nagiging problema natin ngayon in spite of the 6.6% economic growth, lumalaki pa ang percentage na jobless. Wala tayong investments sa manufacturing, sa agriculture, 'yun ang job-creating. We're all doon sa services eh. We should start encouraging investments in manufacturing and agriculture."
(That is the problem now because in spite of the 6.6% economic growth, the percentage of jobless is growing. We don't have investments in manufacturing, in agriculture, and that's what is job-creating. We're all in services.)
Besides taking short courses on legislative work in UP, Binay said she sought the guidance of Sen Jinggoy Estrada and Sen Loren Legarda to help her become familiar with her new job.
Can she handle Senate debates?
"UP graduate naman ako di ba? I just have to prepare." (Am I not a UP graduate?)
'That's the dynasty!'
During the interview, Binay also denied rumors that she is the cake supplier of the Makati City government, which gives cakes to senior citizens on their birthdays.
"No. I don't supply that. First of all, I don't cook, don't bake. It's my husband who's in charge of the kitchen. It's not my company and why would I do that, you're not allowed to be a supplier. My father's the mayor, my brother's the mayor, why would we do that?"
Binay also turned humorous when asked to describe a photo of her with her brother, Makati Mayor Junjun Binay, and sister, Makati Rep Abigail Binay.
She quipped, "That's the dynasty!"
She later held back, "When you say dynasty, it means it's (government) your birth right. But we subject ourselves to an election. Wrong word."
Nancy said she too found it odd that she was the one who ended up in the Senate, and not her siblings who have more experience in government.
"I guess siguro ako ang Binay na talagang magsisilbi sa Senado. My family already made their mark in local governance, my father sa executive branch, ako naman sa Senate." 
(I guess I am the Binay who will really serve in the Senate. My family already made their mark in local governance, my father in the executive branch, and I will be the one in the Senate) – Rappler.com