(1st UPDATE) There was no discussion of supporting another presidential candidate in the Malacañang meeting, says presidential adviser Jing Paras
Presidential aspirant and Senator Bong Go expressed some doubts and worries about his presidential bid in a Malacañang meeting with governors, citing concerns about President Rodrigo Duterte's health and his family's welfare.
This was what Presidential Adviser on Political Affairs Jacinto "Jing" Paras heard at the meeting, held around 6 pm on Wednesday, November 24.
"Senator Bong Go made a true statement that he was still contemplating [his bid] because he is overwhelmed with so much work also as a senator and doing his Malasakit Centers and doing lots of social work," Paras told Rappler on Thursday, November 25.
"Nagkaroon siya ng konting doubt (He had some doubts)," added Paras.
But he quickly clarified that this doubt was likely "solved" after most of the governors present expressed their "full support" for his presidential bid.
One had even said, "Hindi kami aalis dito sa Malacañang kung hindi mo itutuloy ang kandidatura mo," according to Paras.
(We won't leave Malacañang if you don't promise to push through with your candidacy.)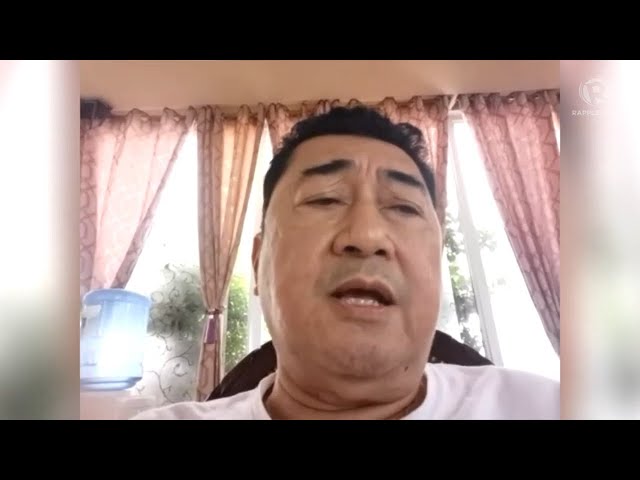 Governors' loyalties
Among the governors that pledged allegiance to Go was Marinduque Governor Presbitero Jose Velasco Jr., who is also national president of the League of Provinces and the father of House Speaker Lord Allan Velasco.
Velasco is an ally of the Dutertes and is particularly close to Davao City Mayor Sara Duterte, who he had been pushing to run for president before she finally decided to slide down and become a vice presidential bet.
Other governors present were Susan Yap of Tarlac, Nancy Catamco of Cotabato, and Bai Mariam Mangudadatu of Maguindanao, who, according to Paras, all promised to back Go's presidential bid.
Of the roughly 60 governors present, only two appeared to not be solidly behind Go, said Paras. One of these was Cagayan Governor Manuel Mamba, who is reportedly supporting Ferdinand "Bongbong" Marcos Jr., and another Mindanao governor also supporting the former senator.
But Mamba, in a phone call with Rappler, denied that he expressed support for the presidential bid of Marcos. He said he came into the meeting with the intention to support Go.
"I already committed to the President, whoever his candidate is, I will support. I owe so much to Bong Go," said Mamba.
Go's worries
But Go also explained that because of the dizzying pace of events during the period for substitution of candidates, he had no chance to really discuss his presidential candidacy with his family.
Another supposed concern Go aired was in relation to Duterte's health and the strain he would be put under if he were to join Go on the campaign trail.
"He did not want the President to experience the rigors of the campaign. He took pity on the President who, at his age, would have to lead a campaign," said Paras.
Go's other concerns include that he was never prepared to run for president, that he was a latecomer compared to other presidential bets who had declared weeks ago, and the vast difference between running for senator and running for president.
It appeared that Go and Duterte were planning to further discuss the senator's worries. Paras thinks there would likely be an announcement soon about Go's final decision.
"Very positive, in a day or two, that there will be an announcement that he will push through," said the Malacañang political adviser.
Option to withdraw and support another bet?
Though Go has some doubts about his presidential bid, there was supposedly no talk at the meeting of withdrawing his candidacy and just supporting another presidential aspirant.
"No, there was none because, in the first place, the contemplation [on] whether to push through or not was not serious. It just occurred to him, he just had some doubt, but there was no formal withdrawal on his part," said Paras.
On Thursday, Go also issued a statement expressing concerns about his presidential bid.
"Pero sa ngayon, baka hindi ko pa po panahon. Ako 'yung taong handang magsakripisyo para wala nang maipit, masaktan, at mamroblema. Ayoko na pong mahirapan si Pangulo at 'yung mga supporters natin," he said.
(But maybe now is not my time. I am a person who is ready to make the sacrifice so that no one is hurt or encounters problems. I don't want to pose more difficulties for the President and our supporters.)
He said he would leave his final decision "to God." – Rappler.com