What will it make of Philippine elections and democracy if President Rodrigo Duterte runs for vice president and wins? Political scientists weigh in.
Philippine politics took another strange turn when members of President Rodrigo Duterte's political party, in vote-rich Cebu no less, announced they wanted him to run for vice president in the 2022 national elections.
"This is something new. We've never seen this before," said political scientist Cleve Arguelles, a lecturer with the De La Salle University political science department.
Past presidents either sought the presidency again or ran for local positions after their presidential terms – Joseph Estrada for Manila mayor (after running for president again in 2010) and Gloria Macapagal Arroyo for Pampanga district representative.
If Duterte runs for vice president, it will be a first and, to some political science experts, an unwelcome development for Philippine democracy.
For one thing, there are the motivations behind the floated vice presidential bid.
There are speculations that Duterte will run for vice president to give his longtime aide Senator Bong Go a fighting chance for the presidency.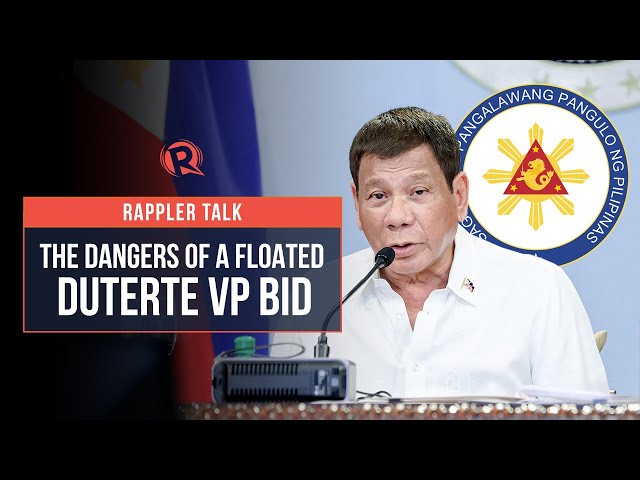 These speculations are bolstered by Go himself, saying in a statement last March 11 that, while he denies he wants to run for president, "my mind might change if President Duterte runs for vice president."
If the name of the game was to get Go to Malacañang, political science professor Melay Abao says that's bad news for Filipino voters.
"The cost is really the bastardization of our electoral system because a real electoral system will present real competition…. He doesn't really want the VP seat, but it's probably the only chance Bong Go will win," said Abao.
It would be a case of politicians using the system in unintended ways for personal interests, she said.
Shadow government fears
A vice presidential bid for Duterte, and the fact that a political party is all for it, could also pose questions about the 1987 Constitution's provisions barring a president from seeking reelection.
However, it doesn't prohibit a president from running as vice president. Lawyer and political analyst Tony La Viña says there is no legal impediment to Duterte seeking the vice presidency.
Arguelles, meanwhile, thinks that, although it's technically allowed, it still violates the "spirit" of the Constitution, which seeks to prevent a repeat of the Marcos regime.
"It's because of the trauma from the Marcos administration and we know that, in politics, there is such a thing as incumbency advantage. You put these things together, they don't want the incumbent to take advantage of the incumbency and abuse power to win an election," said Arguelles.
Even if Duterte only runs for vice president, there is no reason to think he won't use his formidable resources and powers as Chief Executive to help his running mate, and their tandem, to win.
After all, all incumbent Philippine presidents make the most of their position to ensure their anointed one takes their place.
"Regardless if Duterte will win or not, the fact that he will be able to do this, that he would be able to flagrantly violate the expected norms and traditions of Philippine democracy, that would say a lot about where we are at this point in terms of the quality of democracy in the Philippines," Arguelles added.
But the threat of a Marcos-like perpetuation of power looms larger if Go ends up running for president alongside Duterte.
Given that Go's political clout comes from Duterte, if they both win, it would likely still be the older politician who will be running the show.
"The worries of a shadow government will heighten," said Arguelles.
He pointed to other strongman leaders, like Duterte's "idol" Vladimir Putin, installing right-hand men in top positions when they themselves can't assume the post for legal reasons.
Duterte might not even have to resort to holding the strings in secret. The president, if controlled by Duterte, could step down or vacate his post for any reason, thereby allowing Duterte to assume the top post legally. He would then succeed at being president twice, without charter change.
The likelihood of a puppet president would not be as great if Davao City Mayor Sara Duterte were to be her father's running mate.
Unlike Go, she enjoys political clout distinct from her father's. Political observers like La Viña also see in Sara a more independent mind, a tendency to forge her own path, and carve out her own identity and policies.
The powers of a Philippine vice president are very limited and greatly depend on their working dynamics with the president, as proven by the case of Vice President Leni Robredo.
Duterte, of course, runs the risk of getting elected as vice president with a president who is not an ally or who could even be a nemesis. In that case, he would be isolated.
Filipino voters have a tendency to do split-ticket voting, meaning they would pick a presidential bet from one tandem but choose a vice president from another tandem.
"From a previous study we did in the 2016 elections, we asked voters why they practice split-ticket voting. They would say that, 'Well, para may iba naman galing sa ibang political party (so that there's someone there from another political party),'" said Arguelles.
For an example of this, look no further than Duterte and Robredo. Duterte's 2016 running mate, Alan Peter Cayetano, even placed a far third in the vice presidential race. The Duterte magic was not enough to carry him to victory.
Political parties 'at their worst'
But PDP-Laban's all-out support for Duterte's vice presidential bid, even giving him free rein to choose his presidential candidate and therefore their standard bearer, says a lot about their party and Philippine politics in general.
And it's not flattering.
"We have the politics of the absurd. It's so surreal, because, really, you don't do that – that you choose a vice president, [who] then [chooses] the presidential candidate," said La Viña, adding that the move represents "the worst of our political parties."
"It tells you that PDP-Laban is not a real political party, it hasn't been for a while anyway – like the Liberal Party when it was the administration party, it was not a real political party," he added.
The timing of PDP-Laban's announcement, four months before the October filing of candidacies, signals to La Viña that this could be about internal party politics as well.
It may be designed to "crush" the ambitions of one famous Duterte party mate, world-famous boxer and Senator Manny Pacquiao. Pacquiao is also acting president of PDP-Laban.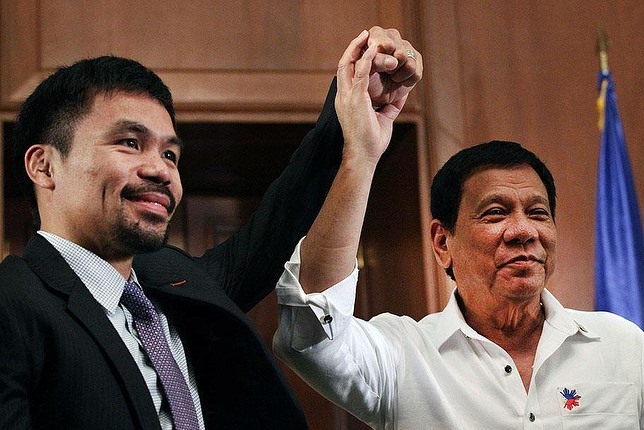 Pacquiao is eminently capable of funding his own political machinery. His fame means instant recall for celebrity-loving Filipinos. He comes from Mindanao, just like Duterte and his possible anointed ones, which means he could divide voters there in 2022, said La Viña. In short, he's a threat.
Pacquiao tried hard to discredit the PDP-Laban meeting, where they formalized their support of a Duterte vice-presidential bid. There was even one virtual media interview in early May where he criticized Duterte's response to Chinese incursions in the West Philippine Sea as "lacking."
Some outraged PDP-Laban members from Bulacan issued a resolution disapproving of Pacquiao's remarks, adding to growing signs of divisions within the party.
But it's something to be expected with an administration change in the horizon.
Not even popular Duterte can prevent divisions in coalitions that had initially formed to support him and benefit from his political clout.
Elections tend to bring to the fore personal ambitions which might not be aligned with the interests of whoever is in power.
"The consequence of having a huge party is you will have factions inside it. The factions now are about 2022. It's a division that's been there since the beginning of the Duterte administration," said Arguelles.
What Duterte gets out of it
What PDP-Laban wants is one thing, what Duterte will actually do is another.
What could Duterte get out of running and winning as vice president?
If his spokesman Harry Roque is to be believed, Duterte had once even wondered out loud, why would he run for vice president when he had already been president?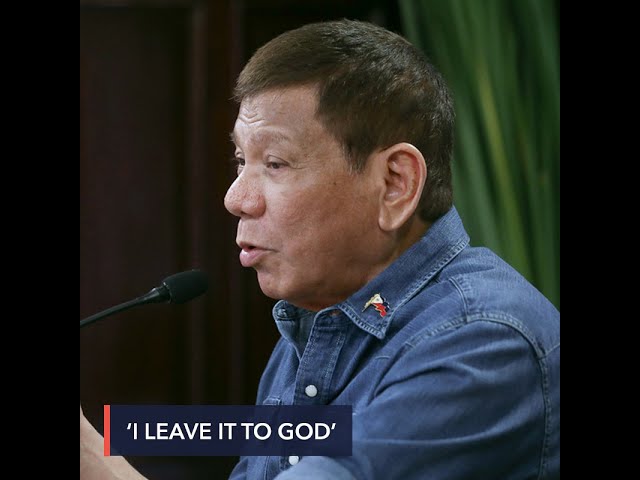 But occupying the second highest elected post could have its perks, especially for a chief executive accused of orchestrating an abuse-ridden drug war.
"His motivation to run for vice president, first of all, would hope that his presidential candidate wins and then he's protected [from court cases] or he could take over again, then nobody can send him to [jail]," said La Viña.
Duterte's most recent pronouncements about 2022 are strikingly different from his repeated threats, in previous years, to resign and go back to his hometown of Davao City.
In late May, he said he would "leave it to God" if he should run for vice president. A few days later, Duterte, as quoted by Roque, said he would "think about" PDP-Laban's call.
"On the one hand, sabi niya, nakapagsilbi na siya sa bayan. On the other hand, ang sabi niya, iisipin niya kung ano ang pinakamabuti para sa bayan," said Roque on June 1.
(On the one hand, he said he had served the country. On the other hand, he said, he would think what would be best for the country.)
The road to the 2022 elections will definitely not be a smooth one, as politicians and voters wait for the notoriously unpredictable Duterte to make his move. – Rappler.com