This is AI generated summarization, which may have errors. For context, always refer to the full article.
'We will never be fazed by the Duterte regime's evil ploy to shun women representation out of the lower house,' says Gabriela Representative Arlene Brosas
The activist Gabriela Women's Party on Monday, March 8, sought to join the 2022 congressional race as it defied efforts by the Duterte government's anti-insurgency task force to cancel their registration as a party-list group.
Gabriela Representative Arlene Brosas and other party officials trooped to the Commission on Elections (Comelec) headquarters in Manila on Monday to file their manifestation of intent to participate in the May 2022 polls. Monday was also International Women's Day.
Former Comelec commissioner Luie Guia, a veteran election lawyer, said in a tweet that Gabriela is facing what seems to be an unprecedented bid filed by government or one of its units.
"We are actively campaigning against the NTF-ELCAC's (National Task Force Ending Local Communist Armed Conflict) disqualification case, particularly its claim that we are advocating violence, as we are well aware that it would set the pretext for wholesale proscription of members of Gabriela Women's Party nationwide under the anti-terror law. But we will never back down," said Brosas in a statement.
"We will never be fazed by the Duterte regime's evil ploy to shun women representation out of the Lower House and disenfranchise millions of marginalized Filipino women," she added.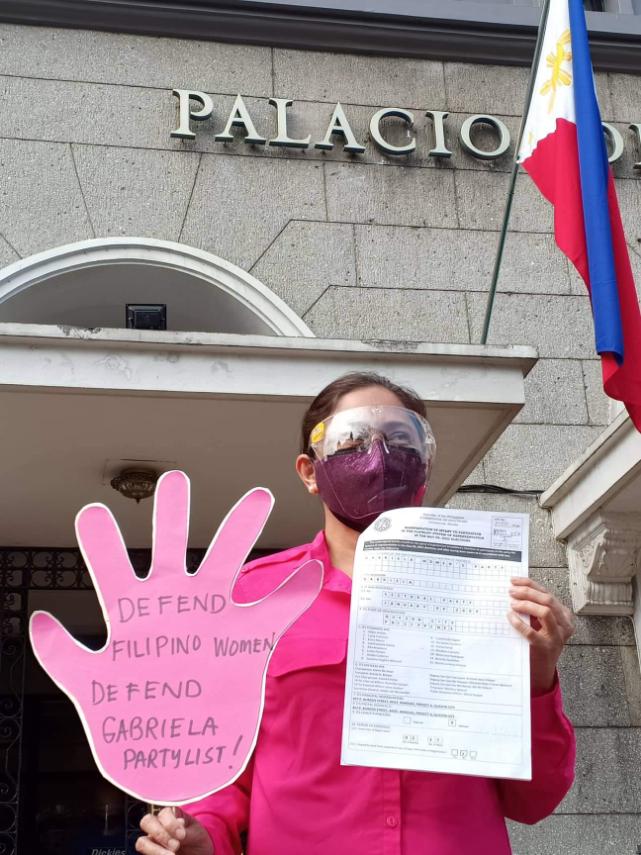 The pro-women empowerment party-list group is under attack by the NTF-ELCAC, which is seeking to cancel Gabriela's registration for allegedly supporting the Communist Party of the Philippines (CPP) and its armed wing, New Peoples Army (NPA). Gabriela is also accused of receiving foreign funding.
President Rodrigo Duterte's government has tagged the CPP-NPA as a terrorist organization and has claimed that progressive groups like Gabriela are acting as fronts for communist rebels.
The red-tagged party-list groups, however, have denied these allegations.
Duterte himself had ordered Congress to amend the 1987 Constitution in an effort to boot out the leftist party-list organizations that are critical of him.
Gabriela is a known champion for women's rights in Congress and has been defying Duterte's sexist remarks and policies against Filipina women.
Brosas said despite the Duterte regime's multiple attacks against women, Gabriela will continue standing up for their rights.
"Ngunit ilang beses man kaming subukang patumbahin ni President Duterte, malakas pa rin ang suporta ng mamamayan sa aming mga ipinaglalaban sa loob at labas ng Kongreso (President Duterte may try to bring us down many times, but the people's support for what we are fighting within and outside Congress remains strong)," said Brosas.
In a tweet on Monday, Guia pointed out that Gabriela is still a registered party-list group since NTF-ELCAC's case against it is still pending before the poll body.
"By the way, I cannot remember any other precedent when it was the government or a unit within the government that initiated a petition to cancel the registration of a political party," Guia tweeted.
He also said that in a democracy, political processes should allow the participation of "as many ideological persuasion as possible, except those who violate constitutional requirements."
Red-tagging has intensified under Duterte, who recently ordered the military and the police to kill communist insurgents in all encounters. Two days later, the police mounted a series of deadly raids in the Calabarzon region that resulted in the death of 9 activists, while 6 others were arrested.– Rappler.com