Supporters of presidential bet Leni Robredo also say the elitist tag is the 'worst' critics can say about their candidate, given her clean track record
Three key supporters of Vice President Leni Robredo take pride in what is turning out to be a bottom-up, volunteer-led movement backing the Philippine opposition leader's bid for the presidency in 2022.
Civil society leader Dan Songco of the Team Leni Robredo volunteers' group said in an On The Campaign Trail interview that they are unfazed by critics hitting the different graphics, posters, animations, and hashtags that have been popping up nationwide to promote Robredo.
Songco said they are proud that the "Kakampinks" – the term referring to Robredo's pink-clad supporters – are putting their own spin on their presidential bet's central message in 2022. 
Every week, Robredo and her campaign manager, former senator Bam Aquino, would release videos and campaign bulletins to guide volunteers on how they should conduct themselves and how to promote the Vice President's platform. 
"They're so creative. They would create their own materials. We provide them with the central message, the central design. But they would change that design to their liking, and we don't say no to that because that's the character of this campaign," said Songco. 
"You cannot compare this to a traditional campaign – this is a people's campaign. And we have to learn to understand it that way and I think that's her path to victory," he added. 
Songco was among the key volunteers that helped organize the recently concluded "LugawOne" event, which saw Robredo supporters in different cities and municipalities shelling out their own money for a lugaw or rice porridge feeding program for people of all ages.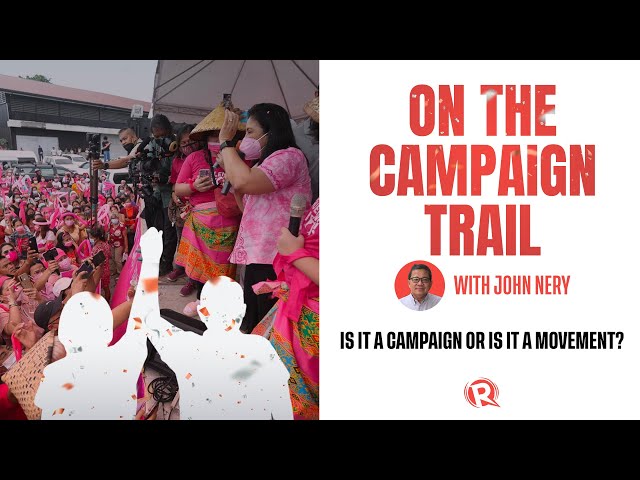 Aurelio Servando of Robredo's People's Council in Iloilo even compared the dynamics between the Vice President's official campaign team and volunteers groups to the Swiss movement in a watch.
"So baliktad eh, 'yung nangyari (So the reverse happened). This is more than just a campaign; I believe it's a movement. I could even compare it to a Swiss movement in the watch, wherein you have a thousand parts all working independently of each other but all geared towards making the watch give accurate time," said Servando.
"So here, we have a movement – marami 'yung mga taong (there are a lot of people) involved but all geared towards making her win in 2022," he added. 
Author Yvette Fernandez said the energy and positivity of Robredo's volunteers are unmatched.
Fernandez herself even went on leave from her corporate job days after Robredo launched her presidential bid so she could join the media and communications team of the Vice President. 
Fernandez said volunteers currently have access to a central Google Drive, where anyone can upload their original designs which can then be reprinted by anyone who wishes to do so.
"I personally think it's a movement as well. So many people have gotten involved…. There's so much energy; there's so much positivity – I think another thing also that's very noticeable in this campaign," said Fernandez.
Elitist tag the 'worst' critics can throw at Robredo
But what about criticisms saying Robredo's campaign is "too elitist"? 
Fernandez does not think so, citing cases of vendors on the street and house helpers wearing pink on Wednesdays, and of riders putting Robredo stickers on the delivery box of their motorcycles.
These are sectors of society Robredo is most comfortable with, owing to her vast experience working with communities long before her first foray into politics in 2013.
"I think she has a huge conversion rate every time she talks to anybody, that's why she's been traveling the country. Anybody who listens to her easily gets converted because they can tell how genuine and sincere she is," said Fernandez.
For Servando, being called "elitist" may perhaps be the worst thing critics can say about Robredo, who has a clean track record and has not faced corruption scandals unlike other presidential aspirants.
"Ang elitistang tag kay Leni (The elitist tag against Leni) is the worst that they can throw at her. They cannot throw corrupt or incompetent or tamad (lazy) at her because she's obviously none of the above," he said. 
Since filing her candidacy in October, Robredo has been busy going around the country to woo voters. She has also been consulting with various sectors and experts like former Cabinet members and retired military generals in crafting her comprehensive platform for 2022. – Rappler.com