Once criticized as Duterte 'enablers,' Senator Panfilo Lacson and Senate President Vicente Sotto III now present their tandem as counterpoint to the President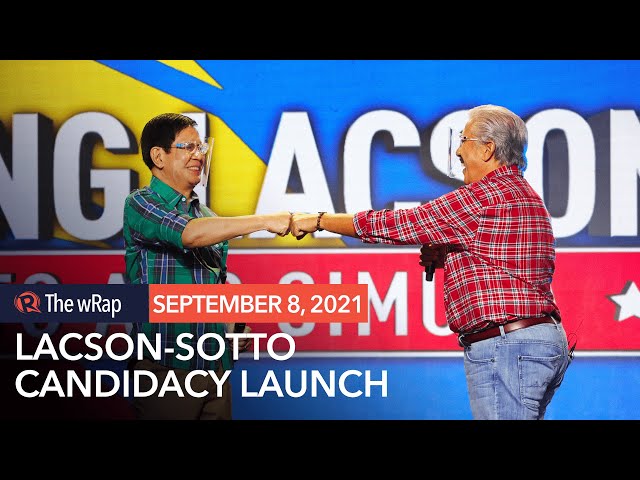 It was a noontime show.
Facing an ecstatic, socially distanced audience carrying placards in an undisclosed studio, Senator Panfilo Lacson and Senate President Vicente Sotto III launched on Wednesday, September 8, their campaign for the highest posts in Philippine government.
It was the first-ever taped campaign launch – a format which, though without the usual throngs of supporters in political sorties, allowed them to make it even more dramatic.
The program, which lasted only 30 minutes, solidified the message that Sotto and Lacson have only been hinting at for the past few months: They've had enough of President Rodrigo Duterte.
"Tama na. Kailangan na nating tumugon. Kailangan nating umaksyon. Kailangan na nating magsanib-puwersa upang mapigilan at maitama ang mali. Ito na ang simula," said Sotto in his campaign speech. (Enough. We need to respond now. We need to act. We need to join forces to stop and to correct the wrong things. This is the beginning.)
In his own speech, Lacson took a swipe at the President, starting with Duterte's admission that he thought leading the Philippines would be as easy as leading Davao City, where he was mayor for more than two decades.
"Hindi dapat payagan ang maling akala para sa kinabukasan ng ating bansa (We should not rest the future of our country on a wrong presumption)," the retired general said.
Lacson and Sotto, both 73 years old, seek to challenge the Duterte brand of leadership by running on a similar platform – law and order – but packaging themselves as competent and incorruptible. Lacson is gunning for the presidency while Sotto is his vice presidential running mate.
Recent surveys show Duterte's daughter, Sara, as the leading presidential bet for the May 2022 elections, and the 76-year-old President as the number one choice for vice president. Presidents and vice presidents are elected separately in the Philippines.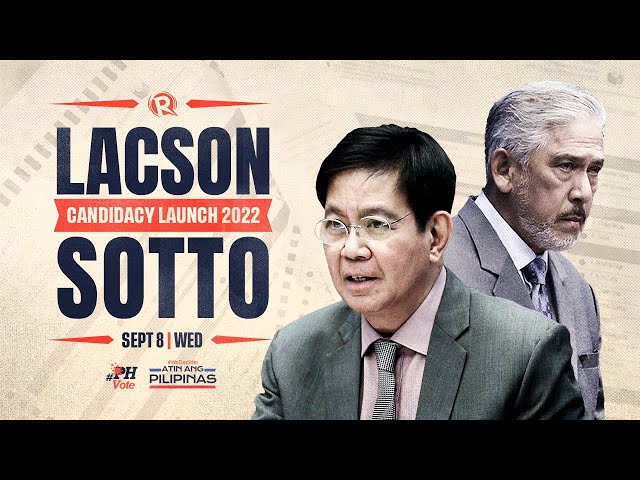 This launch would have been unimaginable in the first few years of Duterte's presidency, when Lacson and Sotto were seen as "enablers" of the President's iron fist.
Lacson and Sotto, for one, voted to oust Senator Leila de Lima, a fierce Duterte critic, as Senate justice committee chair in September 2016. This was after De Lima presented self-confessed hitman Edgar Matobato as a witness against Duterte in a Senate hearing on the feared Davao Death Squad.
Lacson and Sotto also generally supported Duterte's anti-drug campaign, but criticized it when controversial killings happened.
Their campaign launch on Wednesday, produced by advertising agency Niche Play, sought to package them now as a counterpoint to Duterte.
'Katapangan, kakayahan, katapatan'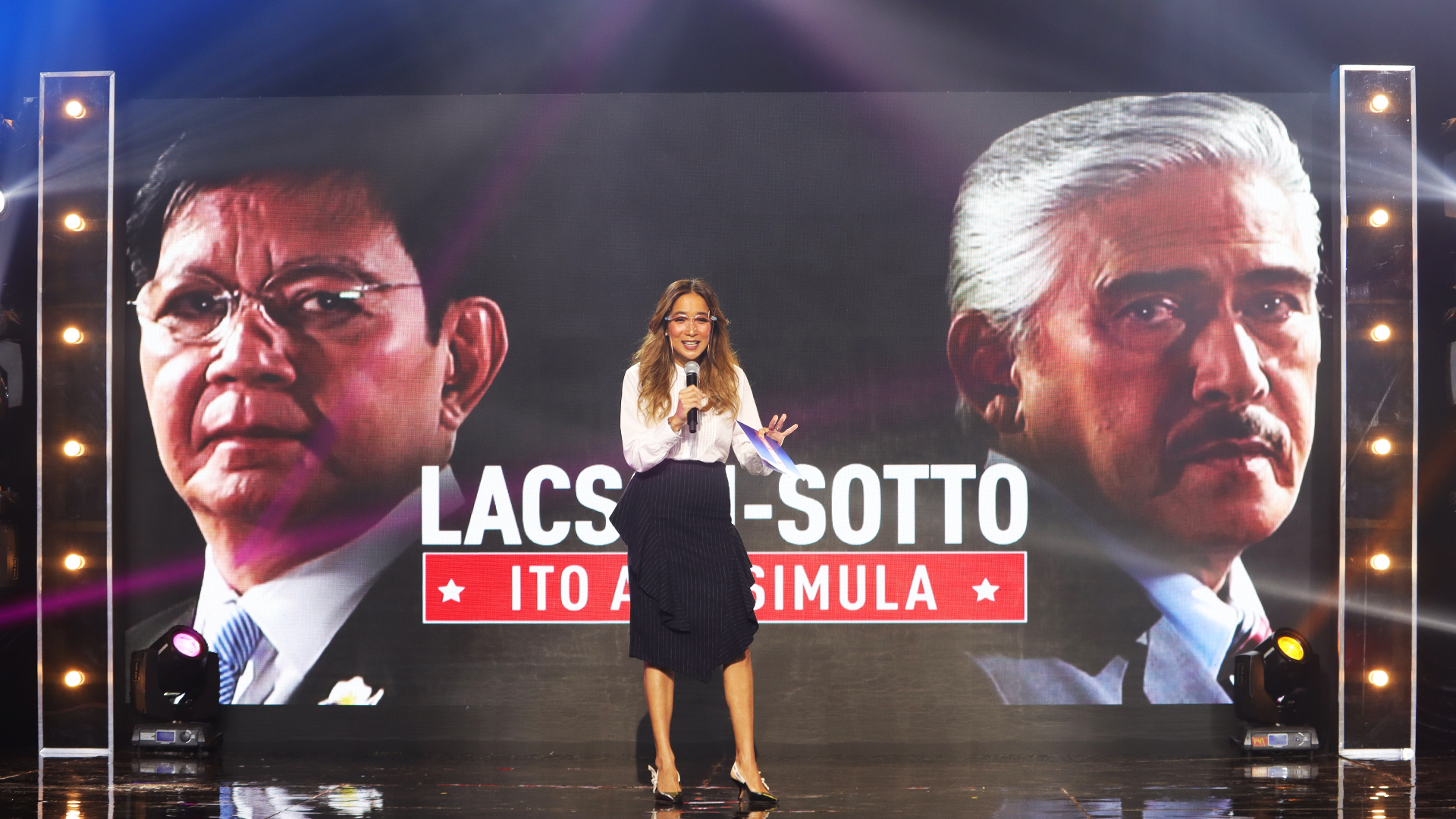 The program started with an empty stage, much like the studio of Eat Bulaga, the 42-year-old noontime show that helped drive Sotto's popularity.
The first to appear was the program host, Eat Bulaga mainstay Pia Guanio, who described the country as being in a dire position – and needing trustworthy leaders.
"Ngayong araw, ipagdiriwang natin ang KKK: katapangan, kakayahan, at katapatan para mamuno para sa ating bayan (Today, we are celebrating courage, ability, and integrity in serving our country)," Guanio said.
Then played a video tracing Sotto's political rise, its music fit for an inauguration.
Five minutes in, the screen splits into two: On one side, a perfectly lit Sotto walking on the path to the studio, and on the other, his introductory video continuously playing. The audience shouted his nickname "Tito Sen! Tito Sen! Tito Sen!" as he stepped in.
Sotto, a veteran comedian, took the stage and the audience fell silent. He spoke.
Lacson came into the studio with the same script, awkwardly taking the planned walk, but still facing the same rapturous crowd. He was welcomed to the stage with a fist bump by his running mate and longtime friend, Sotto.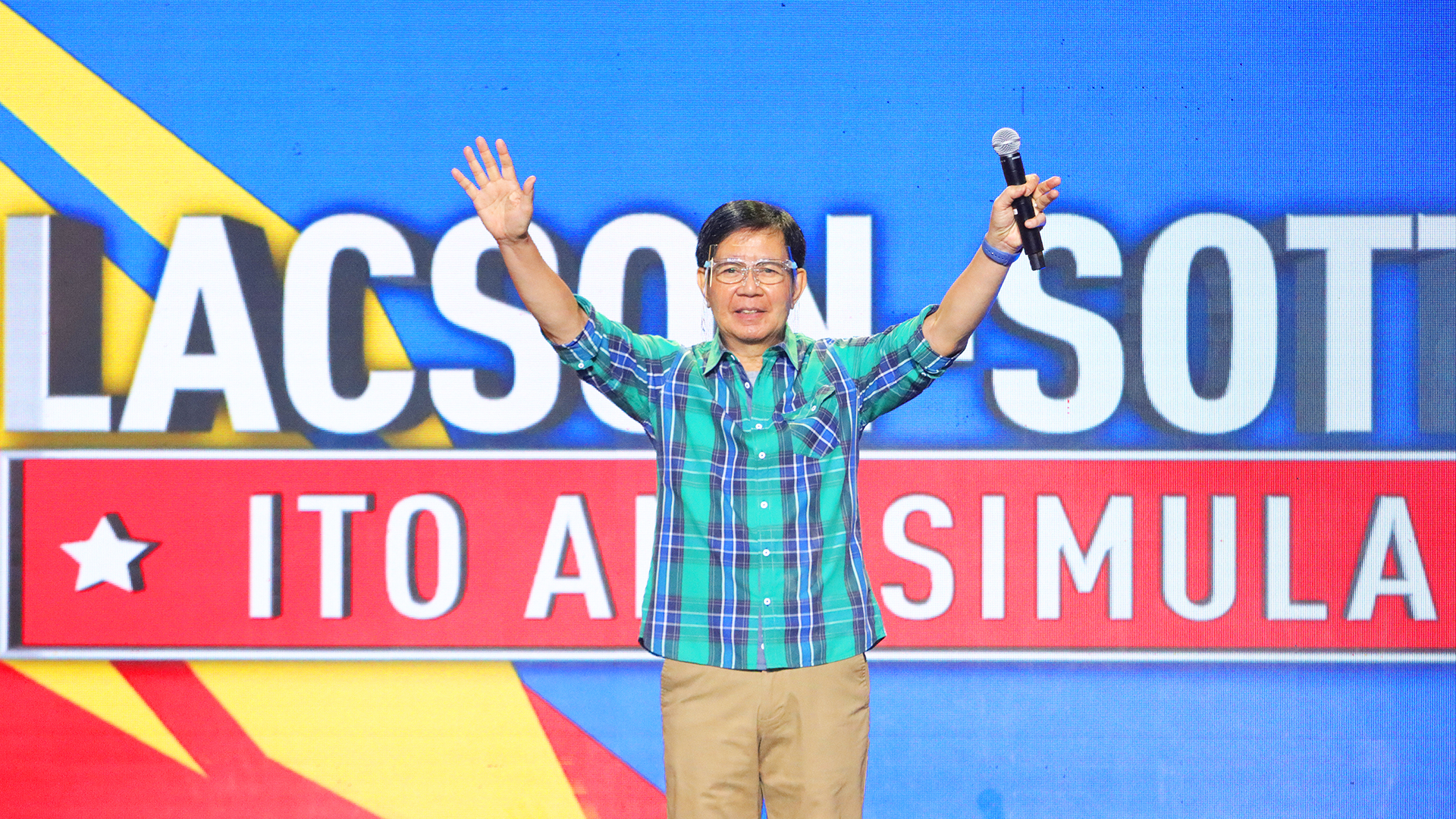 In their tribute videos, the campaign team roped in two popular figures: For Sotto, they got his former Eat Bulaga co-host Joey de Leon, who showered Sotto with praises for his work in the entertainment industry and in the Senate.
For Lacson, it was Robina Gokongwei-Pe, president of Robinsons Retail Holdings Incorporated, who was kidnapped in 1981. Gokongwei-Pe described Lacson as the "white knight" who rescued her, and said she hoped he could save more Filipinos.
The two veteran politicians were a match: donned in complementing plaid polo shirts, khaki and jean bottoms, and boat shoes that Filipino uncles would wear to a Sunday lunch.
Lacson promised ending crime and corruption – the same promises Duterte made in 2016. He said, however, that he would do it better. Prior to becoming a three-time senator, Lacson was a police chief.
'Kaunting tiis na lang'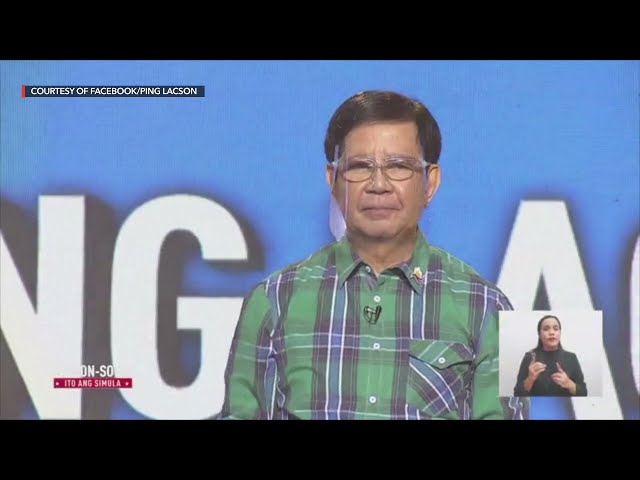 Lacson and Sotto's were the harshest words that the two candidates have said of the Duterte government.
Before, Lacson was known as a senator who held an agree-in-some-disagree-in-some stand with the administration, while Sotto was known to mostly back and defend the Duterte government.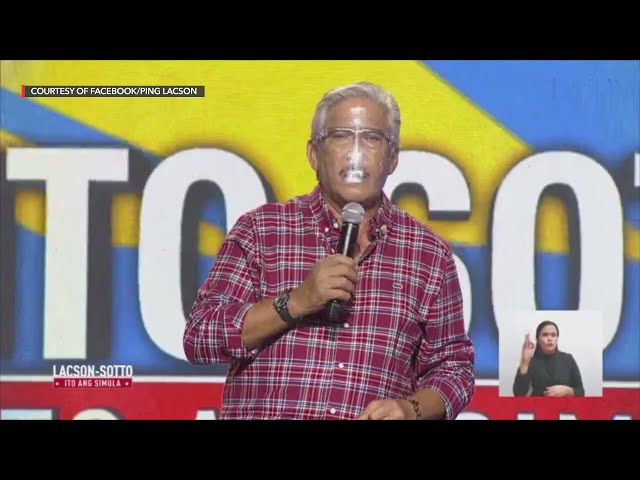 The speech of both candidates, only a little over 5 minutes each, shared a pattern.
They described the sorry state of the country in facing the pandemic, with its economy crushed and its people left confused and hopeless with back-to-back lockdowns.
Local government units did not enjoy the riches that cities got from the country's war chest, and just beyond the country's shores, China was taking over more and more of the country's waters.
Without unveiling a detailed platform, Lacson and Sotto presented themselves as the solution.
Sotto spoke of their cumulative years of experience in government adding to 83 years, while Lacson bared in his speech that they were preparing a "roadmap" to recovery from the pandemic. There is hope, he said.
"This is where Tito Sotto and I intend to steer our country: From despair to hope, from apathy to empathy, from fear to trust, from poverty to prosperity, from self-pity to dignity. The Filipino deserves no less," Lacson said.
"Ito ang simula (This is the beginning)," they both said. The crowd erupted.
By 11:30 am, the two candidates said what they wanted to say – in contrast to Duterte's late-night speeches that last as long as three hours.
They waved to the crowd and the cameras through the falling confetti. The show was over, but it was just the beginning of their campaign story. – Rappler.com