(1st UPDATE) Manila Mayor Isko Moreno even asks Vice President Leni Robredo to withdraw from the presidential race. Robredo later urges her supporters to focus on the campaign and not to be carried away by emotions.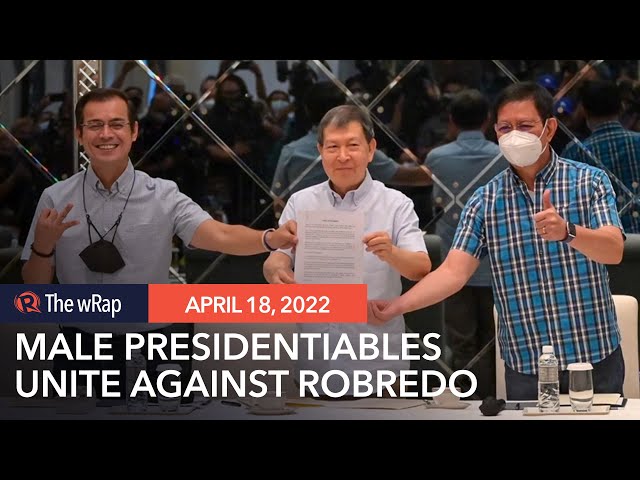 MANILA, Philippines – On Easter Sunday, April 17, three presidential candidates held a press briefing to raise two points: alleged withdrawal talks and the supposed involvement of Vice President Leni Robredo's camp in such discussions.
Manila Mayor Isko Moreno, Senator Panfilo Lacson, and former defense secretary Norberto Gonzales held the press conference which they earlier said would tackle "unity." They were joined by vice presidential candidates Senate President Vicente "Tito" Sotto III and Willie Ong at The Peninsula Manila.
Senator Manny Pacquiao was mentioned as one of the presidential bets who would be there, but he did not show up.
The presidential bets claimed that they all shared an experience where the camp of a certain candidate allegedly tried to talk them into withdrawing from the presidential race.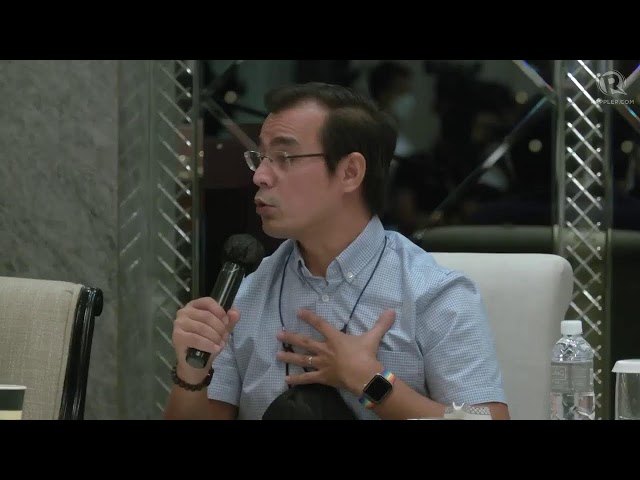 In describing the people associated with the alleged withdrawal talks, Gonzales cited retired Commission on Elections commissioner Rowena Guanzon – a known Robredo supporter. Moreno mentioned the words "dilawan," "pinklawan," and "Otso Inidoro" – the derogatory term for the opposition's Senate slate in 2019.
One of Moreno's senatorial candidates, Samira Gutoc, ran under the Otso Diretso slate in 2019.
When asked to give names of the people behind the alleged withdrawal talks, Lacson mentioned former Quezon City mayor Jun Simon. However, the Robredo camp already said Simon was not authorized to speak for the team.
'Let Leni withdraw'
The presidential bets said they wanted to affirm their message that they will not withdraw from the race – a point highlighted in their joint statement.
Moreno, who lagged behind Robredo in Pulse Asia's March survey, said the Vice President should withdraw from the race instead. "I'm calling for Leni to withdraw kasi (because) whatever [she's] doing is not effective against Marcos. Withdraw, come and join us," the Manila mayor said.
When asked whether all of the presidential bets in the briefing shared the same view as Moreno, Lacson said it was only the Manila mayor's personal position.
"Sinabi naman niya 'yon. Siya lang (He actually said that. He's the only one)," Lacson said in response to reporters after the briefing.
Asked whether their coordinated move was a "display of macho culture," Lacson replied: "I don't think that deserves a comment or an answer. I'm sorry."
Moreno, for his part, said: "Good luck. I told you, this is not about being a woman and a man. This is all about the character. Character has nothing to do with the gender and I wish them good luck."
The presidential bets also claimed their briefing was not anti-Robredo even after they had talked about her, and Moreno urged Robredo to withdraw from the race.
Robredo: 'Let's focus'
Later on Sunday, Robredo asked her supporters not to get distracted and instead focus on the campaign, especially with a little over three weeks left before the May 9 polls.
"Kailangan wag tayong magpatalo sa emosyon, huwag nang magbitaw ng masasakit na salita, focus lang tayo sa kampanya," she said in a Facebook post on Sunday night.
"May bayan tayong kailangang ipaglaban," Robredo added.
(Let's not be carried away by our emotions. Don't spew hurtful words. Let's focus on our campaign. We have a country to fight for.)
Earlier, Robredo's spokesperson Barry Gutierrez said in a statement: "We are thankful that the alignments have been made even clearer. And we remain focused on showing our people that a Robredo presidency will mean a victory for all Filipinos."
"From the start, it has been the prerogative of every candidate to continue till the end, the same as it is the choice of a candidate to disregard surveys, rally attendance, endorsements, or any other conventional measure of support. We wish every candidate who decides to push through to the end, only the best," he said.
"But in making these choices, should we not ask ourselves: Must this assertion be made through bluster and falsehood? Who benefits from such theatrics? What is best for the Filipino people? Perhaps, silence would have had more depth; at the very least, it would exhibit less self-entitlement, fragility, and toxicity," Gutierrez added.
Robredo's running mate, Senator Kiko Pangilinan, said the attacks against the Vice President will not affect their campaign.
"Hindi tayo malilihis dahil sa paninira ng ilan sa ating mga katunggali. Nakatutok tayo sa pangangailangan ng taumbayan. At ang taumbayan na ating pinaglilingkuran ang nagsasabing, the last man standing is a woman," Pangilinan said.
(We will not lose focus because of the attacks of some of our opponents. We are focused on the needs of the people. And the people that we serve are the ones saying that the last man standing is a woman.) – Rappler.com