This is AI generated summarization, which may have errors. For context, always refer to the full article.
The Court of Appeals affirmed Bongbong Marcos' conviction for failure to file income tax returns when he was vice governor and governor of Ilocos Norte. Why does this matter?
The 1997 tax conviction of presidential aspirant Ferdinand "Bongbong" Marcos Jr has come to hound him in his campaign for the May 2022 race, and is now the basis of at least one petition to cancel his certificate of candidacy (COC).
It all started 30 years ago in July 1991, or five years after dictator Ferdinand Marcos was ousted from power, when the Cory Aquino government assessed that Marcos' son had tax deficiencies of about P8,504. He supposedly did not pay his taxes from 1982 to 1985 while he was vice governor and then governor of Ilocos Norte.
The amount of P8,504 could buy a 47-square meter property in 1994 in one of the cheapest zones in Laoag City, based on the Bureau of Internal Revenue's zonal value database.
Bongbong Marcos was charged in absentia, but he returned to the Philippines in October of the same year. He was arraigned in December 1991, and he defended himself in trial by passing the buck to his staff.
"He always thought that his staff took care of the filing of his income tax returns. He does not recall if he filed his income returns from 1982-1985, and he has no proof that his staff filed his returns," records from the Court of Appeals (CA) obtained by Rappler said.
In July 1995, the Quezon City Regional Trial Court found Marcos guilty of tax evasion beyond reasonable doubt and imposed the following sentences:
Imprisonment of 6 months and P2,000 each for 3 counts of failure to file ITR (1982, 1983 and 1984)
Imprisonment of 6 months and P2,000 each for 3 counts of failure to pay income taxes (1982, 1983 and 1984)
Imprisonment of 3 years and pay fine of P30,000 for failure to pay income tax for 1985
Acting on Marcos' appeal, the CA – through justices Gloria Paras, Lourdes Tayao-Jaguros and Oswaldo Agcaoili – acquitted Marcos of failure to pay income taxes. They said Marcos was not given due notice when the tax assessments were made.
The CA also removed the prison sentence previously imposed by the trial court on him. But it sustained Marcos' conviction for failing to file his ITR from 1982 to 1985, and for this, Marcos was fined P36,000.
The CA ruling did not explain why the justices opted to drop the prison sentence against Marcos, even though the 1977 Tax Code, on which the charges were based, states that a person convicted of failure to file a tax return be punished with both a fine and imprisonment. The code says that the offender must "be fined not less than ten thousand pesos (P10,000) and imprisonment of not less than one (1) year but not more than ten (10) years."
In an interview with reporters Wednesday, November 3, Marcos' spokesperson and lawyer Vic Rodriguez acknowledged the conviction and said "yes [it's final], it has been litigated, so I guess there's nothing more to discuss."
Supreme Court records obtained by Rappler show that Marcos initially wanted to appeal his CA conviction and had in fact asked the High Court for an extension to file his petition for certiorari. But he eventually withdrew his plea to extend the deadline. This was in 2001, when he was again governor of Ilocos Norte.
The Supreme Court granted Marcos' motion to withdraw, and that resolution became final and executory on August 31, 2001.
Why would Marcos forego the appeal? Because apparently the CA's modified ruling worked for him – and here is where the petition to cancel his candidacy comes in.
Two interpretations
Section 12 of the Omnibus Election Code states that a person shall be disqualified from running for public office if he had been sentenced by final judgment "for subversion, insurrection, rebellion or for any offense for which he has been sentenced to a penalty of more than eighteen months or for a crime involving moral turpitude."
Based on this provision, the prison sentence as grounds for disqualification may not apply to Marcos because the appellate court had removed his sentence in its 1997 verdict against him.
But is failure to file an ITR a crime that involves "moral turpitude" or crime that is contrary to justice, modesty or good morals?
It is, says the petition against Marcos that was filed with the Commission on Elections on Tuesday, November 2.
Petitioners said Marcos did not file ITRs for four years, and not just a year. "It constitutes willfulness and fraudulent intent on the part of Marcos Jr, and this plainly shows Marcos Jr's moral turpitude," said the petition of civic leaders signed by their lawyer Ted Te, human rights litigator and former spokesperson of the Supreme Court.
A 2009 decision by the Supreme Court, written by Marcos' fellow Ilokano, then-justice Diosdado Peralta, declared that "failure to file an income tax return is not a crime involving moral turpitude."
This refers to case G.R. Nos. 130371 & 130855, which was a petition to disqualify Marcos as an executor of his father's will and handled by the SC's Third Division at the time. It is not election related, but the issue of moral turpitude was touched upon because the Rules of Court disqualify executors if they are convicted of an offense involving moral turpitude.
In his column in the Philippine Daily Inquirer on October 28, retired senior SC justice Antonio Carpio asserted that Peralta's opinion on what counts as a crime of moral turpitude was a mere obiter, or an opinion that is not considered jurisprudence.
It was also Peralta who penned the decision granting a hero's burial to the late dictator Ferdinand Marcos, and among the justices who proposed other ways for Marcos' son to contest the victory of Vice President Leni Robredo in the 2016 vice-presidential race.
In the end, the Supreme Court voted unanimously to junk Marcos' electoral protest against Robredo, who he will be facing in a crowded race for president in May 2022.
Rodriguez called these recent moves against Marcos the doing of "yellow wannabe political assassins."
Calling the petition "gutter politics," Rodriguez said: "Kasuklam-suklam ang ginagawa ng mga taong ito, dahil imbes na ang Comelec ay mag-concentrate sa paghahanda sa ating nalalapit na May 2022 elections, binibigyan nila ng kanilang propaganda." (These are despicable acts because instead of allowing the Comelec to concentrate on preparing for the 2022 elections, they give the commission their propaganda.)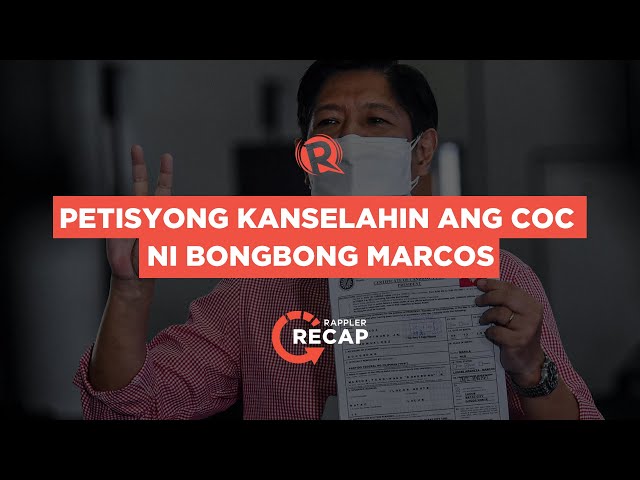 Perpetually disqualified?
Another argument of the petitioners against Marcos is that his tax conviction, even though there was no imprisonment penalty, already disqualifies him from running for public office.
The petition said that the 1985 Presidential Decree No. 1994, as well as the 1997 amendment of the Tax Code, gave convictions for tax an accessory penalty of perpetual disqualification from public office.
"The penalty of of perpetual disqualification from holding any public office, to vote and participate in any election, applies to all convictions of crimes under the 1977 tax code and 1997 tax code, regardless of the penalty imposed," said the petition.
But it is a fact that since 2001 when the verdict on him became final, Marcos was able to run and win as governor and congressman of Ilocos Norte, then as Philippine senator, and run as vice president in 2016.
"Hindi natin lubos maunawaan bakit ang mga taong ito ay ayaw na ayaw lumaban sa isang patas na arena, bakit kinakailangan ninyong gulangan, dayain ang sambayanang Pilipino sa pagsasampa ng mga kasong walang ka kuwenta kuwenta?" Rodriguez said.
(I can't understand why these people don't want to fight in a fair arena. Why do you have to cheat the Filipino people by filing a useless petition?)
Marcos has no vice president yet, and said he is waiting for the substitution deadline on November 15. He met with presidential daughter, Davao City Mayor Sara Duterte-Carpio in Cebu City on October 23. – Rappler.com