An unemployment insurance program, P3,000-education aid for students, and a P216-billion cash aid program for Filipinos are just among presidential aspirant Leni Robredo's planned pandemic interventions
Presidential aspirant and Vice President Leni Robredo unveiled her eight-point pandemic response and recovery plan, dubbed "Kalayaan sa COVID" (Freedom from COVID-19) plan.
In a video statement released on Wednesday, November 3, Robredo detailed how she plans to address the pandemic, focusing on three key aspects – "freedom" from the fear of getting sick, freedom from hunger, and freedom from the lack of education.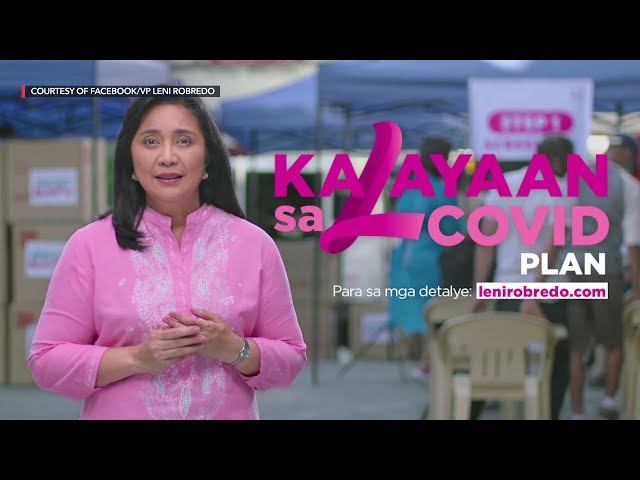 "Para mapabilis ang ating tuluyang paglaya sa COVID, ang kailangan klaro, malawakan, strategic, at mapagpalayang tugon," said Robredo.
(To hasten our freedom from COVID-19, we need a clear, broad, strategic, and liberating response.)
Robredo's detailed plan, she said, was crafted in consultation with experts and various sectors. It's also based on experience on the ground.
To be "liberated" from the fear of getting sick, Robredo said that a "mahusay at matinong" (competent and sensible) leader should be focusing on the COVID-19 response strategy. This, she said, would end corruption – a clear swipe at the alleged anomalous pandemic contracts.
If elected president, Robredo would also push for "sufficient" wages and benefits that are immediately released to health workers, along with sufficient financial support for hospitals.
Robredo said she would also ensure that healthcare will be "free and accessible." In a bid to do this, Robredo said that within three months, Filipinos should be enrolled in the newly-created National Health Insurance Program as envisioned in the Universal Health Care Act.
Part of her free and accessible healthcare plan includes "fixing" the Philippine Health Insurance Corporation by creating an audit team for the agency. She will also push for the following:
Free COVID-19 testing
Sufficient vaccines for Filipinos by making sure there are funds for it
Increasing the capacity of hospitals
A nurse of each barangay
Implementation of a telemedicine system – similar to the Office of the Vice President's free teleconsultation service E-Konsulta
Robredo also said that Filipinos should receive aid and lockdowns should only be implemented in targeted areas. Part of her plan, she said, is setting aside P216 billion for cash aid and making use of the National ID system in the immediate distribution of aid.
Recovery plan for sectors
The presidential aspirant also promised support for micro, small, and medium enterprises – with an ambitious stimulus package for them amounting to P100 billion. She said she will also push for a national unemployment insurance program – with laid-off workers receiving 80% of their salary.
If elected president, Robredo also promised to strengthen agriculture and fisheries by "doubling" the Department of Agriculture's budget, with a view that every sector in the industry "will not be left behind."
Lastly, the Vice President said she will be pushing for better access to education – opening up schools in low-risk areas, while providing gadgets and free internet access in high-risk areas.
Part of her platform is a P68-billion "education aid" – providing P300 per month or P3,000 per year for every student to be used for purchasing load or printing of modules.
She is also pushing for additional community learning hubs nationwide.
Robredo said that the government has the resources to implement her ambitious plan.
"Kayang ipatupad ito gamit ang resources at makinarya ng pambansang gobyerno. Kailangan na nating tuluyang makalaya para tayo'y makahinga muli," said Robredo.
(The government can implement this with its resources and machinery. We need to be free so we can breathe again.)
Robredo's COVID-19 response and recovery plan, if elected president, does not come as a surprise given her pandemic initiatives – which, she said, is a preview of her leadership. Earlier, a frustrated Robredo told Rappler that she was "tempted" to tell President Rodrigo Duterte to let her manage the pandemic.
Robredo and her running mate, Senator Francis Pangilinan, said they will strive to run a "people's campaign" in the high-stakes 2022 elections.
So far, Robredo is the last major presidential candidate to announce her candidacy as unification talks dragged in the past few months. Substitution of candidates can still happen until November 15.
In the past week, the Vice President has been visiting various areas as part of her consultations. – Rappler.com