'An efficient government is a government that gets the job done, and that is exactly what we have shown at the OVP,' presidential aspirant Leni Robredo tells Rotary Club members
Vice President Leni Robredo said that all the work she managed to accomplish in the last five years – with a measly budget, no national government support, and without the "aggression and bluster" typically associated with strong leaders – offered a preview of the kind of leadership that Filipinos can expect from her, if she is elected president.
The Vice President said this at the Rotary Club of Manila's weekly membership meeting on Thursday, October 14, while responding to a question on how her presidency would be different from that of the country's past two women presidents, Cory Aquino and Gloria Macapagal Arroyo.
During the question-and-answer portion, a Rotary Club member asked Robredo: "How different a president would you be, because our past women presidents really had a bad time. They were faced by coups, economic crises, destabilization, and a military that lacked discipline. How will you contain them?"
The Cory Aquino administration marked the country's return to democratic rule following the ouster of the late dictator Ferdinand Marcos but was rocked by coup attempts and a crippling power crisis.
The Arroyo administration, which took over after Joseph Estrada's ouster, is credited with policies that boosted the economy and also initiated the conditional cash transfer program. It was initially threatened by a power grab attempt and later beset by poll fraud allegations and corruption scandals.
In responding to the question, Robredo noted that decisiveness in addressing crises "does not have anything to do with gender," in apparent reference to the stereotype of women as indecisive.
"As far as in relation to the other two women presidents, I feel that decisiveness does not have anything to do with gender. For me…an efficient government is a government that gets the job done, and that is exactly what we have shown at the OVP, what we are set to do," said Robredo.
Robredo has been praised for leading quick, effective, and inclusive pandemic relief drives despite her office's low annual budget. She also initiated anti-poverty and housing initiatives, with the help of the private sector.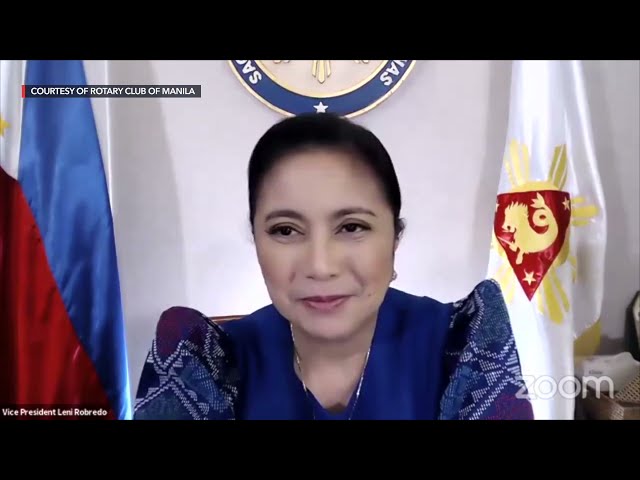 Real strength in 'nurturing, empowering leadership'
The Philippine opposition leader then went on to take an indirect jab at the the leadership style of President Rodrigo Duterte, whom she did not name, whose government unraveled in the face of the COVID-19 crisis.
"I think this also bears pointing out, because it's easy to equate being a strong and decisive leader with brashness and aggression, with the loud, domineering style of leadership. But for me, that kind of leadership more often than not disempowers and frightens others into silence. It should not be the case," the Vice President said.
"Being a strong decisive and leader means nurturing and empowering others to become the best version of themselves. It means channeling strength without bluster, in a manner that is firm yet dignified, compassionate, empathetic, and thrives quietly and decisively amid adversity. I think we are able to, we were able to showcase that the five and a half years that I was Vice President," she added.
Robredo said if she is elected president, her first 100 days would be focused on controlling the pandemic.
This includes realigning funds in the 2022 budget so "it would be more akin to responding to the COVID-19 crisis," improving the country's COVID-19 testing, contact tracing, and treatment, and vaccinating as much people as possible.
The Vice President also said she would institutionalize systems "to force public servants not to be corrupt."
"A lot of focus will be on governance. A lot of focus will be on fixing the kind of politics that we have. I see a fixing of the, you know, strengthening of our electoral laws. I will be doing a lot of effort into making sure that all the systems that will make corruption very difficult will be at hand," said Robredo.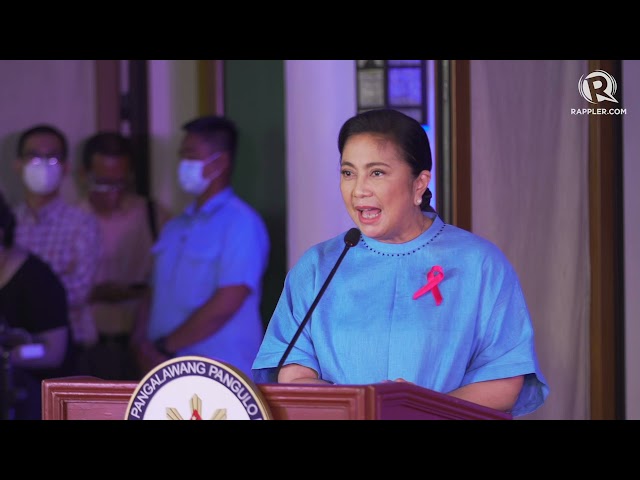 'Non-negotiables' led to collapse of unity talks
Critics have accused Robredo of being indecisive when it took her months to decide to mount a presidential bid in the high-stakes 2022 elections. Robredo, however, held off until the last minute in a bid to unite the opposition.
Asked at the Rotary Club event if she remained open to the possiblity of uniting the opposition, the Vice President said that she had "non-negotiables."
"There were just a few things that I wanted to know before I decide on supporting a particular candidate. And when the unification talks collapsed – in fact I was even on the verge of just weighing which of those contenders would be, you know would make the most sense for me to support. But then because my non-negotiables were still there, at the last minute, I decided to run," she said.
The odds are stacked against Robredo, who is still lagging behind in pre-election surveys and whose team now has to play catch-up in organizing its 2022 campaign.
But Robredo is no stranger to being an underdog. In 2013, she slayed the well-entrenched Villafuerte clan in her home province Camarines Sur to become congresswoman of the 3rd District. And in 2016, she defeated five male and incumbent senators to become Vice President.
Robredo said at the Rotary Club event that she was surprised at the deluge of support that came in after she announced her candidacy. She hopes that they would be able to channel her supporters' energy and enthusiasm to improve her chances in 2022.
"So really it's a big gamble… But what we were not prepared for was the deluge of volunteers that we are now getting. So even if my numbers are still low now, everything is upbeat. The momentum is there," said Robredo. – Rappler.com