(1st UPDATE) Vice President Leni Robredo maintains she is against vote-buying, but admits it's hard to hold vote-buyers accountable
Philippine opposition leader and presidential aspirant Leni Robredo advised voters to take the bribe money offered by politicians during the election campaign, but vote according to their conscience.
This was the Vice President's response on Tuesday, October 26, when she was asked during her virtual dialogue with Filipino house helpers on what would she advice them regarding vote-buying.
Robredo was specifically asked by one house helper, "Ano po ang inyong mapapayo kung sakaling may mag-alok sa amin na bilhin ang aming mga boto (What advice can you give us in case someone would offer to give us money to buy our votes)?"
Robredo first said she was against vote-buying, an illegal practice which she had to fight when she first entered politics during the 2013 congressional race in Camarines Sur.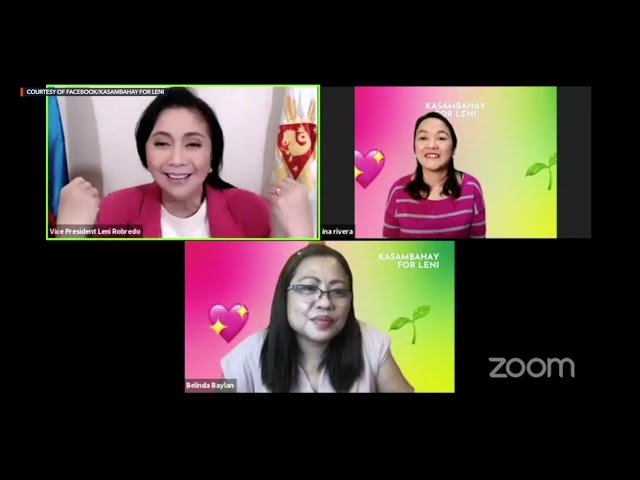 "Magiging honest ako sa inyo, ha? Kasi nung nag-run ako for congressman, grabe 'yung bilihan ng boto sa amin. Alam mo, mali siya, mali 'yung pagbibili ng boto. Pero 'yung sinasabi ko sa tao, tanggapin nyo… 'Yung pinangbibili ng boto, pera din 'yan ng taongbayan," Robredo said.
(I will be honest with you, okay? When I ran for congresswoman, there was so much vote-buying in our area. You know, it's wrong to buy votes. But I always tell people to accept the money… Because the money being used to buy votes is the people's money anyway.)
"'Yung sa akin, tanggapin ang pera, pero iboto (ang) sa konsensiya (For me, accept the money but vote according to your conscience)," she added.
In advising voters to choose candidates based on their conscience, Robredo also said politicians would be less likely to resort to bribing if they don't get the votes in the end.
"Kasi na-imagine mo… Kapag mayroong namili ng boto pero paglabas ng resulta ng eleksyon, talo siya, next time, mag-iisip na iyon. Next time mag-iisip na iyon na, 'Oh, hindi effective iyong pagbibili ko ng boto,'" said Robredo.
(Because imagine this… If next time someone who bought votes loses when the election results come out, he or she would begin thinking. Next time, he or she would say, "Oh, my vote-buying was not effective at all.")
Robredo's advice regarding vote-buying on Tuesday was nothing new, as she held the same position way back in 2013, when she ran for Camarines Sur 3rd District's representative against Nelly Villafuerte, matriarch of the well-entrenched political clan in the province.
The Vice President admitted it was hard to hold accountable those who were into vote-buying. She recalled how it was known in her province that vote-buyers would stayed in specific houses during the campaign.
To fight the illegal practice, Robredo said barangay officials then engaged in "people power" by standing guard outside these houses to ensure no vote-buyer would be able to go in or not.
Robredo even filed a vote-buying complaint against Nelly and her husband, the late former Camarines Sur congressman Luis Villafuerte, in May 2013.
Robredo would later defeat Nelly Villafuerte with a convincing lead of over 71,000 votes, telling the public then that her victory was proof that not all Filipino voters could be bought.
The Vice President assured the house helpers that even if they would accept the bribe money in 2022, vote-buyers would have no means to actually check whom they vote in the ballots.
She also warned the money used to buy votes often do not come from the pockets of politicians.
"'Yun po ang itaga 'nyo sa bato: 'Yung pera 'nya na ginagamit na pambili [ng boto], may pinanggalingan 'yun na 'di tama," said the Vice President.
(Mark my words: The money that is being used to buy votes was not obtained through honest means.)
Robredo was thrust into the political spotlight in 2013 following the tragic plane crash death of her husband, longtime Naga City mayor and former interior and local government chief Jesse Robredo.
Much like her candidacies in the 2013 congressional polls and the 2016 vice presidential elections, Robredo is running for president in 2022 following mounting calls for her to do so.
The Vice President, who has long been praised for running effective anti-poverty and pandemic response programs, has said her 2022 run is a protest against the incompetence, corruption, and culture of violence that have been festering under President Rodrigo Duterte's regime. – Rappler.com