This is AI generated summarization, which may have errors. For context, always refer to the full article.
(1st UPDATE) 1Sambayan's internal presidential survey also shows Vice President Leni Robredo narrowly edging out Manila Mayor Isko Moreno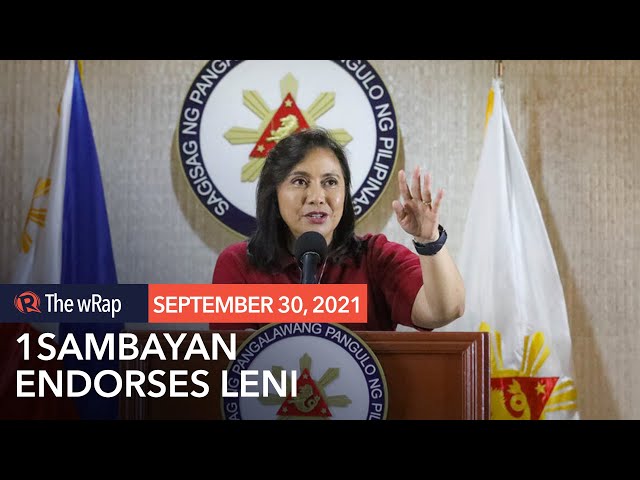 The 1Sambayan coalition, which has taken on the tough mission of forging a united front for all dissenting forces against President Rodrigo Duterte in the 2022 elections, has endorsed Vice President Leni Robredo as its presidential bet.
The 1Sambayan opposition coalition made the announcement on Thursday, September 30, after a months-long selection process that eventually saw its convenors torn between two potential presidential contenders: Robredo and Manila Mayor Isko Moreno.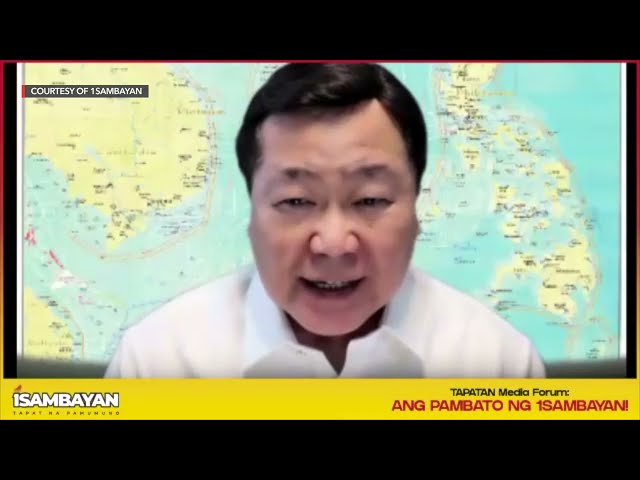 1Sambayan ultimately cast its lot with Robredo, who also believes only a united opposition stands a chance to defeat the Duterte regime in 2022.
The Vice President, however, has yet to formally declare her bid for Malacañang. She is expected to decide on her presidential run soon.
In a statement sent to media minutes after 1Sambayan's announcement, Robredo thanked the coalition for supporting her but still did not categorically say if she would seek the presidency.
"Mabigat ang hinihiling sa isang pangulo. Maraming responsibilidad at obligasyon ang dala nito – buhay at kinabukasan ng Pilipino ang nakataya. Ang desisyon sa pagtakbo, hindi puwedeng nakabase sa ambisyon, o sa pag-udyok ng iba. Sa loob ito dapat manggaling, dala ng pagharap sa lahat ng konsiderasyon at malalim na pagsuri sa situwasyon," said Robredo.
(Much is being asked of a president. It comes with a lot of responsibilities and obligations – lives of Filipinos are at stake here. Deciding whether to run or not should not be based on ambition or the call of others to do so. It must come from within, after facing all considerations and a deep discernment of the situation.)
Robredo once again asked for prayers as she continues her "deep discernment" on her 2022 electoral bid.
1Sambayan lead convenor and retired Supreme court associate justice Antonio Carpio explained that Robredo was the top choice of coalition members during their general assembly. Since no consensus was reached, 1Sambayan's internal rules state that the 23 convenors would then have to settle the matter in a majority decision.
Carpio said the convenors still picked Robredo with an "overwhelming majority," though he refused to disclose the voting tally.
"We based our decision on several criteria: integrity, competence, track record, patriotism, vision for our country, and winnability. We have chosen VP Leni based on this criteria. We therefore ask VP Leni to accept our endorsement, to lead the Filipino people in these difficult times in our history," said Carpio.
The latest Pulse Asia survey conducted in early September showed the Vice President still lagging behind five other possible presidential contenders. Robredo's voter preference rating was virtually unchanged, though it increased from 6% in June to 8% in September.
Asked about the latest survey numbers, Carpio reiterated that the current survey results were just preliminary, and referred to preelection surveys on potential candidates for the 2016 elections where the poll leaders eventually did not win.
In the September 2015 Pulse preelection survey on voters' preferences for potential candidates in the May 2016 elections, Robredo, who was not yet a vice presidential candidate at the time, only had a 3% rating. She later won the vice presidency but she was the candidate of the then-ruling Liberal Party which had more allies and more resources at its disposal at the time.
The 1Sambayan convenors are hoping that Robredo would soon accept their endorsement, especially with the filing of candidacies set to begin on Friday, October 1.
Carpio said he personally believed that there was a "remote possibility" that Robredo would decline, since she had made a commitment to 1Sambayan that "she's willing to save the country from plunder, from dictatorship."
"She's willing to accept the challenge," Carpio said.
That Robredo is 1Sambayan's choice for the 2022 presidential race is not surprising. Out of all potential presidential contenders, it was only the Vice President who went out of her way to reach out to other bets in a bid to a build an umbrella coalition.
The chair of the once-ruling Liberal Party (LP) was also among the only two politicians out of six nominated by 1Sambayan who agreed to be part of the selection process. The other 1Sambayan nominee was former senator Antonio Trillanes IV.
Convenors wanted to nominate Moreno too, but he asked that his name be taken out of 1Sambayan's list in June. Moreno, who has already announced his presidential run, continues to be in talks with 1Sambayan.
1Sambayan convenors earlier said the legacy of decent and honest governance left behind by the late former president Benigno "Noynoy" Aquino III will be a factor in choosing their standard-bearer in the 2022 polls.
Aquino was chairman emeritus of the once-ruling LP, which Robredo now leads.
Robredo also top pick in 1Sambayan survey
Robredo was also the primary choice of 1Sambayan's members, based on the results of the group's internal survey obtained by Rappler. The Vice President, however, edged second placer Moreno by a slim margin.
The Vice President received the highest votes with 44,000, closely followed by the Manila mayor with 40,275, then Trillanes with 38,197.
1Sambayan had also included the names of senators turned presidential hopefuls Manny Pacquiao and Panfilo Lacson in the survey. Only 9,211 wanted Pacquiao to be 1Sambayan's presidential candidate, while Lacson received 4,049 votes.
Though 1Sambayan has formally nominated Robredo, convenor Howard Calleja told Rappler the coalition will continue with their unity talks with other candidates.
"Despite the announcement, we are pushing and hopeful for a united ticket. All unity talks are still open and her choice is something that we did among the members. But communication lines are still open and unity talks are still possible," Calleja said. – Rappler.com