'We were not listened to and I felt I was not listened to because I was immediately labeled,' says senatorial bet Samira Gutoc about her time under the Otso Diretso senatorial slate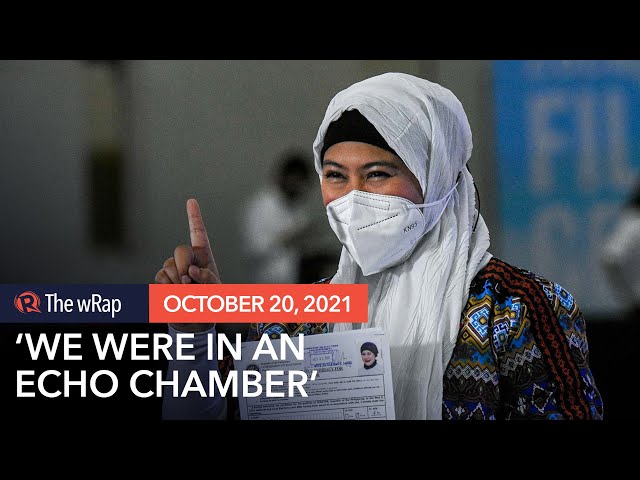 Senatorial candidate Samira Gutoc said her decision to associate herself with Manila Mayor Isko Moreno and Aksyon Demokratiko in the 2022 elections was a "calculated" move to go beyond the limited spheres of influence of the embattled Liberal Party (LP)
Despite Moreno's recent outburst against Vice President Leni Robredo, who Gutoc continues to respect, the senatorial bet said she has no regrets about joining the Manila mayor.
"We were an echo chamber," Gutoc said in a Rappler Talk interview about the Liberal Party, which adopted her as an independent candidate in the 2019 elections.
"Wasn't that your critique of us, not you but the others, that we were together, human rights dreamers in the Liberal Party, we were dreaming for a better country…but sometimes we were not listened to and I felt I was not listened to because I was immediately labeled," continued Gutoc.
The Otso Diretso senatorial slate of the Liberal Party lost soundly in 2019, failing to win even one Senate seat. Political pundits attribute the astounding opposition loss to the Duterte government's effective vilification campaign, the President's popularity, among other factors.
The smearing of the LP brand is one reason why Robredo herself decided to run for president as an independent candidate and even shed the color yellow for the more versatile pink.
Gutoc appealed to her supporters and Filipino voters to understand her move as a strategy to win a seat at the table. Aksyon, she said, gives her the flexibility she felt she did not have as a candidate associated with the LP.
"Going to Aksyon gave me a chance to interface the youth candidates, down the line councilors, mayors, governors, that would allow me to be given minutes to share on issues in which we are no longer called an echo chamber," said Gutoc.
Gutoc placed 25th in the 2019 polls. The Otso Diretso candidate closest to the Magic 12 was former senator Bam Aquino who ranked 14th.
Aksyon, LP as 'sister' parties
For Gutoc, joining Aksyon was her way of heeding Robredo's advice right after their 2019 loss to form coalitions outside of their circle to ensure victory in the next elections.
Aksyon, Gutoc reasoned, worked with the LP in the past, even endorsing Otso Diretso candidates in 2019. Yet Moreno had ranted about Robredo and the LP, calling her a "fake leader" with "fake colors" last October 8.
Gutoc has called him out for this, but she said her standard-bearer's outburst does not mean Aksyon and LP can't work together.
"Aksyon and Liberal Party are sister parties and just because publicly Yorme (Isko Moreno) calls out the VP does not mean we are no longer sister parties," said Gutoc.
Aksyon chairman Ernest Ramel, in a previous interview with Rappler, said the party is still open to working with LP to prevent a Marcos or Duterte presidency.
"If 'yung isa pang laban (the other fight) is to prevent a Marcos comeback, I am all for that; Aksyon Demokratiko is all for that. We don't want another type of leadership that the Marcoses, that the Dutertes deliver. Ayaw na natin ng ganoon (We don't want that anymore)," he had said. – Rappler.com