The senatorial bet's proposed bill would cover Filipinos displaced by natural disasters or hazards caused by the climate crisis
A law to protect the rights of internally displaced persons (IDPs) is at the top of Samira Gutoc's priorities should she win a Senate seat in the 2022 elections.
Gutoc, who comes from conflict-stricken Marawi City, laid out her legislative agenda in a Rappler Talk interview on Tuesday, October 19.
"This IDPs [law] puts primary responsibility for the state to be ready in giving ayuda (aid), not just through a Bayanihan to Heal as One Act but ready upfront," said Gutoc, a civic leader active on the ground in helping persons displaced by the Marawi siege.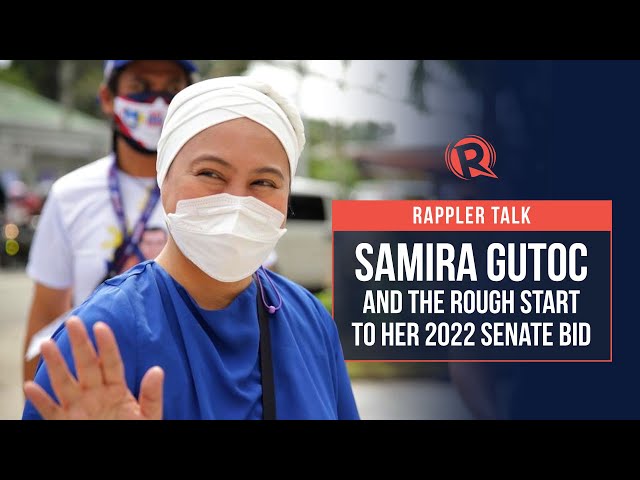 "Because you already have an IDP [law], when disaster, when wars when conflicts, when anti-terrorism operations come and some person gets forced outside his residence, there is ready shelter, aid, down the line water, sanitation, health," she added.
The Philippines currently has no law tailored to the needs and concerns of IDPs. Draft bills have been pending in Congress for around a decade.
The government's response to IDPs is based on the Philippine Disaster Risk Reduction and Management Act of 2010 (PDRRMA). But the Commission on Human Rights has pointed to deficiencies in this law.
"PDRRMA was hailed as a landmark when it was passed but the limitations of this framework are now evident. It is principally about structures rather than rights and standards, about response actors rather than displaced people, and this does not translate into systematic, efficient response," wrote CHR experts in this 2018 piece.
The PDRRMA also lacks language that binds the government to protect rights of IDPs to basic neccesities and freedoms.
"The lack of a clear human rights-based underpinning to this legal and institutional framework consequently affects the ensuing planning processes and implementation of response," wrote the CHR.
Gutoc explained that her bill on IDPs would consider not just persons displaced by conflict or wars, but also those displaced by natural disasters and climate crises.
Such a law is important for the Philippines given its vulnerability to hazards caused by climate change – like more frequent flooding, more powerful storms, and more intense drought.
Globally, people displaced by disasters in the first half of 2020 was more than double the number of people displaced by conflict and violence, according to the Internal Displacement Monitoring Center.
Marawi compensation bill
Gutoc said she would also champion a bill providing compensation to Marawi residents who lost property because of the 2017 battle between extremists and government forces.
She lamented that it was not declared a priority legislation by Duterte during his visit to Marawi last October.
Marawi civic groups and Mindanaoan lawmakers have long demanded for this bill but it has not yet reached Duterte's table four years after the siege and less than a year before the President's term ends.
Another bill Gutoc wants to craft if she becomes senator is legislation strengthening barangay health services.
"We don't have a framework, a law that institutionalizes, allocates salaries for barangay health workers. This would be our link towards Covid-19 prevention because they are the ones who educate people, serve as contact tracers," said Gutoc.
If elected, Gutoc could be only the second female Muslim senator in the country's history. – Rappler.com