WHAT YOU NEED TO KNOW
The Commission on Elections (Comelec) organized three debates, ahead of the May 9 polls, to help the public scrutinize candidates running for the country's highest post.
At 7 pm (Manila time) on Sunday, April 3, the Comelec holds its second PiliPinas debate for presidential bets. Nine of 10 presidential candidates are set to attend this second debate at the Sofitel Harbor Garden Tent.
The first presidential debate was held on March 19, and the third is scheduled on April 24.
Scroll down this page for live updates, context, analyses, and fact checks from Rappler as the debates unfold. Further down the page, click "load more."
LATEST UPDATES
At Comelec debate, Robredo projects how an 'ilaw ng tahanan' can reform PH politics
The lone female presidential candidate uses the second Comelec debate as an opportunity to flex not just her longtime advocacy for electoral and political reforms, but also to highlight her strength as a Filipina leader.
Read more.
Robredo, Moreno push for Hague ruling as leverage in South China Sea row
In building international support to push back against China in the South China Sea, presidential candidates Manila Mayor Isko Moreno and Vice President Leni Robredo delivered similar visions to use the Philippines' landmark arbitral award as leverage in the long-running dispute. 
The 2016 Hague ruling has been viewed not only as Manila's ace in the sea row, but a victory that served all other nations that value a rules-based order in the South China Sea. The legal award secured by the Philippines against China had invalidated Beijing's sweeping claims of ownership over waters in the area, which serve as a vital trade route for many of the world's largest economies.
Read more.
Presidential candidates believe detained De Lima deserves due process
Some of the presidential candidates for the May 9 polls believe that due process must be observed in the cases of detained lawmaker and reelectionist Senator Leila De Lima.
During the second Commission on Elections (Comelec) presidential debate on Sunday, April 3, some of the presidential bets were asked whether De Lima should be freed. Labor leader and presidential candidate Leody de Guzman said the opposition lawmaker should be released. 
For the full story, read here.
Robredo: Attendance in debates shows candidate's respect to Comelec and Filipinos
In an ambush interview after the second Comelec presidential debate, Vice Presidential Leni Robredo says attendance in debates not only shows a candidate's respect to the poll body, but to Filipinos. Presidential frontrunner Ferdinand 'Bongbong' Marcos Jr., as usual, is absent in the debate.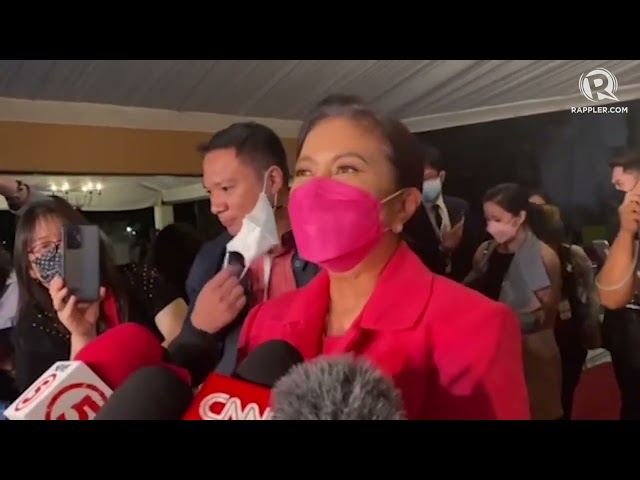 Pacquiao on protecting OFWs: Philippines will be a friend to all nations
On protecting Overseas Filipino Workers (OFWs), presidential bet Manny Pacquiao ensures the country "will be a friend to all nations" and "America's best friend, but will not allow ourselves to be bullied by other countries."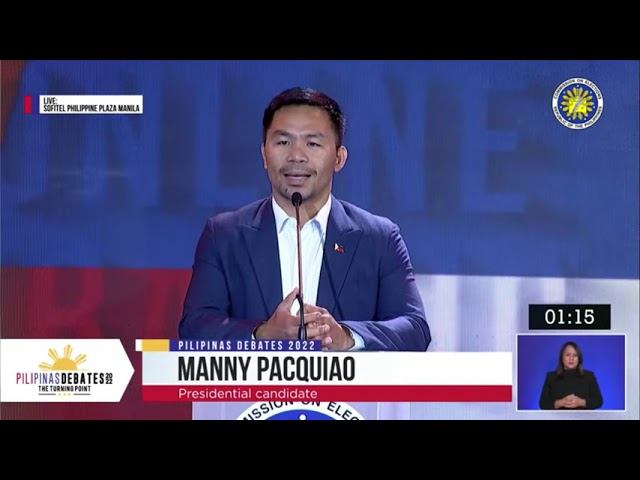 Moreno, Pacquiao weigh in on the human rights situation in Myanmar
Presidential bets Isko Moreno and Manny Pacquiao express their thoughts on the human rights situation in Myanmar. Moreno says UN member-states should demand for accountability, while Pacquiao says the Philippines should look at its own human rights situation.
[Rappler Recap] John Nery lauds Comelec for tweaking the format
[Rappler Recap] John Nery on seeing the debates up close