In the first episode of Rappler's #PHVote Dialogues, guests agree that voting is the first step in taking back the many things they lost during the pandemic
As the 2022 national elections approach in the Philippines, young Filipino voters once again face reminders that the leaders they will vote for will chart the path of their future.
Such was the nature of the discussion during the first episode of #PHVote Dialogues, a monthly huddle organized by Rappler and featuring personalities from the entertainment and arts industries, a subject matter expert, and Rappler's own journalists.
"I can sense the frustration among the youth, how many things were taken away from them during the pandemic. I would like them to turn this around; don't let this discourage you from registering and exercising your right to vote," said Rappler's investigative editor Miriam Grace Go in a mix of English and Filipino during the episode, which aired on May 19.
"This is your first step of taking back something and being in control of something," she added.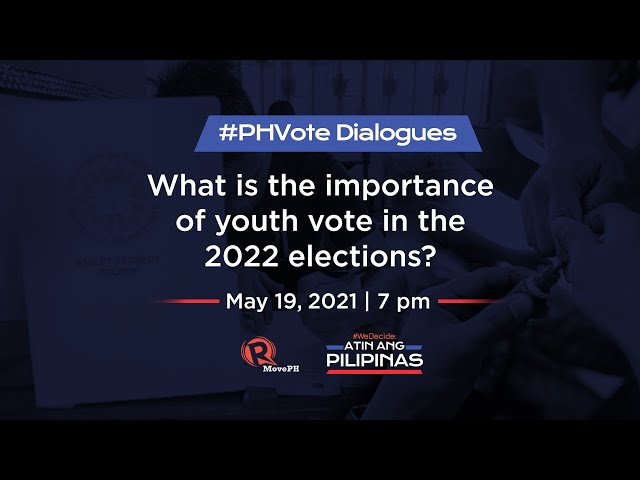 Social media influencer and public relations consultant Thysz Estrada echoed the sentiment, saying the leaders' handling of the global health crisis would matter significantly in the decision-making of young voters in the 2022 elections.
"[For them] what is the way forward? They have lost their parents, they have lost loved ones from this pandemic, they have lost opportunities, they do not anymore go to school, some of them have parents who lost livelihoods," she said.
"They understand that the impact of this person they are going to vote for will last six years of their lives. A lot of these youths will experience these following six years as formative ones," she added.
Estrada said other issues that would cast a long shadow among the youth's decisions in 2022 are human rights and climate change — areas where the Duterte administration faced massive criticism since 2016.
Youth vote
Go pointed out that the country has not seen evidence of the youth vote as a "bloc vote."
"Youth vote is not like a sector voting for the same candidate or party. For me, youth vote is as long as people within that sector or age range go out and vote, because you are after the participation," Go said.
Carmela Fonbuena, executive director of the Philippine Center for Investigative Journalism, however expressed curiosity as to whether a politician would be able to strongly unite the youth for a common cause.
"I was thinking, just because no one candidate has mobilized the youth as a bloc vote, does it mean it does not exist? Maybe this is still the holy grail of the Philippine politics," she said.
"What if a candidate emerges at some point who can mobilize the youth over one issue or another? I don't know if this is possible, but I'm curious if this can be possible especially with the advent of social media," she added.
Fonbuena and Estrada noted that politicians are already making their presence felt in online platforms that are popular among the youth.
"Right now it's embedding themselves in where the youth's eyes are looking at. It's mostly your phone screens," Estrada said. "They are invading these spaces. This is important only because the internet is prevalent in the country."
"Many candidates are spending on Facebook ads. And apparently, in your video games, such as Candy Crush, you get these politicians' ads already," Fonbuena added.
Go said that while social media is increasingly being utilized as a platform for campaigning, candidates should also make sure they will be able to reach out to younger voters offline.
"One mistake a candidate can make is thinking that if he is very much present in social media, that will be enough to convince voters," Go said in a mix of English and Filipino.
"Presence on social media would be just covering all the bases of the campaign. A network of grassroots [campaigners] will still be the one to deliver the votes," she added.
Around 31%, or 18 million of the 61 million registered voters for the 2019 midterm elections were aged 18-30.
The Commission on Elections said it expects four million new voters in the 2022 elections. The Philippines has 1.57 million first-time registrants as of April 15, based on Rappler's tracker which uses Comelec data.
The deadline of registration is on September 30, 2021. — Rappler.com