Former budget undersecretary Lloyd Christopher Lao insists the PS-DBM lacked time, resources, and connections to find cheaper suppliers of the face masks and shields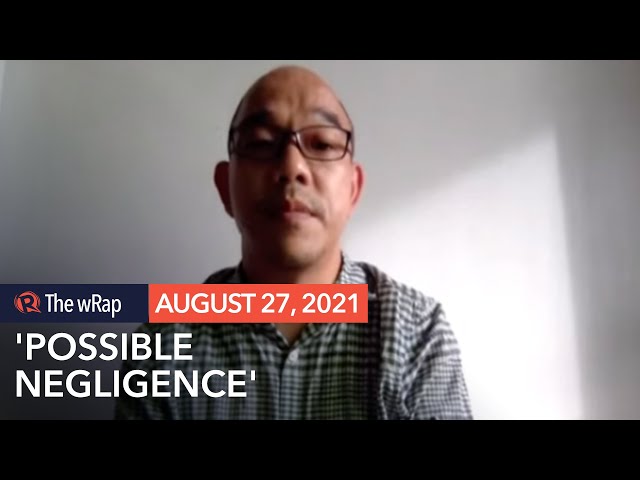 Lloyd Christopher Lao, the embattled former chief of the Department of Budget and Management's Procurement Service (PS-DBM), conceded it was possible that his negligence led to the purchase of overpriced face masks and face shields in 2020.
Lao made this statement while being grilled by opposition senator Francis Pangilinan at the Senate blue ribbon committee hearing on alleged anomalies in the pandemic funds spending of PS-DBM and the Department of Health (DOH) on Friday, August 27.
Lao was still PS-DBM chief when the office bought P95.45 million worth of alleged overpriced face masks and face shields at around P27 and P120 apiece, respectively.
Pangilinan asked him to justify these purchases when the Philippine Red Cross was able to purchase masks at P5 each, and shields at P15 per piece.
Lao first attempted to answer by citing Red Cross' international connections, saying this could explain why the humanitarian organization was able to find cheaper face masks and shields.
But Pangilinan did not buy this, telling the former DBM official, "Well it was also possible, Mr. Lao, that you were negligent. It is possible."
Lao first maintained that the face masks and shields were the cheapest the PS-DBM could find at the time, but later admitted the "possibility" of his negligence in canvassing for other options.
Still, he argued that the PS-DBM supposedly lacked time, resources, and connection during the time of purchase.
"I think when you say there might be negligence or we were not able to exhaustively look for the cheapest supplier, there might be possibility given the scenario that we really lacked the time, we lacked the resources, we lacked the connection during that time. That might be a possibility," said Lao.
The PS-DBM is now having difficulty selling these face masks and shields to client government agencies. State auditors also found that, by yearend 2020, there were 484,000 face shields sitting in PS-DBM depots.
On top of overpricing, senators have also raised red flags over the apparent unauthorized mode by which PS-DBM purchased the face masks and shields.
Lao first became undersecretary at the Presidential Management Staff-Office of the Special Assistant to the President, an office previously headed by President Rodrigo Duterte's longtime aide, Senator Bong Go.
'Collective decision' to transfer DOH funds to PS-DBM
Lawmakers have also questioned the DOH's move to transfer P41 billion to PS-DBM to buy personal protective equipment (PPEs) in 2020 when the agency was capable of doing this on its own.
Health Secretary Francisco Duque III told senators on Friday that it was borne out of the "collective decision" of the National Task Force Against COVID-19.
Duque initially dilly-dallied when Pangilinan asked him to name the officials who decided on the fund transfer, but he later named NTF chief implementer Carlito Galvez, testing czar Vince Dizon, Lao, and Wendel Avisado, who recently resigned as DBM chief.
"It was a collective decision from the NTF, the National Task Force, because at that time, we were desperate to get the much-needed personal protective equipment and other life-saving supplies. We have no suppliers, very, very few, if any that could not meet the volumes we needed to mount an effective response to the pandemic," Duque said.
He said the transfer of P41 billion to the PS-DBM was done in tranches in 2020, "depending on what we needed at a particular point in the pandemic response."
The DBM-PS, an agency attached to the DBM, acts like a shop for common-use supplies. Instead of procuring from suppliers, government agencies would buy from the PS instead. – Rappler.com