'Because mali-mali ang case rates ng PhilHealth ... nagkakaroon talaga ng incentive na mag-engage in fraudulent behavior ang ating private hospitals,' says health economist and lawmaker Stella Quimbo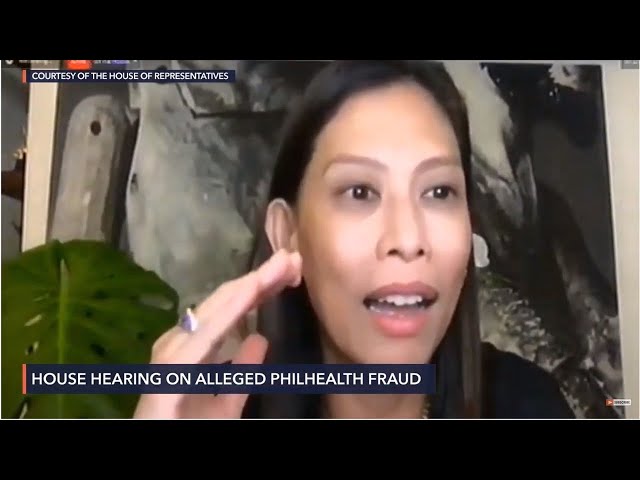 Health economist turned lawmaker Stella Quimbo said the Philippine Health Insurance Corporation's (PhilHealth) incorrect estimates in its all case rate system has become an "incentive" for private hospitals to commit fraud.
The Marikina 2nd District congresswoman made the statement after it was revealed during the House's 2nd hearing on the anomalies hounding PhilHealth that 22% of its case rate packages were overpaid while the remaining 78% were underpaid.
She said this only means none of PhilHealth's estimates for its case rate packages were correct – which defeated the purpose of the system in the first place.
"So 'yan sa tingin ko ang aking frustration dahil ako po ulit bilang isang health economist, eh alam naman natin na may advantages ang case rates kumpara sa pay-per-service…. Kaya 'pag pinag-uusapan ang inefficiency, eh maganda sana ang case rates," Quimbo said.
(That is frustrating for me as a health economist. I know that there are advantages in case rates compared to the pay-per-service… When we talk about addressing inefficiency, case rates are the better option.)
"However, because mali-mali ang case rates ng PhilHealth – 'di ba zero percent of your case rates are correctly estimated – nagkakaroon tayo ng napakalaking problema. And the big problem really is, nagkakaroon talaga ng incentive na mag-engage in fraudulent behavior ang ating private hospitals," she added.
(However, because PhilHealth's case rates are faulty – zero percent of your case rates are correctly estimated – we have a big problem here. And the big problem really is, private hospitals are given the incentive to engage in fraudulent behavior.)
The case rate is a fixed amount which PhilHealth will reimburse for a specific illness, including payments for healthcare professionals and use of medical facilities. PhilHealth began implementing case rate packages in 2011, during the presidency of Benigno "Noynoy" Aquino III.
Before this, PhiHealth had a fee-for-service or pay-per-service system, wherein medical facilities are paid based on the specific service performed for the patient.
Quimbo argued the 22% overpayment and 78% underpayment record of PhilHealth's case rate system ultimately benefitted private hospitals.
This is because when the expenses of a patient in a public hospital exceeds the case rate, the public hospital is not allowed to charge him or her under the "No Balance Billing" policy.
But this policy is not applicable to private hospitals, which can still charge patients who are PhilHealth members for medical costs they incurred beyond the case rate set by the state health insurer.
Lawmakers now want the case rate system abolished since PhilHealth had already overpaid hospitals a whopping P102 billion between 2013 to 2018.
Senior Deputy Majority Leader Jesus Crispin Remulla also said it is an "unjust enrichment" scheme for hospitals."
On Wednesday, Quimbo asked PhilHealth senior vice president for health finance and policy sector Israel Francis Pargas if he agreed that there was a need to review the case rate system. He agreed.
"Tama po kayo (You are correct) because for one, we really need to make the proper costing of healthcare services in order to make sure… mas mapapasunod natin 'yong magandang polisiya sana ng case rate (that we would be able to implement the good policies coming from the case rate system)," Pargas said.
He said PhilHealth is in the process of reviewing its costing framework, but they were still waiting for the IT system needed to compute this properly.
Quimbo's 'rapid assessment' on possible fraud
Quimbo, however, does not agree an IT system was needed for PhilHealth to fix the anomalies.
Case in point: Quimbo requested data from PhilHealth regarding its pneumonia case rate package claims in the past years, which the agency sent to her on Tuesday night, August 11.
Using just a pen, paper, and the Excel program on her computer, Quimbo said she saw that in 2018 alone, there was already a discrepancy of around 250,000 between the 750,000 pneumonia claims recorded by PhilHealth and the 500,000 tallied by the Department of Health for that year.
The congresswoman said the numbers may indicate possible cases of ghost claims.
"It took me about 3 hours to look at your data. Kinailangan ko rin ng ballpen, paper, at Excel file. Ito po ay nagkaroon ako ng rapid assessment po on possible fraud. So ang sinasabi ninyo na 'di 'nyo ma-control ang fraud dahil wala kayong IT system, ay sa aking palagay po ay it's not a valid excuse," Quimbo said.
(It took me about 3 hours to look at your data. I also needed a ballpen, paper, and an Excel file. I did a rapid assessment on possible fraud. So your statement, that you can't control fraud without an IT system, I think that's not a valid excuse.)
Whistleblowers already told senators that PhilHealth executives may have pocketed around P15 billion through fraudulent schemes and bloated its IT sector budget by at least P734 million.
Senators also slammed the "inequitable" Interim Reimbursement Mechanism (IRM) or the reimbursement program for coronavirus patients, which they said have become a tool for politics and corruption within PhilHealth.
The Davao City-based Southern Philippines Medical Center got the lion's share of the IRM, even if cases there were far fewer than in Metro Manila, the epicenter of the pandemic in the country.
Pargas, however, said SPMC got the largest allocation because it recorded the highest reimbursement and number of claims in 2019, the basis for the IRM computation. – Rappler.com