This is AI generated summarization, which may have errors. For context, always refer to the full article.
EXCLUSIVE: In a tell-all interview, Stella Quimbo acknowledges a red flag in the OVP's confidential fund, explains why she left the House minority, and insists critics have been unfair to her
MANILA, Philippines – In the span of a year, the Philippine opposition saw two versions of congresswoman Stella Luz Alabastro Quimbo.
The first version was visible just before the 2022 elections. The Marikina 2nd District lawmaker was wearing a pink mask, attending political sorties, and joining house-to-house campaigns for the opposition's standard bearer, former vice president Leni Robredo.
The second version emerged months later, spilling over into 2023. It's this Stella who has become more comfortable associating herself with the administration by defending the Vice President's receipt of confidential funds, and the President's most controversial pet legislation, the Maharlika Investment Fund (MIF).
Quimbo insists she defends policies, not personalities. Now the target of harsh criticism, she believes everyone has been very unfair to her.
But critics, whether Quimbo likes it or not, want her to pick a single lane, so much so that the Liberal Party (LP) – still her home base on paper – acknowledges that there is a need to discuss internally her recent political posturing.
Impressive credentials
An economist, the summa cum laude Quimbo was armed with master's and doctorate degrees when she ran and won in the 2019 congressional elections.
She had focused her legislative efforts to promoting improved economic policies, better government services, and increased transparency and accountability. (READ: Who is Stella Quimbo, the staunch defender of Sara Duterte's confidential funds?)
From assistant minority leader, Quimbo became deputy minority leader, and was the champion of medical frontliners who risked their lives at the height of the life-threatening COVID-19 pandemic. Quimbo believed that being in the minority fit her personality as a University of the Philippines professor and economist.
"I think this is the best way that I can use what I know all my life. All my scholarly work would go to waste if I don't use it. I think this is where I get done the things that I taught for the last 26 years," she said in an exclusive interview.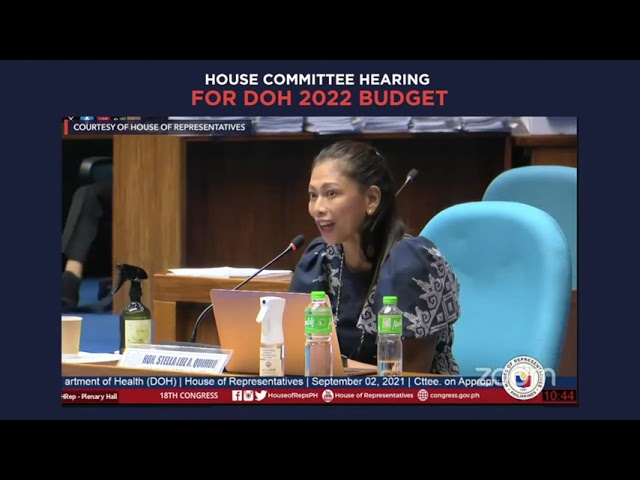 She also believed that a neophyte lawmaker from the LP – a party at the fringes of the administration's power circle – would have a better chance of standing out in a 300-member chamber by being a member of the minority.
Just about to turn 50 when she first won, it didn't take long before Quimbo was seen as a rising star of the opposition. Supporters of the opposition took notice as she was one of the few lawmakers who rejected some of the Duterte administration's most draconian policies, including the anti-terror law, and the denial of a fresh franchise to broadcast giant ABS-CBN.
Quimbo said she maximized all the opportunities afforded a member of the minority – she joined crucial bicameral conference committees, became part of small committees, took part in the crafting of major legislation – everything except being the minority leader herself.
Cozying up with the Marcos administration
When 2022 ushered in the new Marcos administration, Quimbo, who got reelected to a second term, received a breakthrough offer from Speaker Martin Romualdez – one she could not, and did not, refuse.
"I was offered to be the whip of the appropriations chairperson. Oh my goodness, this was offered to a Liberal Party member. Can you imagine being the whip of the appropriations chair and being an LP member? Oh my God. This was something that was coveted. How can I even refuse that?" she exclaimed.
"The budget offers many opportunities for policy reform, using the budget as leverage. Every single agency will go through you. All the policy problems, you will have to fix. Oh my goodness, it was to me the perfect playground for somebody with my knowhow. It was an obvious thing to me. I felt so blessed," Quimbo added.
Her official title now is senior vice chairperson of the appropriations committee. The "senior" tag is crucial because the 140-member committee lists 56 people as its vice chairpersons. Quimbo's designation means she's the second-highest-ranking officer of perhaps the most powerful committee in the House of Representatives. She is now part of the elite super majority alliance in the 19th Congress.
Quimbo was candid in admitting she didn't vote for President Ferdinand Marcos Jr. in the 2022 elections. But because "the public has spoken," she said she wants the administration to succeed.
Quimbo speaks highly of the President, saying she is impressed by his skill set.
"He has a mastery of the laws being tackled. He discusses the bills without help," she told Rappler. "He's somebody who at least adapts to problems as soon as they arise. You see that he tries to address them immediately. He's proactive."
In the House, she appears to have entrenched herself in the inner circle of the Speaker, also the President's cousin. "I'm his go-to for technical issues," she volunteered.
House Secretary General Reginald Velasco confirmed this, saying: "The Speaker has several congressmen serving as experts on technical issues. Congresswoman Stella Quimbo's main expertise is on the Philippine economy."
Another sign of their deepening working relationship is Romualdez's effort to squeeze in his very busy schedule the Marikina Youth Leadership Awards – a parochial event organized by Quimbo. He agreed to be guest speaker in this event attended by Majority Leader Mannix Dalipe and Stella's husband, former House deputy speaker Miro Quimbo.
Quimbo admitted that she's eyeing the mayoral post in Marikina that will be vacated by the term-limited Marcelino Teodoro two years from now. She said she plans to stay with the LP for the 2025 midterm elections, but the Marikina contest is foreseeably going to be a tough one that may require tremendous resources and a well-oiled party machinery.
Defending Maharlika
As the "go-to" of the Speaker, Quimbo has had to defend Marcos' Maharlika Investment Fund (MIF) to the chagrin of opposition supporters.
It was among the fastest national legislation that hurdled the House of Representatives in recent history. She previously brushed aside allegations it was being railroaded, even though ultimately, it took the chamber only 17 days to have it passed – an extraordinary feat for a proposal of its kind.
Quimbo is among the six original authors of the bill, but she is strikingly the odd one out. Half of the six are Marcos' relatives – Speaker Romualdez, and Representatives Sandro Marcos and Yedda Romualdez. Tingog lawmaker Jude Acidre is a long-time mentee of Romualdez, while Majority Leader Mannix Dalipe is the son of the helicopter pilot of Marcos Sr.
The congresswoman claimed to have "freaking zero involvement" in the crafting of the initial version of the bill. It was the economic managers who supposedly wrote it and requested that Romualdez file it in the House.
Quimbo said she backed the bill from the get-go – on the presumption that the Government Service Insurance System (GSIS) underwent due diligence in pitching the proposal to lawmakers. She later realized it didn't.
The original bill was met with significant pushback from the very beginning because of plans to include pension funds in the MIF's sources of seed capital. Groups rallied outside the lower chamber's premises and launched a signature campaign, demanding that such pension funds be spared.
"I was the one who told the Speaker, 'Let us remove the pension funds.' I followed him from morning until evening until he said yes, and when he said yes, he gave me the go signal to have a press conference," Quimbo said. "He knew that it was a dealbreaker to me. If it won't be removed, I won't be part of it."
Velasco validated Quimbo's story. "The pension funds were removed in response to the plea of the [MIF] critics not to touch the contributions of both private and government employees coming from their hard-earned income," he said.
Pushback from former colleagues
But even after the pension funds were dropped from the proposal, critics were still unsatisfied. Opposition lawmakers identified numerous red flags – investment risks, corruption fears, and the question of whether it is necessary to park investible resources in long-term contingent investments despite the country's huge fiscal deficit.
Even Quimbo's former colleagues at the University of the Philippines School of Economics (UPSE) derided the measure. In a strongly worded discussion paper in June, nearly two dozen faculty members said the proposal "poses serious risks to the economy and the public sector."
Quimbo insisted that the measure – which had been signed into law in July – already addressed concerns of the UPSE faculty.
"They said the objectives weren't clear. I was like, 'Huh?' There are two objectives: we would invest but there would also be a development component. Will I go there just to explain?" she asked. "It's impossible because many people just don't want to listen."
It's easy to imagine how relations among bickering economists who disagree on policy could be strained. But Quimbo said she even met with UPSE top honchos just a few weeks back to discuss their budget for 2024.
"I was department chair for a long time. It's very difficult to run a school. It's a very toxic environment. There's never agreement in the academe," she said. "But it never becomes personal. That's how we are in the academe. We scream at each other, the next day we have lunch. From where I stand, I have no issue," she added.
Back in August, former Bangko Sentral ng Pilipinas (BSP) governor Felipe Medalla spoke at a lecture in UPSE. He told the audience: "I do agree that I am quite embarrassed by the way one of our top graduates was supporting Maharlika." The comment drew knowing laughter from the crowd.
He never confirmed who he was referring to, but among the advocates of the MIF in the government from UPSE are Finance Secretary Benjamin Diokno, Budget Secretary Amenah Pangandaman, National Economic and Development Authority Secretary Arsenio Balisacan, and Quimbo herself.
Medalla declined a request for an interview, but only had this to say about Quimbo: "She was one of my best students. I have never been a politician, so I don't want to make judgments on how economists and academics perform or behave as politicians. On the whole, I think that our country could benefit when academics become congressmen or senators (or president, in the case of Gloria Macapagal Arroyo)."
Despite how it has impacted her image, Quimbo said she stands by her support for the Maharlika fund.
"Do we need it? Yes. We need a game-changing financing model. Two, are there excess funds? There's a lot. PhilHealth alone has P460 billion in investible funds. And then people would say we don't have excess funds. They just don't want to call it surplus. Those are just labels. Let's call a spade a spade," she asserted.
"It's now a law, we let the market decide. If it will fly, thank you, Lord. If not, let's kill it and return the money. At least we tried. I'll be surprised it won't work," Quimbo added.
Shifting sands
That controversy was followed by another more recent one that disappointed not a few and left many wondering, "What has happened to Stella?"
One from UPSE who spoke on condition of anonymity said: "The issue is not about Maharlika per se, because it's common for a school to have disagreement on policies, but the concern is how she's behaving as a politician, and how she has defended and justified the confidential fund of Sara Duterte."
Another from the same school said: "Stella was definitely one of the best homegrown talents of UPSE. When she became part of the faculty, she was also multi-awarded and quite prolific, especially in the field of health economics. But now, unfortunately, she speaks and behaves more like a politician than an economist."
Becoming part of the super majority alliance in the House carries with it unavoidable responsibilities, including what Quimbo termed as the "duty to defend the budget."
She might have found herself in a bind, given her remaining ties to the Liberal Party. How does one navigate a political minefield that demands balancing obligations to the political alliance on the one hand, and fulfilling expectations of opposition leaders and supporters, on the other?
Quimbo insisted she was not defending Sara Duterte nor her confidential fund, but even the Vice President had named her as one of her staunch defenders against the onslaught of attacks against her office.
How can Duterte explain obtaining P125 million in secret funds in 2022 when her predecessor had no line item in her office budget? Critics said the transaction is unconstitutional. Because the current Veep could not articulate her own defense, the responsibility fell on Quimbo's shoulders.
In an interview on the ABS-CBN News Channel (ANC) last September 7, Quimbo justified the quick termination of committee-level hearings on the OVP's 2024 budget, which denied opposition lawmakers the chance to ask questions.
"The extension of parliamentary courtesy to the Office of the President and the Office of the Vice President (OVP) has been a long standing tradition. This is something we did not intend, it's been there for a long time. It's basically so that we make sure we don't embarrass the President or the Vice President," she said.
Quimbo also turned technical and described the release of P125 million to the OVP as a "transfer" from the contingent fund of the President.
"The line item already existed, so the line item, which is confidential and intelligence funds, already existed in 2022, it just so happens the amount was zero. You can actually augment an item because the item already existed," she said. She would later acknowledge this was a mistake.
Quimbo was immediately hit with fact-check after fact-check following that television appearance. Even Robredo's former spokesperson and legal adviser Barry Gutierrez joined the fray, saying that there was no confidential line item in the OVP's 2022 budget, only a category heading, and there was no "0" opposite it.
For Gutierrez, it is incomprehensible why Quimbo supposedly decided to be the main talking head of the administration on Duterte's confidential fund fiasco.
"The issue is also something the VP, not Congress, should be responding to," he told Rappler.
"Her statements on the confidential funds are both surprising and disappointing. The rules on augmentation are simple and clear, and the sometimes conflicting explanations offered are not only erroneous, but strained and convoluted," he said.
Quimbo admitted in the Rappler interview that she misspoke. "I messed up in matters of technicality but I was right in saying that there was a lawful, existing line item. I made a mistake on the name of the line item. It was good governance. There were confidential funds, zero at the time, but you can add at any point in time," Quimbo said. "I stand by it."
Quimbo insisted she was not defending the nature of how Duterte spent her confidential funds, but the legality of the release of the contingent funds – which became confidential expenses – to the OVP.
Deciphering Stella
Convoluted or not, the explanations of Quimbo did little to wash away perceptions that she had transformed into a traditional politician, and had become a sellout and an administration apologist.
The criticisms of Quimbo came mostly from the opposition, from people who felt betrayed by the recent actions of a woman they once regarded as a semi-rockstar figure of dissent.
It hurt. And Quimbo could only say: "Everyone has been so unfair to me."
"The entire world came after me. I was like, oh my God, what did I do, right?! And all of these unkind words!" Quimbo lamented.
Things took a turn for the worse in a September 19 House hearing, the first day the issue was raised on the august chamber's floor.
Opposition lawmaker France Castro from ACT Teachers started the debate on the offensive, and perhaps understandably so, because she and her fellow Makabayan lawmakers had their microphones turned off when they tried to ask questions about Duterte's confidential funds during deliberations led by the appropriations committee.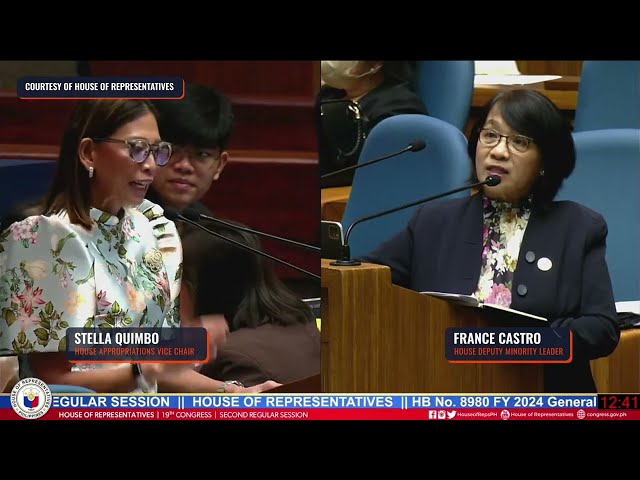 Quimbo clapped back at Castro, who insisted that her questions be answered directly. "Allow me to explain why [the OVP was entitled to confidential funds in 2022]," Quimbo began.
It was a tense moment for a chamber known for its collegiality, especially between two lawmakers who, over just a year ago, had been colleagues in the House minority.
"The problem is you don't want to listen," Quimbo said, but Castro lashed back, "My time is being wasted when we only want a yes-or-no answer."
"Our colleague is confused," Quimbo interjected. "I am not confused," Castro countered.
It was during this hearing that Quimbo offered a new explanation to justify the release of the confidential funds to the OVP in 2022. She said the contingent fund is a floating fund, not under the Office of the President (OP). The budget department released it, not the OP. The line item that enabled the release is the good governance program – not CIF – as she previously said.
Without a clear indication that Quimbo was using the moment to correct her statement in the TV interview, it came across as Quimbo contradicting herself to defend the release to the Vice President of the difficult-to-audit funds.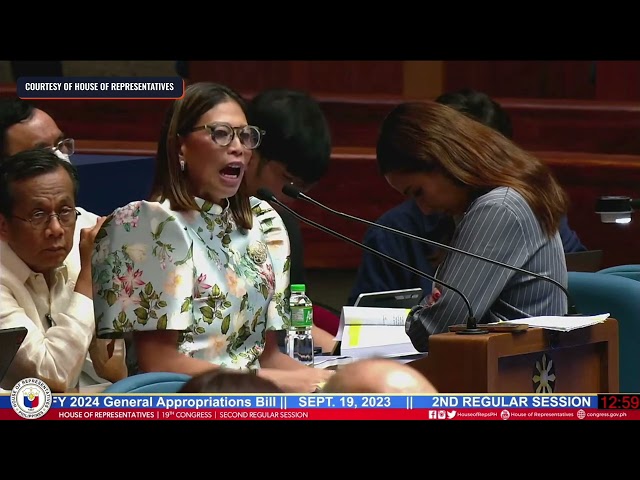 Asked to make sense of Quimbo's moves, political analyst and Ateneo de Manila University professor Arjan Aguirre theorized in an interview on September 21, that it was about political survival.
"I think part of the reason why she's doing those things is because she's getting the support of the people who she thinks will be important for her reelection. She wants to appear that she's okay with the administration, which is obviously very popular."
Quimbo's party mates in the LP, however, are willing to give her the benefit of the doubt, although they have no idea what her ultimate goal is.
"I don't know if she had to stick to where her position is, and bite a bullet, or dig a deeper grave. But if you look at the other issues, her voting record, she voted the way I think the party would vote," LP executive vice president and former House deputy speaker Erin Tañada told Rappler.
"The way I know her, she will not stick her head out for something she doesn't strongly believe in," LP vice chairperson and former Quezon City lawmaker Kit Belmonte also told Rappler. "Despite disagreements on particular issues, we have always found more things in common."
Moral dilemma
It's been said that moral dilemmas help define one's character. In the morning of September 25, Quimbo may have realized this as the sponsor of the Commission on Audit's (COA's) proposed 2024 budget in the plenary. She had to speak on the agency's behalf and defend it on the floor.
She had been aware that Makabayan had been saying the P125-million confidential fund secured by Duterte's office in 2022 was exhausted within 19 days. She knew the opposition was going to pound on it, so she sought clarity from COA even before the anticipated debate.
Quimbo was in for a surprise. State auditors told her there was no room for ambiguity in the OVP's liquidation report covering December 13 to December 31, 2022. The OVP cashed the check on December 20, started utilizing it on December 21, and spent all of it by New Year's Eve.
Quimbo was shocked. This meant that P125 million was spent not in 19, but 11 days. It was tough to defend and could not be kept secret.
"What will I do with that information? I'm duty-bound, it was of course a moral dilemma," she told Rappler. "There's no way we would lie, there are reports, we will be caught in the end if we lie," she said.
That morning of September 25, Gabriela Representative Arlene Brosas took the podium stand, and started to ask the P125-million question: can COA confirm that the OVP spent the funds in 19 days?
Quimbo, knowing the answer already, took her time. She paused, took deep breaths, spoke slowly, until she finally reached the most dramatic part: "It was not spent in 19 days, but 11 days."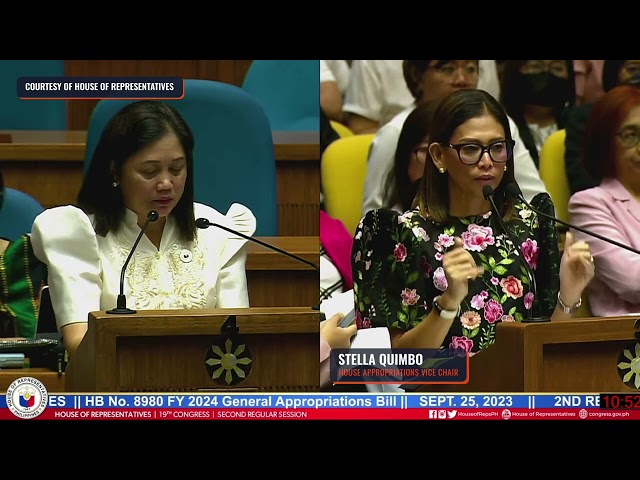 Brosas flinched, turning to an equally shocked Castro. At that moment, they knew they had just stumbled upon new and compelling, if not damning, information.
"I did not anticipate the 11-day response. I was really in shock," Brosas told Rappler days later. "To begin with, I cannot imagine spending that huge amount of cold cash in 19 days."
Tough time
After finding out about the OVP's 11-day astonishing feat, Quimbo sounded like her old self. She took to the floor proposing amendments to the handling of confidential funds – reportorial requirement on interagency transfers, mandating agencies to justify the need to have such funds, and the creation of an oversight panel.
Secret funds are still difficult to audit, and even after the Senate tried to beef up its oversight function on the matter in the past, the release of these funds still increased exponentially over the years.
Quimbo now acknowledges that the short time it took for Duterte to spend all her confidential funds in 2022 is a red flag.
She conceded that based on "previous budgets of confidential funds of the previous vice presidents, this one is unusually large." She continued, "To begin with, compared to other vice presidents, it's a big amount."
The LP has taken note of how its supporters are now viewing Quimbo, and has set a special meeting on October 6 to discuss numerous matters, including the controversies surrounding the congresswoman.
Albay Congressman and party president Edcel Lagman told Rappler that the special meeting will, among others, weigh Quimbo's position on important issues that run counter to that of the party vis-a-vis the recognition of members' freedom of speech and right to dissent.
To political science professor Aguirre, Quimbo is at a crossroads, and her political posturing, if mishandled, could backfire.
"She's having an identity crisis – she's a technocrat but also a politician. She doesn't know where to put herself," Aguirre said.
"She has to be careful because this criticism will never stop and I cannot blame the critics because they really are thinking – who are you, [Stella]?…. my message is, just don't give up on her yet because maybe she is in a state of transition," Aguirre added.
In Rappler's interview with Quimbo, she said she hates politics, and claimed she's bad at it. When asked if she aspires to seek higher office, her answer was a solid no.
She said her political journey was fine until people started ganging up on her.
"I'm not a politician, I am an accidental politician. I'm more of an economist than a politician," she asserted. "This is who I am. So have I changed? No, I'm still the same person."
Many wish she still is. – Rappler.com
* All quotes in Filipino were translated into English, and some were shortened for brevity.