In the span of a year, approval ratings for how the government is preventing infections and fighting corruption fall by 25 percentage points
The Rodrigo Duterte administration saw a drop in Filipinos' approval for its efforts to manage COVID-19 infections and fight corruption, based on a Pulse Asia survey conducted in early September.
The September 6 to 11 survey showed a 6-percentage point decrease in the approval rating on how the government is "controlling the spread of COVID-19," from the approval rating recorded in the last survey done in June.
From June's 65% approval rating, it fell to 59%.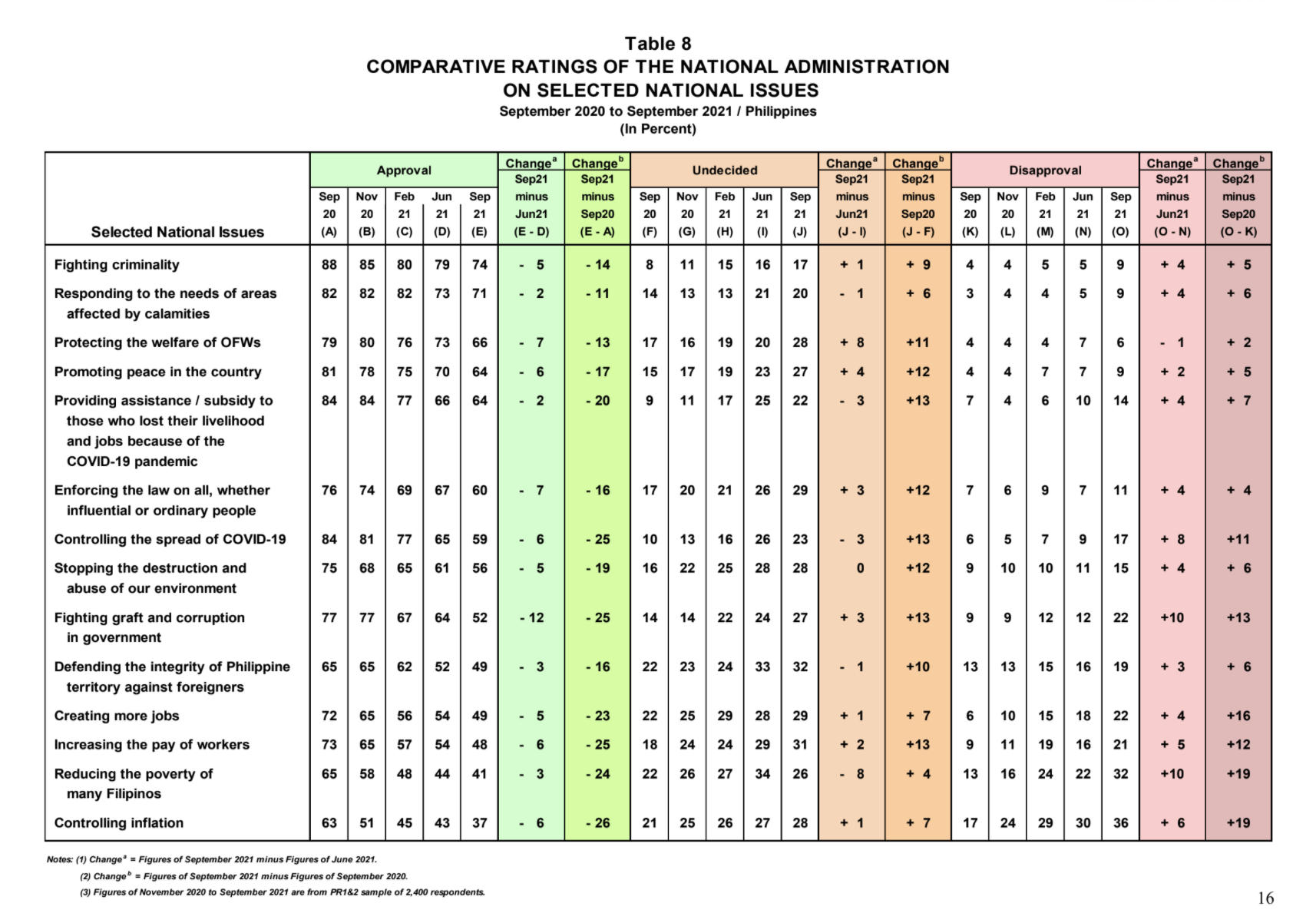 An even bigger decline was observed in Filipinos' approval of the administration's anti-corruption stance. From a 64% rating in June, it fell to 52%, a 12-point drop.
This was the biggest drop in approval rating across all national issues Pulse Asia asked respondents to assess the Duterte government on.
Decline in all issues
But there was a decline in approval rating across the board – in fighting criminality, responding to calamities, protecting migrant workers, promoting peace, enforcing the law, defending Philippine territory, creating more jobs, reducing poverty, controlling inflation, and more.
Despite these decreases, approval ratings for 9 out of the 14 national issues were greater than 50%, meaning that more than half of Filipinos are still happy about what the government is doing on these concerns.
But in five of the national issues, fewer than half of Filipinos approve of the government's response to them. There is the least approval for economic policies. For instance, the government scored lowest in controlling inflation, with only 37% of Filipinos approving of its efforts on this issue.
Here are the three other economic issues where fewer than half of Filipinos approved government efforts: reducing poverty (41%), increasing pay of workers (48%), creating more jobs (49%).
Also, only 49% of Filipinos approve of how the Duterte administration is defending integrity of Philippine territory against foreigners.
Pulse Asia reported an error margine of +/-2 for national percentages and a 95% confidence level. The survey involved 2,400 Filipino adults nationwide.
Big decreases in one year
Comparing approval ratings from September 2020 to September 2021 show big drops in approval ratings across all issues in the span of a year.
The steepest decline in approval rating was observed in how the government is keeping prices of basic goods down.
From September 2020 to last month, approval rating went from 63% to 37%, a 26-point drop.
This was followed by approval for the control of COVID-19 infections and fighting corruption which both saw 25-point decrease in one year.
Decreases in approval rating in this range were seen in the government's performance in reducing poverty (24-point drop), creating more jobs (23-point drop), and providing assistance to people who lost their jobs due to the pandemic (20-point drop).
But across all national issues, there was a two-digit decrease in approval rating in one year.
The September survey was conducted as the country continued to see huge rise in new daily COVID-19 infections due to the Delta variant, even as a new alert level system was about to be piloted in Metro Manila.
It was also around that time when the Senate began its series of hearings on Pharmally Pharmaceutical Corporation, in which officials were accused of greenlighting the purchase of allegedly overpriced personal protective equipment and when the firm's links to Duterte ex-adviser Michael Yang were uncovered. – Rappler.com