WHAT YOU NEED TO KNOW
Karding (Noru), the Philippines' 11th tropical cyclone for 2022, lashed Central Luzon with torrential rain and fierce winds. Northern Luzon and Southern Luzon were also affected.
Karding first made landfall as a super typhoon in Burdeos, Quezon, late Sunday afternoon, September 25, followed by another landfall as a typhoon in Dingalan, Aurora, in the evening. It then crossed Nueva Ecija, Tarlac, and Zambales, before emerging over Zambales' coastal waters early Monday, September 26.
Bookmark this page for PAGASA forecasts, updates on areas affected by Karding, the latest news on government response, and other key information in the aftermath of the tropical cyclone.
Watch President Ferdinand Marcos Jr.'s briefing with disaster response officials in this video: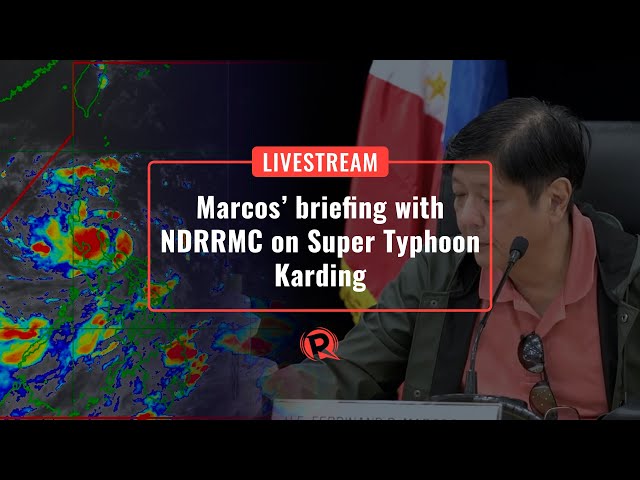 LATEST UPDATES
Agricultural losses climb to P3.12 billion
The cost of agricultural damage due to Karding has reached P3.12 billion, the Department of Agriculture (DA) said in a bulletin on Monday, October 3.
The combined volume of production loss was at 158,117 metric tons (MT), from 170,762 hectares of farmlands in the Cordillera Administrative Region, Ilocos Region, Cagayan Valley, Central Luzon, Calabarzon, Bicol, and Western Visayas.
Affected commodities include rice, corn, cassava, abaca, high value crops, livestock and poultry, and fisheries. For rice alone, the cost of damage was pegged at P2.05 billion, with the volume of production loss at 134,205 MT, which is equivalent to 0.66% of the annual total production target volume of 20.25 million MT.
At least 108,594 farmers and fisherfolk were affected, according to the DA.
Polillo Islands and General Nakar under state of calamity
The Polillo Group of Islands and the town of General Nakar, located in the province of Quezon, were placed under a state of calamity on Tuesday, September 27.
The towns of Polillo, Patnanungan, Panukulan, Burdeos, and Jomalig make up the Polillo Group of Islands.
The Quezon Provincial Disaster Risk Reduction and Management Office said at least one person died in the province due to Karding. Around 5,000 homes were also damaged.
DILG condoles with family of killed Bulacan rescuers
Interior Secretary Benhur Abalos expressed his sympathies to the families left behind by the five Bulacan provincial disaster risk reduction and management officers who died in a rescue operation in San Miguel, Bulacan at the height of Super Typhoon Karding.
"We extend our deepest condolences and our sincere prayers to the families of the five brave rescuers who, like the thousand others tirelessly working in local government units, including police and fire personnel around the country, have carried us through the storm and exhibited their unparalleled commitment to public service," Abalos said in a statement on Tuesday, September 27.
"May we all find inspiration in their dedication to duty and be comforted that their lives were not wasted and were lived for the service of their fellow Filipinos," he added.
NDRRMC: Reported fatalities from Karding now at least 8
The National Disaster Risk Reduction and Management Council (NDRRMC) said on Tuesday morning, September 27, that it has received reports of at least eight fatalities from Super Typhoon Karding.
These deaths include the five rescuers in Bulacan, two people in Zambales, and one victim in Quezon. Earlier Tuesday, NDRRMC put the death toll at nine.
Three people are also reported missing in Mercedes, Camarines Norte.