An economic slump is making government eager for new investments. But the risk is real.
Critics of a Chinese company's proposed investment on Fuga Island renewed warnings against the project amid an economic slump that has made the government eager for new investments.
Fuga is a 10,00-hectare private island with pristine white beaches and about 2,000 residents. It is part of the country's second northernmost group of islands, which includes Barangay Fuga in Aparri town in Cagayan, where Chinese companies also operate offshore gambling.
The island has its own 1,300-meter dirt airstrip and is also accessible by boat – 2-3 hours – from Claveria town. It's owned by Fuga Island Holdings Inc and falls under the jurisdiction of the Cagayan Economic Zone Authority (CEZA).
Critics are concerned that a proposed $2-billion investment of Xiamen-based Fong Zhi Enterprise Corporation to build a "smart city" there is actually intended to turn the island into a naval base for Beijing and compromise the country's security.
"Considering the ill-effects of the COVID-19 virus on the domestic economy, local businesses sitting on properties fronting the West Philippine Sea or important sea lanes are right now vulnerable. These types of investments pose a threat considering that they are targeted at real estate properties critical to our national security interests," said former Philippine Navy Vice Commander retired Vice Admiral Rommel Jude Ong.
The coronavirus pandemic has pushed the Philippines into recession as the economy shrank by 16.5% in the 2nd quarter of 2020.
Focus has recently been on Fuga, but Ong said the same concern applies to proposed investments on Grande and Chiquita islands in Subic Bay, Zambales and plans for Chinese participation in the Sangley Airport project.
'Don't fixate on West PH Sea alone'
Controlling Fuga island would complement Beijing's efforts to secure dominance over multi-billion trade routes along the Strait of Luzon all the way to the West Philippine Sea or the South China Sea, critics said. (READ: Balancing or capitulation? Duterte ban on West PH Sea drills leaves gap in global move to curb China)
They warned that it is not only a strategic problem for the Philippines but also for Taiwan, located north of the Philippines, which is also fighting military provocations from Beijing.
"We should not be fixated on the events in the South China Sea alone. The more pressing challenge is the need to protect our resources inland from Chinese investments in our strategic real estate," said Ong.
The defense establishment had sought a review of the investment and echoed concerns raised by critics. A naval detachment has since been erected on Fuga Island and a naval station will follow. (WATCH: Philippine naval forces hold symbolic flag-raising ceremony on Fuga island)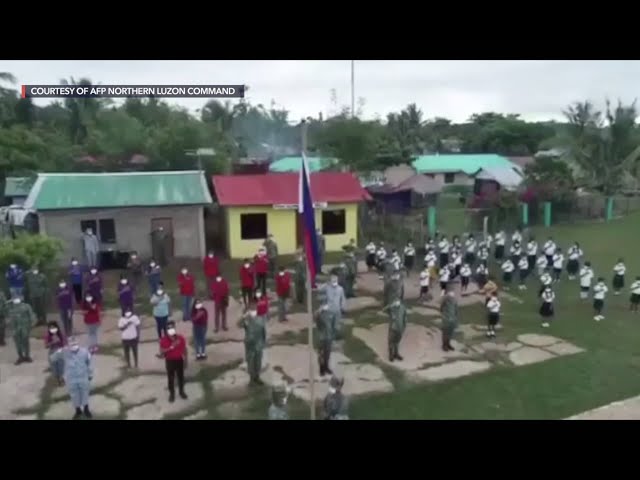 JPE echoes concerns about China
Former Senate President Juan Ponce Enrile, who once served as the country's defense chief, is the latest voice to echo security concerns over proposed developments on the island in his home province.
Enrile is the political kingpin of Cagayan. He sponsored the creation of CEZA, a free port which he had intended to lure investments from neighboring countries such as China.
"I have no beef against red China. I am simply doing my duty to my country. I am simply warning my countrymen to be very alert and careful in dealing with other nations and peoples whose national or personal interests may differ from the national interests of my own native land," Enrile said in a post on his Facebook page on August 7.
Enrile said Fuga Island is "very important and strategic to national security." He compared the island to a "dagger pointed at the very heart of the country," which he said should not fall into the hands of foreign power with immense global ambition.
He echoed warnings of Beijing's plans to turn the island into a naval base. He said the Philippine Liberation Army could also turn it into a logistics base that could threaten the Philippines' interests in Benham Rise, a 13-million hectare territory near Aurora Province in the country's eastern seaboard, which Beijing showed interest in back in 2017.
"If red China were to occupy those three islands, it would surely use them as Naval and Air Force Bases to complement her military base in Hainan province and its man-made heavily fortified artificial islands in the South China Sea," Enrile said.
"That would immensely enable red China to control that sea lane in the South China Sea. And should that happen, it would certainly hurt us, hurt Taiwan, South Korea, Japan and also the United States. Almost one-third of total global trade passes through that sea lane," Enrile added. – Rappler.com