Health workers urge the Duterte government to 'future-proof' its response to the COVID-19 pandemic
Health workers welcomed the new lockdown in Metro Manila and 4 surrounding provinces, but said the Duterte government should do more to "future-proof" its response to the COVID-19 pandemic.
The Healthcare Professionals Alliance Against COVID-19 (HPAAC) relayed this message in a news briefing on Saturday night, March 27, after the Philippine government placed Metro Manila, Bulacan, Rizal, Laguna, and Cavite – an area called "NCR Plus" – under enhanced community quarantine (ECQ).
ECQ, the strictest quarantine level in the Philippines, set to be implemented in NCR Plus for a one-week period, from March 29 to April 4, covering the the observance of Holy Week in this predominantly Catholic country.
Dr Anna Ong-Lim, a member of HPAAC, said experts earlier urged the government to impose a stricter quarantine level for a "minimum of one week" to minimize the lockdown's impact on the Philippines' slowly recovering economy.
When asked if it is reasonable to implement a 14-day lockdown, citing the incubation period of the virus, Ong-Lim agreed that this would have been a better length of time. "14 days is quite reasonable," Ong-Lim said. "What's working right now is minimum of 7 days so that implies there's the option to extend this at some point."
"But hopefully when we get by the end of the week, there will have been significant improvements so we won't have to extend," she added.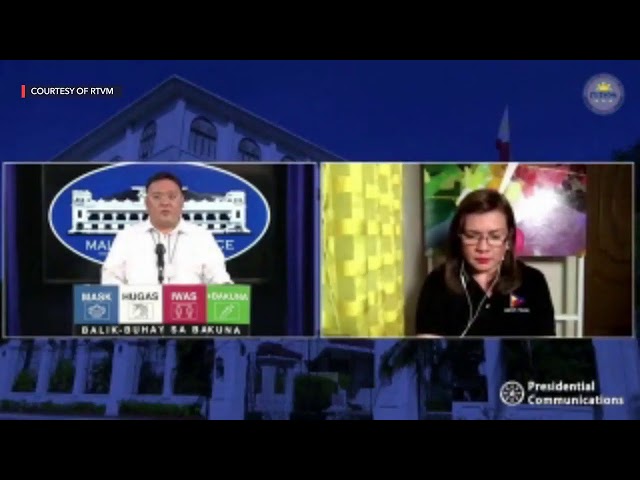 HPAAC also offered the following recommendations to "future-proof" the government's response to COVID-19:
Expansion of the One Hospital Command Center into a One COVID-19 referral network
Integrated response from contact tracing, testing, isolation, and treatment,
Fair and efficient vaccine rollout, which would make non-priority individuals who had been inoculated held accountable
Government efforts to ensure enough public transportation supply
Financial aid for people affected by the lockdown
On an integrated contact tracing scheme, Dr Aileen Espina agreed that it would be difficult to do it in the middle of this surge.
"I agree it's too late for us for this surge," Espina said.
But she added that the government could still put an integrated contact tracing system for possible spikes in the future. This system, she said, should integrate data from consultation, health records, laboratory records, contact tracing and up to admission in the hospital.
She also reiterated calls for a central repository of data from contact tracing apps so that the data team at the Inter-Agency Task Force will be able to crunch it and make data-driven actions.
"We are future-proofing our COVID response so this surge will not happen again in the coming days," Espina said. "It is not too late for us to put this thing in place."
On Saturday, the Philippines logged a record 118,122 active COVID-19 cases, with over 9,500 new cases.
For 10 straight days, the country has been tallying over 5,000 new cases. – Rappler.com